Donate now to support the LLIFLE projects.
Your support is critical to our success.
Since 4 Aug 2013
Trachyandra tortilis Photo by: © Plantemania
Origin and Habitat: Northern and Western Cape (Richtersveld and Namaqualand southwards to Vredendal, Hopefield and Saron), Republic of South Africa.
Habitat and Ecology: Fynbos, Succulent Karoo. Trachyandra tortilisSN|34379]]SN|34379]] grows on well-drained sandy or rocky soils, often in riverbeds and quartz patches. It is widespread and not threatened.
Synonyms:
See all synonyms of Trachyandra tortilis
Accepted name in llifle Database:
Trachyandra tortilis
(Baker) Oberm.
Bothalia 7: 745 1962.
Synonymy: 4
Description: Trachyandra tortilisSN|34379]]SN|34379]] is a perennial, acaulescent, geophyte with a subterranean tuber. It grows up to 25 cm high and has 3-6 grey-green basal leaves of 10 cm length and 2 cm width. The leaves of all Trachyandra species are filiform or linear, except in Trachyandra tortilisSN|34379]]SN|34379]] in which they are linear, sinuously folded in a very peculiar transversal manner. The folding and coiling varies from plant to plant. The flowers are pale pink marked with green, are borne in a much-branched spike and become up to 2 cm in diameter.
Tuber: Subterranean crowned with broad scales.
Root: Swollen, fused to the elongate tuber, spreading, terete.
Leaves: 3 to 6, linear, glaucous, widely spreading, transversely and plicately folded, 6-10 cm x 2 mm, glabrous or sparingly pubescent, flat, margin entire.
Inflorescences: Lax ascending divaricate panicles to 9.5 cm, with up to 5 pairs of side branches. Peduncle pubescent becoming glabrous, basally arcuate. Bracts to 3 mm, ovate-lanceolate, cymbiform, auriculate. Pedicels to 5 mm.
Flower: White to pale pink, 1.5-2 cm in diameter. Tepals linear-obovate, 5 mm long, 2 mm wide, pale pink maculate with green. Stamens 2-3 mm long, scabrid. Ovary globose, 0.75 mm across. Style 2-3 mm long.
Fruits: Linear-ovoid, 7 mm long.
Seeds: Ridged.
Bibliography: Major references and further lectures
1) Urs Eggli, "Illustrated Handbook of Succulent Plants: Monocotyledons", Springer Science & Business Media, 06 December 2012
2) Boatwright, J.S. and Manning, J.C. 2010. "Notes on the genus Trachyandra (Asphodelaceae: Asphodeloideae) 1: A review of the T. thyrsoidea group (Section Trachyandra), including three new species from the Northern Cape". South African Journal of Botany 76(3):499-510.
3) Goldblatt, P. and Manning, J.C. 2000. "Cape Plants: A conspectus of the Cape Flora of South Africa". Strelitzia 9. National Botanical Institute, Cape Town.
4) Raimondo, D., von Staden, L., Foden, W., Victor, J.E., Helme, N.A., Turner, R.C., Kamundi, D.A. and Manyama, P.A. 2009. "Red List of South African Plants". Strelitzia 25. South African National Biodiversity Institute, Pretoria.
5) Foden, W. & Potter, L. 2011. Trachyandra tortilis (Baker) Oberm. National Assessment: "Red List of South African Plants" version 2017.1. Accessed on 2017/09/07
6) Michaela Furst, "Namaqualand- an overview over its climate, its geological conditions and the resulting flora", September 2003. Web: http://www.stripedmouse.com/documents/SucculentKaroo.pdf
7) Nora Graf, "Unusual Plants", University of Arizona,Yavapai County Cooperative Extension, Master Garden Newsletter, p. 5 December 2014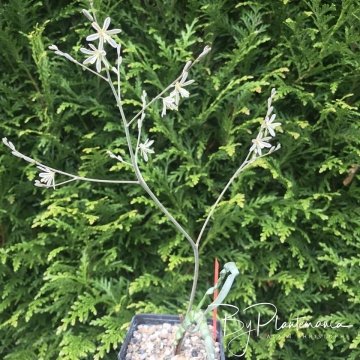 Trachyandra tortilis
Photo by: © Plantemania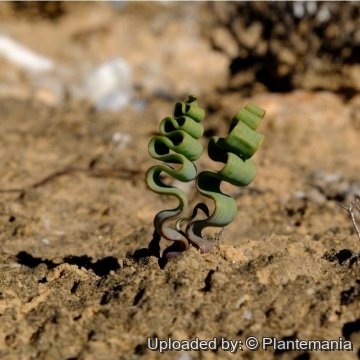 Trachyandra tortilis
Photo by: © Plantemania