Donate now to support the LLIFLE projects.
Your support is critical to our success.
Since 4 Aug 2013
Senecio bombycopholis
Hooker's Icon. Pl. Pl. 34: t. 3343. 1937 [1939 publ. Sep 1937]
Family: ASTERACEAE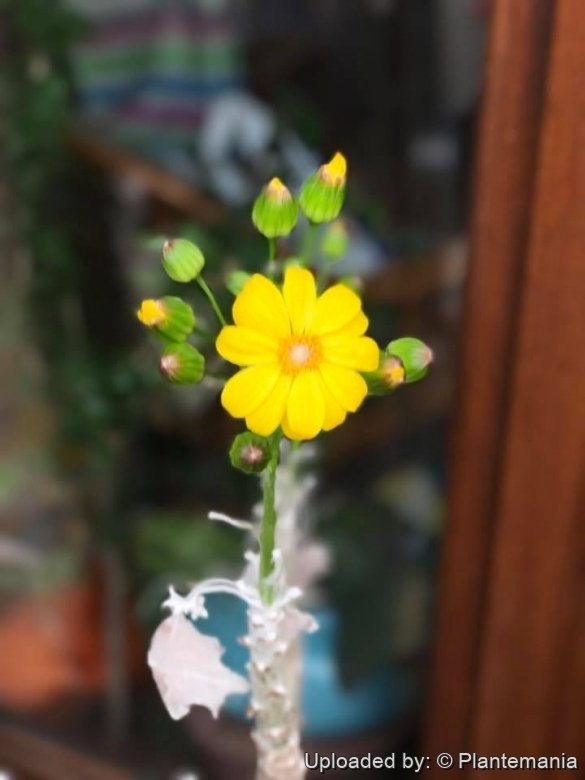 Senecio bombycopholis Photo by: © Plantemania
Origin and Habitat: Mexico: Mexico state, Michoacán and Guerrero states, Morelos, Puebla.
Altitude range: 700-1800 metres above sea level.
Habitat and ecology: Pittocaulon bombycophole is a common succulent that can be found in a remarkable number of situations. It often grows on bare limestone rock, as do other Pittocaulon species, but it also has more of a tendency than the others to occur as an element in open dry tropical forest, often in very steep situations. And also in the understory of dense deciduous forest.
Synonyms:
Common Names include:
ENGLISH:
crazy tree
SPANISH (Español):
palo loco
Description: Senecio bombycopholis (Pittocaulon bombycopholis) is a deciduous sparingly branched shrubs or small trees to 3 m tall with broomstick-like branches. This species is conspicuous when it flowers at the very end of the dry season when most other plants are suffering the effects of drought. The leaves, like those of Senecio filaris (Pittocaulon filare), are covered with white hairs.
Stems: The trunk is relatively thick (up to 20 cm in diameter) and spreads by menas of underground runners. The branches are cylindrical, 2 - 3 cm in diameter, somewhat branched. The bark is ochre-grey, rather smooth. The buds and young growth are densely covered by white-grey woolly hairs.
Leaves: Well developed, in rosettes at branch-tips, produced after the flowers. The petiole is up to to 17 cm long. The blade is thinly fleshy, roundish, about 15 cm long, shallowly palmately lobed. The younger leaves are densely white-woolly, the older ones are scattered woolly to almost glabrous,.
Inflorescence: The inflorescence is shortly pedunculate and at branches tips,with 3-6 capitula and with 6 cm long pedicels. The capitula (flowers heads) are 5-6 cm in diameter, somewhat perfumed. The phyllaries are pale green, fleshy, glabrou. The ray florets are golden yellow, about 15, radiating. The disc flowers are numerous, yellow. The pollen is pollen orange-yellow.
Similar species. Senecio bombycopholis differs from the related Senecio praecox by the white woolly bud scales, the more strongly hairy leaves and the bigger capitula with more numerous flowers.
Bibliography: Major references and further lectures
1) Urs Eggli "Illustrated Handbook of Succulent Plants: Dicotyledons" Springer Science & Business Media, 2002
2) Bullock in: "Hooker's Icones Plantarum" Bentham-Moxon Trustees, 34: t. 3343. 1937 [1939 publ. Sep 1937]
3) Mark E. Olson "Wood, bark, and pith anatomy in Pittocaulon (∼Senecio, Asteraceae): Water storage and systematics1" The Journal of the Torrey Botanical Society 132(2):173-186. 2005 doi: http://dx.doi.org/10.3159/1095-5674(2005)132[173:WBAPAI]2.0.CO;2
4) Mark E Olson "The Pittocaulon Page (succulent Mexican Senecios)" Instituto de Biología, Universidad Nacional Autónoma de México web: http://explorelifeonearth.org/pittocaulon.html

Senecio bombycopholis
Photo by: © Plantemania
Send a photo of this plant.
The gallery now contains thousands of pictures, however it is possible to do even more. We are, of course, seeking photos of species not yet shown in the gallery but not only that, we are also looking for better pictures than those already present.
Read More...