Donate now to support the LLIFLE projects.
Your support is critical to our success.
Since 4 Aug 2013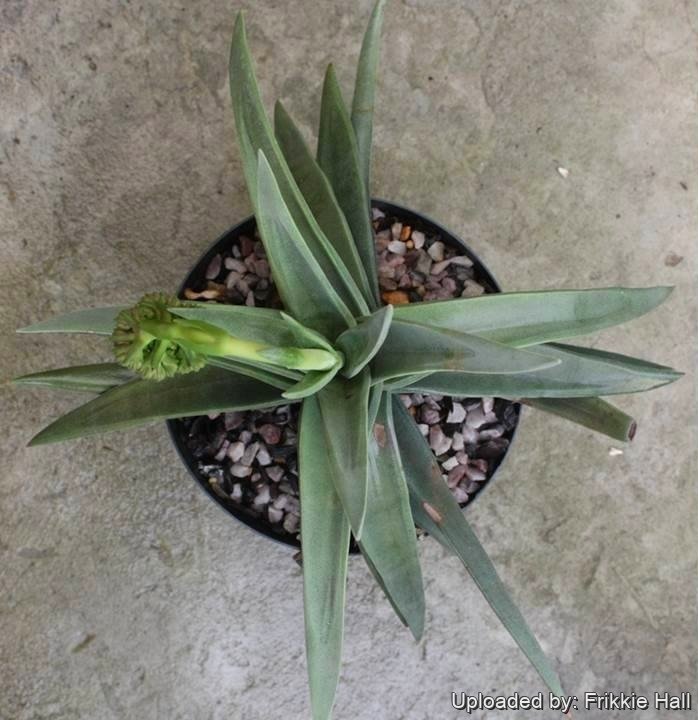 Crassula perfoliata Photo by: Frikkie Hall
Origin and Habitat: RSA (Eastern Cape); dry Fynbos and Valley Bushveld Port Elizabeth to Graaff-Reinet and Willowmore.
Synonyms:
See all synonyms of Crassula perfoliata
Common Names include:
FINNISH (Suomi):
Peikonpaunikko
Description: Crassula perfoliata is an erect perennials sparingly branched succulent shrubs to about 1.3 metres tall. The plants are among the largest and most striking examples in the genus with large, pointed leaves in opposite pairs. This interesting species is rather variable, some of its varieties having formerly been treated as distinct species. In Crassula perfoliata var. perfoliata the leaves are channelled, 10-15 cm long, arranged in alternating planes, rather erect, grey-green and have a velvety texture. Rounded flat-topped terminal heads of white flowers are produced in summer.
Derivation of specific name: From Latin "perfoliatus,-a,-um" with the stalk growing through the centre of the joined leaf-bases.
Roots: Fibrous.
Stems: Green, succulent, becoming woody in age, erect, branching from the base. Branches 5-1.3(-1,5) m long, simple or little branched above, covered with coarse, hard and often rounded warts, with old dried leaves not deciduous.
Leaves: (4-)6-10(-15) cm long, (8-913-18(-40) mm broad, decussate, connate at base, simple, ascending becoming spreading, lanceolate to triangular or slightly falcate, green, smooth, upper face flat, channelled at the base, margin acute to towards the apex, truncate lower down, lower face convex, or apparently laterally compressed and scarcely convex on both surfaces, tip acute, mucronate, densely covered with rounded to often irregularly shaped papillae, green to grey, glaucous sometimes with purple spots. The upper leaves degenerating.
Inflorescences: Rounded flat-topped thyrses, hairy, much branched. Peduncle 30-100(-150) mm long 5 mm in diameter, strigose. Bracts leaf-like, lower 10 x 7 mm.
Flowers: Sweet-scented. Pedicels 1 mm long. Sepals 1-3 mm long, triangular-lanceolate, acute, covered with spreading hairs and marginal cilia, fleshy, green or reddish. Corolla tubular,, 3 - 3-6 mm long, tubular below, stellate above fused basally for 1-1,5 mm. Petals becoming recurved, white, not much exceeding the stamens. Stamens with black anthers. Styles subulate. Squamae transversely oblong, 0,2-0,4 x 0,5-0,6 mm, usually emarginate, slightly constricted downwards, fleshy, yellow.
Blooming season: Spring to mid-summer.
Subspecies, varieties, forms and cultivars of plants belonging to the Crassula perfoliata group
Bibliography: Major references and further lectures
1) Tölken, H. R. "Crassulaceae. Flora of Southern Africa." Vol. 14. Botanical Research Institute. 1985
2) Urs Eggli "Illustrated Handbook of Succulent Plants: Crassulaceae" Springer Science & Business Media, 06 December 2012
3) W. H. Harvey "Flora Capensis", Vol 2, 1894
4) J.P. Roux "Flora of South Africa" 2003
5) Doreen Court "Succulent Flora of Southern Africa" CRC Press, 01/June/2000
6) Foden, W. & Potter, L. 2005. Crassula perfoliata L. var. perfoliata. National Assessment: Red List of South African Plants version 2015.1. Accessed on 2016/05/07
7) "Botanica: The Illustrated A-Z of Over 10,000 Garden Plants and how to Cultivate Them" Mynah, 1997
Cultivation and Propagation: Crassula perfoliata is a stunning as a container plant, in decorative pots, in courtyards and rockeries, and especially ideal for mass plantings and borders, where its dramatic foliage and spectacular flower heads are shown to their best effect. Attractive and interesting when not in bloom but a show stopper when the white flowers emerge. This plant rises with an upright stem up to 1.3 m high if it be not broken or injured but it requires support the stems being slender and the leaves very weighty.
Soil: It needs well drained soil (standard cactus potting mix).
Waterings: Requires very little irrigation in coastal gardens, irrigate occasionally in hotter inland climates. In pots needs regular wateringsall year, but reduce watering during winter month and apply a balanced liquid fertilizer during the summer months (June, July, August).
Exposure: It grows well in light shade to full sun.
Hardiness: Protected from frosts, but hardy to -5 C for short periods if very dry.
Maintenance: Remove spent flower heads to maintain vigour and bushy habit.
After growing for several years tend to become untidy, and should be cut very short or restarted from cuttings.
Pests & Disease: Aphids, mealy bugs, powdery mildew, fungal leaf spot, stem and root rot if over watered.
Propagation: Leaf or stem cuttings in spring or summer.