Donate now to support the LLIFLE projects.
Your support is critical to our success.
Since 4 Aug 2013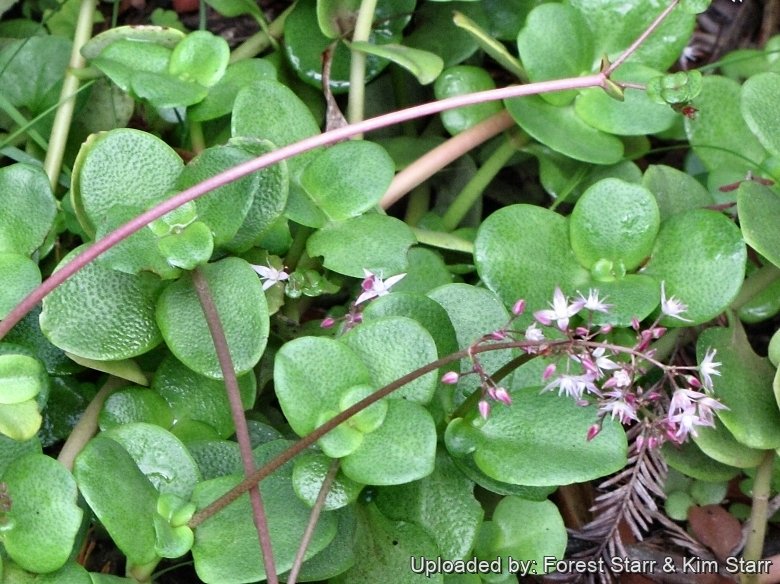 Crassula multicava Photo by: Forest Starr & Kim Starr
Habit at Kula Botanical Garden, Maui, Hawaii (USA). March 07, 2011.
Origin and Habitat: Crassula multicava is native to South Africa, from Mpumulanga (Eastern Transvaal), Natal to the Eastern and southern Cape provinces. It has been introduced and naturalized in California (Monterey and San Mateo counties), New Zealand and elsewhere in tropical and Mediterranean areas around the world.
Altitude range: From sea level to 1800 metres.
Habitat and ecology: Crassula multicava occurs naturally along the forest margin, riparian areas, mountainous regions of Natal and within coastal vegetation and is often subspontaneous from abandoned cultivations. It also spreads in disturbed areas.
Synonyms:
See all synonyms of Crassula multicava
Common Names include:
ENGLISH:
Fairy crassula, Pitted crassula, London pride, London's pride, Mosquito Flower, Cape Province Pygmyweed
CHINESE (中文):
鳴戶
DANISH (Dansk):
Griseøre
SPANISH (Español):
Orgullo de Londres, Crásula multicava
Description: Crassula multicava (Fairy Crassula) is a variable evergreen succulent species embracing a full range from perennial trailing ground cover plants to small almost erect subshrubs which stems are very brittle and soft, and pieces will easily break off and lead to the establishment of new plants. It rarely exceeds 30 cm tall in the landscape and is even lower when grown in dry shade. The leaves are round, dark green and lustrous in the shade and paler green when grown in more sun and speckled with small white or red spots (hydathodes). In winter appear the flowers which are pink in bud and then open to little white stars as a spray above the foliage on reddish stems. Perfectly formed tiny plantlets are borne on the flowering stalk after the completion of flowering. The predominantly 4-merous flowers and the production of adventitious buds on the inflorescence are typical of subsp multicava.
Stem: Decumbent to nearly erect, reddish green in age, branches rarely longer than 40 cm, sparsely branched, with old leaves not deciduous.
Leaves: With petioles 5-20 mm long, appearing in pairs along ever-lengthening, floppy stems. Lamina broadly elliptic to oblong-obovate, 20-50(-65) mm long, 15-40 mm wide, apex obtuse or emarginate, more or less abruptly constricted into petiole, dorsiventrally flattened, with slightly recurved margin, entire. The upper surfaces of the leaves varies from dark green to grey-green or yellowish green, while the lower surfaces are a dull, whitish green. The surface is scattered with minuscule "holes", allowing the rapid uptake of water directly into the plant, this holes are called "hydathodes", though this name has traditionally been used for a gland that secretes water instead of the reverse.
Inflorescence (thyrse): Rounded or elongate, lax, with few to many dichasia (branches bearing a flower that gives rise to two other flowering branches). Flowers 2 per node. After flowering small plantlets often form in the flower axils.
Flowers: 4- (or 5-) merous flowers, with peduncle 30-80(-100) mm long. Pedicels 3–8 mm long. Calyx: lobes (sepals) triangu­lar, 1-2 mm long, apex acute and ridged, gla­brous, green sometimes tinged red. Corolla star-shaped, fused at base for about 0,5 mm, cream or white and usually tinged red to­wards apices, petals narrowly triangular, 3–4 mm lomg. Stamens with purple anthers. Squamae transversely oblong, 0,2-0,3 x 0,4-0,6 mm, truncate, not constricted down­wards, fleshy, white or cream.
Fruits (follicles): Erect, 12–20-seeded, obliquely lanceoloid.
Seeds: Ellipsoid, 0.3–0.4 mm, rarely formed.
Phenology: Flowers in late winter to early spring.
Similar species: Distinguished from Crassula streyi and Crassula sarmentosa var. integrifolia by the hydathodes being marginal and scattered over both leaf surfaces.
Subspecies, varieties, forms and cultivars of plants belonging to the Crassula multicava group
Crassula multicava

Lem.

: has pinkish-white, 4-merous flowers and produces vegetative buds in the wills of the bracts on the inflorescence. Distribution: from Mpumulanga (Eastern Transvaal), Natal to the Eastern and southern Cape provinces.

Crassula multicava subs. floribunda

Friedrich ex Toelken

: is more robust stiffly erect, glabrous to hairy with pentamerous flowers, no vegetative buds. Distribution: coastal mountains of central KwaZulu-Natal.
Bibliography: Major references and further lectures
1) Forest & Kim Starr "Crassula multicava (Pitted crassula, fairy crassula)". Plants of Hawaii. <http://www.starrenvironmental.com>. Web. 27 Sep. 2014.
2) Gordon Rowley "Crassula: A Grower's Guide" Cactus & Company, 2003
3) Toelken, H.R. 1997. "A revision of the genus Crassula" in southern Africa. Annals of the Bolus Herbarium 8,1-595.
4) Smith Prof. Gideon "Gardening with Succulents" Struik, 01/Mar/2006
5) Debra Lee Baldwin "Designing with Succulents" Timber Press, 18/Mar/2011
6) Heidi Gildemeister "Mediterranean Gardening: A Waterwise Approach" University of California Press, 2002
7) Urs Eggli "Illustrated Handbook of Succulent Plants: Crassulaceae" Springer Berlin Heidelberg, 05/Nov/2012
8) Jacobsen "Lexicon of succulent plants" Littlehampton Book Services Ltd. 1974
9) Doreen Court "Succulent Flora of Southern Africa" CRC Press, 01/Jun/2000
10) James Cullen, Sabina G. Knees, H. Suzanne Cubey "The European Garden Flora Flowering Plants: A Manual for the Identification of Plants Cultivated in Europe, Both Out-of-Doors and Under Glass" Cambridge University Press, 11/Aug/2011
11) Maire, R. "Flore de l'Afrique du nord." vol. 14. Lechevalier éd., Paris, [p.247] 1976
12) Hansen, A. & P. sunding "Flora of Macaronesia." Checklist of vascular plants. 4. revised edition. Sommerfeltia 17: [1-295] 1993
13) Dr J.P. Roux "Flora of South Africa" 2003
14) Reid V. Moran "Flora of North America" Vol 8
15) Joseph M. DiTomaso, Evelyn A. Healy "Weeds of California and Other Western States" Volume 1 UCANR Publications, 2007
16) Murray Jury Parsons "Current Names for Wild Plants in New Zealand" Manaaki Whenua - Landcare Research, 01/Jan/1998
17) San Marcos Growers contributors "Crassula multicava - Fairy Crassula". San Marcos Growers <http://www.smgrowers.com>. Web. 27 Sep. 2014.
Flowers at Kula Botanical Garden, Maui, Hawaii (USA). March 07, 2011.
Photo by: Forest Starr & Kim Starr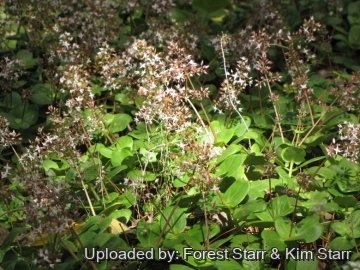 Flowering habit at Montrose Crater Rd Kula, Maui, Hawaii (USA). March
Photo by: Forest Starr & Kim Starr
Flowering habit at Montrose Crater Rd Kula, Maui, Hawaii (USA). March
Photo by: Forest Starr & Kim Starr
Flowers at Kula Botanical Garden, Maui, Hawaii (USA). March 07, 2011.
Photo by: Forest Starr & Kim Starr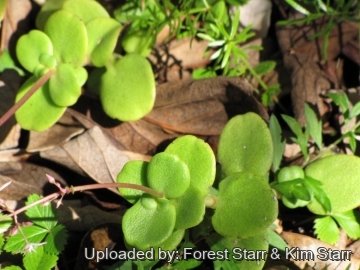 Flowers at Kula Botanical Garden, Maui, Hawaii (USA). March 07, 2011.
Photo by: Forest Starr & Kim Starr
Send a photo of this plant.
The gallery now contains thousands of pictures, however it is possible to do even more. We are, of course, seeking photos of species not yet shown in the gallery but not only that, we are also looking for better pictures than those already present.
Read More...
Cultivation and Propagation: Crassula multicava is one of the quickest to increase and cover shady ground that receive no frost or foot traffic. It forms wide mats of solid glossy rounded leaves is easy to propagate from cuttings. It also spreads readily. Some gardeners find it a nuisance, but it is not so rapidly growing and has such shallow roots that it really is not a pest. It is easily controllable or simple to move to a more wanted location or to share with friends. This species is perfect for shady spots in a succulent garden, or any garden for that matter but can also grow in full coastal sun. The clusters of pink flowers of Crassula multicava could easily serve as a fairy's floral bouquet.
Soil: It grows best in sandy-gritty soil. Good drainage is very important as it is prone to root rot.
Repotting: Repot every two years in spring. Do not radically cut off roots: about 10 percent of the root ball is right.
Fertilization: Feed it from mid spring to early autumn every four or five weeks with a fertilizer specifically formulated for cactus and succulents (poor in nitrogen), including all micro nutrients and trace elements diluted to ½ the strength recommended on the label. Do not feed plants during winter.
Watering Needs: It is tolerant of extended dry periods when growing in shade and in fact needs no supplemental irrigation to survive in these conditions but will look better with an regular watering in the growing season, but avoid water-logging and let dry between waterings. Water with caution in winter, as the plant can lose its roots if the soil stays cold and wet for extended periods. The lower the temperature the less water is needed. If grown in a container, bottom watering by immersing the container is recommended. Mist spraying is not needed, it must have very dry atmosphere.
Sun Exposure: Does well in filtered sun, but can handle some shade, too. It can be sunburned if moved from shade/greenhouse into full sun too quickly. It tends to get leggy in deep shade.
Frost Tolerance: Though often listed for frost free gardens it may survive in garden with little damage on the cold nights and will take a light frost and is hardy down to -5° C for short periods if it is in dry soil. USDA zones 9A – 11. In areas prone to frost, grow in an intermediate greenhouse or conservatory, in pots. The plant may be kept indoors throughout the year at a minimum winter temperature of 10°C not exceeding 18°C. In summer, the temperature will rise higher, but as this is accompanied by better light it does not matter. In colder climates plant this in a container, so it can be moved into a protected area when cold.
Garden uses: They make wonderful rocker plants in hot, dry areas and also grow well in containers or luminous patios.
Pests and diseases: May be susceptible to mealybugs and rarely scale. Protect from cold.
Maintenance: It is long lived and responds well to hard pruning should one feel it is overgrown and cuttings strike easily if one is so inclined. At the end of summer plants get quite long-shanked and so is a good time of year to trim them back substantially.
Propagation: It is easily increased by cuttings. Cuttings root easily.