Donate now to support the LLIFLE projects.
Your support is critical to our success.
Since 4 Aug 2013
sponsored link
Monanthes brachycaulos Photo by: © Plantemania
Growing habit, 16 February 2018, near Tenerife, Canary Islands, Spain.
Origin and Habitat: Monanthes brachycaulos is Species endemic to Teneife and Great Canaria, Canary Islands, Spain.
Habitat and ecology: This species grows in cliffs and rocky slopes mainly in the northern sectors of the islands, from sea level to 2,100 metres above sea level (mainly between 200 and 1,500 m). Flowering from half March until mid June. It is not threatened.
Synonyms:
See all synonyms of Monanthes brachycaulos
Accepted name in llifle Database:
Monanthes brachycaulos
(Webb & Berthel.) Lowe
Fl. Salvag. Tent. 12. 1868
Synonymy: 17
Common Names include:
SPANISH (Español):
Estrella de risco, Pelotilla, Pelotilla isleña
Description: Monanthes brachycaulos is a little perennial plant with a thickened, bulb-like or cylindrical rootstock (caudex), and small succulent leaves which form a rosette less then 3,5 cm in diameter. The rosette is solitary or sometimes branches giving place to smaller secondary rosettes. Cluster of 5 to 10 tiny star-shaped flowers appears in spring at the end of filiform peduncles that develop from the axils of lower leaves. It is distinguished at all periods of growth by his much broader leaves which are much fewer in number (about 20 to a rosette instead of two to four times as many by other species).
Stems (rootstock): Short, bulbous and stout (more or less caudiciform) or slightly to distinctly elongate (cylindrical), 5-12 mm in diameter.
Rosettes. Loose to rather compact, flat, 7-35(-40) mm in diameter, with 20-40(-60) leaves.
Leaves: Succulent, 5-18(-20) mm long, 3-5(-6) mm wide and 1-2,5 mm thick, narrowly obovate to oblanceolate-spatulate, flat or concave on face, very convex on back, bluntly pointed to acute at apex, attenuate into a narrow base, glabrous or with few very short glandular hairs near the base, slightly papillose above, green or something mottled with purple, with a purple midrib and purple stain at base.
Inflorescence: Flowering branches lateral, from the axils of the lower leaves, simple or evenly branched, 4 to 10 cm long. Raceme 5- to 7- (-10) flowered, glandular-hairy.
F1owers: 6- to 7-merous, 3-4 mm in diameter; Petals 2.3 -3.7 mm long, 0.5-0.7 mm wide, oblong and occasionally somewhat widened in the upper part, acute or mucronate; Nectaries 1.1-1.6 x 1.6-1.9 mm, lamina somewhat bilobed, retuse or obcordate, erose, distinctly clawed.
Remarks: Monanthes brachycaulos is very variable, both in the shape of its fleshy stem and density of rosettes which in some forms may be very similar to Monanthes pallens. This species also form natural hybrids with Monanthes laxiflora (Monanthes x tilophilum (Bolle) Christ.), with Monanthes anagensis (Monanthes x filifolia Bañares) and with Monanthes minima (Monanthes x subglabrata Bañares)
Bibliography: Major references and further lectures
1) Urs Eggli "Illustrated Handbook of Succulent Plants: Crassulaceae: Crassulaceae" Springer Science & Business Media, 2003
2) J. Rodrigo, Monanthes Brachycaulum (Webb et berth.) Lowe in flora Canaria web: http://mdc.ulpgc.es/cdm/ref/collection/aguayro/id/1838
3) G. KUNKEL "ENDEMISMOS CANARIOS – INVENTARIO DE LAS PLANTAS VASCULARES ENDEMICAS EN LA PROVINCIA DE LAS PALMAS" MINISTERIO DE AGRICULTURA INSTITUTO NACIONAL PARA LA CONSERVACION DE LA NATURALEZA, MADRID 1977
4) Albert Leroy "Crassulaceae - Genus Monanthes - Monanthes brachycaulon" web http://excotic-flora-and-canarian-flora.blogspot.it/2013/10/crassulaceae-genus-monanthes-monanthes_7998.html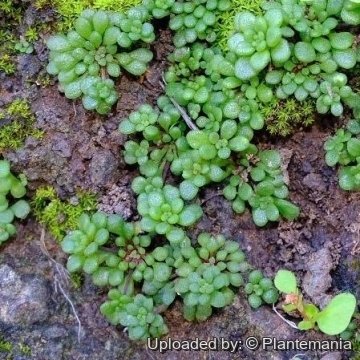 Monanthes brachycaulos 16 February 2018, near Tenerife, Canary Islands, Spain.
Photo by: © Plantemania
Send a photo of this plant.
The gallery now contains thousands of pictures, however it is possible to do even more. We are, of course, seeking photos of species not yet shown in the gallery but not only that, we are also looking for better pictures than those already present.
Read More...