Donate now to support the LLIFLE projects.
Your support is critical to our success.
Since 4 Aug 2013
Euphorbia spectabilis Photo by: Giuseppe Distefano
Origin and Habitat: Monadenium spectabile is endemic to the Iringa Escarpment, Iringa District, Tanzania. It has an extremely limited distribution.
Type locality: Tanzania, Iringa District, Iring-a-Dodoma road above Great Ruaha R. bridge.
Altitude: 800-1065 metres above sea level.
Habitat: It grows on sandy soil on rocky slopes in deciduous mixed woodland.
Synonyms:
Common Names include:
JAPANESE (日本語):
スペクタビレ
Description: Monadenium spectabile is a stout succulent shrub, with an unbranched or few-branched stem with cactus-like features that generally don't come into growth until the summer. The flowers are remarkably spectacular, born at apex of stem, small, dark-pink, enveloped in scarlet bracts and borne on long, rich red, quadrangular stalk that bears fewer cartilaginous prickles. It makes an incredibly ornamental potted plant and highly attractive to collectors.
Note: Monadenium spectabile is intermediate between Monadenium magnificum and Monadenium arborescens.
Stem Usually solitary, except when damaged, up to 3(-3,5) m tall and 3-5(-8) cm thick, pale green with a white waxy bloom.
Ribs: 5 vaguely angled with scattered spirally arranged projections or tubercles constellate by bunches of reddish brown usually branching spines 2-6 mm long.
Leaves: Stalk-less, somewhat fleshy, obovate, to 33 x 23 cm, apex rounded, margin entire or with a few small teeth towards the base, midrib keeled with scattered spines on the lower surface; basal leaves and those of young plants hairy on both surfaces, upper leaves completely hairless; leaf-scars to 1 cm wide.
Stipular spines: Minute, triangular about 1 mm long (or less).
Inflorescences (Cymes): Bright red peduncles to 15 cm. long, 3-5-angled, ± densely covered with reddish brown often branching cartilaginous spines to 4 mm long, 4-6-forked (or more), with cymes-branches to 6 cm. long progressively shorter above, spiny. Bract cup-shaped 6-8 mm long, notched to ±halfway between obtuse apices and sharply keeled rigidly toothed midribs.
Flowers: Cyathia up to 6 long and approximately 4 mm wide, with barrel-shaped involucres narrowed at the top. Nectar glands rim approx 2 mm high. Lobes subquadrate, obtuse, about 2 mm long midribs keeled.
Fruits (Capsules): Vaguely 3-lobed, about 5 mm across, exerted on a pedicel to 7 mm long,with crenulate ridges along each angle.
Seeds: Oblong, 4-angled, with truncate ends, about 2,8 mm long and 1,5 mm wide, grey notched.
Bibliography: Major references and further lectures
1) A. R. Smith, Susan Carter "Flora of Tropical East Africa – Euphorbiaceae" volume 2 CRC Press, 01/giu/1988
2) Urs Eggli "Illustrated Handbook of Succulent Plants: Dicotyledons" Springer, 2002
3) AFPD. "African Flowering Plants Database - Base de Donnees des Plantes a Fleurs D'Afrique." [http://www.sanbi.org] © 2012 Conservatoire et Jardin botaniques & South African National Biodiversity Institute
Euphorbia spectabilis
Photo by: Giuseppe Distefano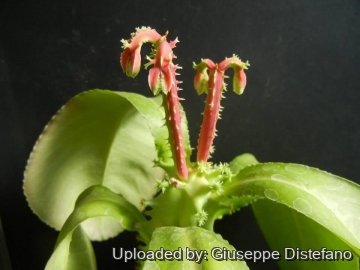 Euphorbia spectabilis
Photo by: Giuseppe Distefano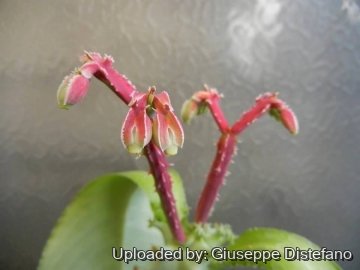 Euphorbia spectabilis
Photo by: Giuseppe Distefano
Send a photo of this plant.
The gallery now contains thousands of pictures, however it is possible to do even more. We are, of course, seeking photos of species not yet shown in the gallery but not only that, we are also looking for better pictures than those already present.
Read More...
Cultivation and Propagation: They must be grown very hard in the nursery as close to the natural conditions as possible. This ensures that they keep their compact habit.
Reproduction: Seeds/Cuttings.