Donate now to support the LLIFLE projects.
Your support is critical to our success.
Since 4 Aug 2013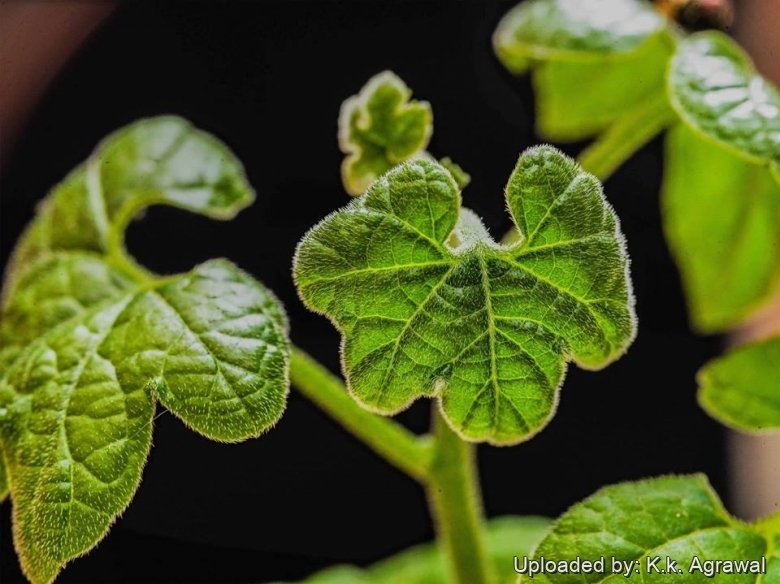 Pyrenacantha kaurabassana Photo by: K.k. Agrawal
Leaves against light.
Origin and Habitat: East and South-East Africa (Ethiopia, Somalia, Kenya, Tanzania and southwards to, Zimbabwe, Malawi, Mozambique, KwaZulu-Natal, Limpopo, and Mpumalanga ).
Altitude range: from 15 to 1550 metres above sea level.
Habitat and ecology: Pyrenacantha kaurabassanaSN|35381]]SN|35381]] grows in dry scrub and bushland or dry deciduous woodland. Often among rocks and on termite-mounds. The large tubers of P. kaurabassana, form the major food resource for the naked mole-rat. The foraging tunnels often run completely through the larger tubers, which are periodically plugged with soil and allowed to regenerate. However, the tubers are randomly distributed and the inter-tuber distances can be relatively high, making them hard to find.

Synonyms:
See all synonyms of Pyrenacantha kaurabassana
Description: Pyrenacantha kaurabassanaSN|35381]]SN|35381]] is a dioecious climbing or trailing herb arising from a subterranean perennial tuberous root-stock (caudex). Shoots are up to at least 1 m long dark olive green, and hairy throughout, The stems develop only from buried tubers; exposed tubers produce a new shoot from the underground. The leaves are very variable in shape, ovate-triangular, deeply 3-5 lobed, soft and flaccid with stiff hairs, petiole to 6cm long, 9 x 7cm. The flowers are small, yellow-orange, 2 cm diameter.
Tuber (caudex): Subterranean, globose to sausage-like up to 15 cm in diameter, with almost smooth brown bark. These tubers average around 5 kg per tuber, but may sometimes reach a massive 50 kilograms in some areas .
Stems: Climbing to twining, deciduous, dark green to olive green, hispid up to 3 metres long.
Leaves: Very variable in shape, oft and flaccid, ovate, reniform or pentagonal, 4-10 cm long, 5-15 cm wide, obtuse or mucronate at the apex, cordate to sagittate at the base, subentire to deeply 3- to 5- (7-) lobed, hispid above, lower face strongly hispid, with palmate venation. Main veins 3 dividing into a total of 5-7 palmate veins ending in prominent ovoid hydathodes (ca 1 mm long with annular edge). Petiole 3-6 (-12) cm long, hispid.
*Inflorescence: Pedunculate, borne at the axills or just above the node, spicate, usually appearing before the often abortive subtending leaves. Peduncles hispid.
Flowers: Corolla yellowish-green, with petals united to form 4 lobes to 1.5 mm long, pubescent on the outside.
Male flowers. Sessile, subtended by a small bracteole, and crowded into a spike 2-3 cm long, on a slender peduncle 4-12 cm long. The ovary is replaced by a few rather coarse hairs.
Female flowers: Fewer, sessile, subtended by a small bracteole, in a more or less globular inflorescences 1–1.5 cm long with shorter peduncle. Ovary small; stigma sessile.
*Fruits (Drupes: Densely crowded in spikes up to 6 cm long and 3.5 cm. broad at the end of a swollen stout peduncle up to 2.5 cm. long, ellipsoid, slightly compressed, 1.3-2 cm long, 0.8-1.3 cm wide, 0.5-0.8 cm accross, hispid, becoming yellow to orange when mature.
Bibliography: Major references and further lectures
1) Urs Eggli "Illustrated Handbook of Succulent Plants: Dicotyledons" Springer, 2002
2) G. Ll. Lucas, "Flora of Tropical East Africa", 1968
3) M. Thulin, "Flora Somalia", Vol 2, 1999 [updated by M. Thulin 2008]
4) E. J. Mendes, "Flora Zambesiaca" FZ, Vol 2, (1963)
5) Brian Morris, Jerome Dennis Msonth, "Chewa Medical Botany: A Study of Herbalism in Southern Malawi" LIT Verlag Münster, 1996
6) Hudson Kern Reeve: "Genetic structure and social conflict within colonies of a eusocial mammal, the naked mole-rat (Heterocephalus glaber; Rodentia : Bathyergidae)" Cornell University, Jan., 1991
7) New Scientist, Volume 115, New Science Pub., 1987
8) Foden, W. & Potter, L. 2005. Pyrenacantha kaurabassana Baill. National Assessment: Red List of South African Plants version 2017.1. Accessed on 2018/09/25
Cultivation and Propagation: The natives use the root-stock, heated, as a poultice.