Donate now to support the LLIFLE projects.
Your support is critical to our success.
Since 4 Aug 2013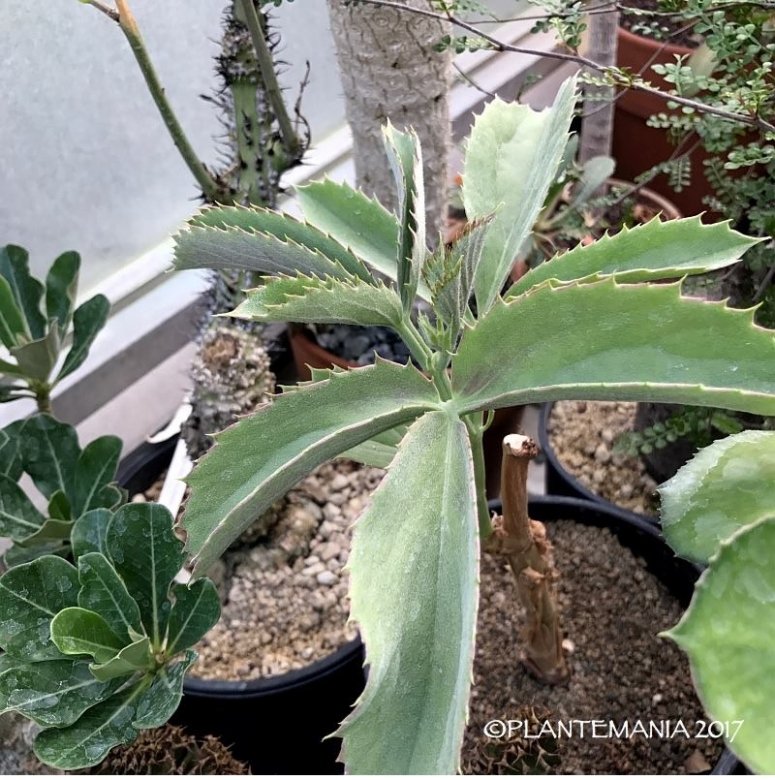 Cyphostemma hardyi Photo by: © Plantemania
Origin and Habitat: Limpopo, Republic of South Africa. Cyphostemma hardyi is a range-restricted endemic to the western Waterberg (Extent of occurrence about 400 km²), known from three locations.
Habitat and Ecology: This species grows in the Waterberg Mountain Bushveld. It is famong boulders on steep south-western rocky slopes in the shade of trees such as Albizia tanganyicensis and several succulents including Huernia quinta, Aloe chabaudii, Aloe marlothii, Aloe zebrina, and Aloe aculeata. This species is potentially threatened by collecting for horticultural purposes.
Synonyms:
Description: Cyphostemma hardyi is a pachycaul succulent up to 0,5 m in height with a large, knobby base protruding from the ground (caudex). The stems are multibranched and produce 3-5 lobed leaves that are notable for their conspicuous veins and overall reddish tone, which can be quite vivid in some individuals. This rare plant was firstly collected by Dr R. A. Dyer and Dr Inez Verdoorn during January 1942. It was collected many years later in almost the same spot by Mr D. S. Hardy, alone and later together with E. Retief and Mr P. P. J. Herman.
Derivation of specific name: For David S. Hardy (1931–1998), horticulturist and former curator at the Botanical Garden Pretoria, RSA. He was interested mainly in succulents and greenhouse plants, he collected extensively in Namaqualand, Transvaal and elsewhere in South Africa and Namibia. He is also commemorated with the taxa Strumaria hardyana, Aloe hardyi, and Orbea hardyi.
Stem: The branches are cylindrical, sometimes branched, younger covered with long, whitish hairs. The bark is brown, peeling off in pale brown strips. The leaves fall off during the winter resting period and leave prominent leaf scars. In habitat the stems are sometimes very short, because the plants are often subjected to wild fires causing them to die back.
Leaves: The leaves are spirally arranged, simple or 3-5 lobed. The stipules are lanceolate 15-20 mm long, densely hairy, sometimes with small teeth. The main leaf is sessile or petiolate but the leaflets are always sessile. The petioles (if present) is 6-9 cm long, greyish green, densely covered with white, multicellular hairs. The blades are obovate, 13-32 cm long and 0.8-2 cm broad. The margin is toothed, reddish, The apex is rounded or truncate. The teeth and apex may be gland-tipped.
Inflorescence (corymbose cyme): The inflorescence is leaf-opposed. The peduncles and pedicels are covered by hairs, 0,7-1 mm long.
Flowers: The flowers are inconspicuous, tetramerous (arranged in sets of four) and bisexual. The calyx is 0,5-0,7 mm in height, cup-shaped. The corolla is yellowish green tinged with brownish-red. The petals are about 2 mm long, hooded at the apex and caducous. The stamens are 4 and the anthers 0,5-0,7 mm long. The ovary is surrounded by a disk and four
glands alternating with the petals and stamens. The style is 0,8-1 mm ending in a bilobed stigma.
Fruits (berries): Globose to ovoid bright red , 11-15 mm long and 12,5-14 mm broad, glandular pubescent.
Seeds: 8-10 mm, crested, embedded in a firm bright yellow mass.
Related species. Cyphostemma bainesii and Cyphostemma uter are particularly close to C. hardyi. All three species have swollen caudices ranging from 0,3 to 0,8 m tall. C. hardyi is also closely related with Cyphostemma juttae and Cyphostemma currorii, but the latter are succulent trees 3-7 m tall. The leaves of C. hardyi resemble those of C. bainesii, but the leaves of the former are much more densely covered with long, thin, hairs are are less shallowly toothed.
Bibliography: Major references nad further lectures
1) "The Flowering Plants of Africa", Volumes 48-49 Botanical Research Institute, Department of Agricultural Technical Services, Republic of South Africa., 1984
2) van Wyk, A.E., von Staden, L. & Victor, J.E. 2005. Cyphostemma hardyi Retief. National Assessment: Red List of South African Plants version 2017.1. Accessed on 2017/06/06
3) Domitilla Raimondo "Red list of South African plants 2009" South African National Biodiversity Institute, 2009
4) Urs Eggli, Leonard E. Newton "Etymological Dictionary of Succulent Plant Names"
Springer Science & Business Media, 29 June 2013
5) M. Charters, "The Eponym Dictionary of Southern African Plants Plant Names G-K" web: http://www.calflora.net/southafrica/1G-K.html
6) Retief E.; Glen H.F., 1987: "Cyphostemma hardyi transvaal south africa." Flowering Plants of Africa 49(3-4)
7) Hardy, D. and E. Retief. 1981. "The caudiciform Cyphostemma species from Southern Africa". C. & S. J. 53:163-166