Donate now to support the LLIFLE projects.
Your support is critical to our success.
Since 4 Aug 2013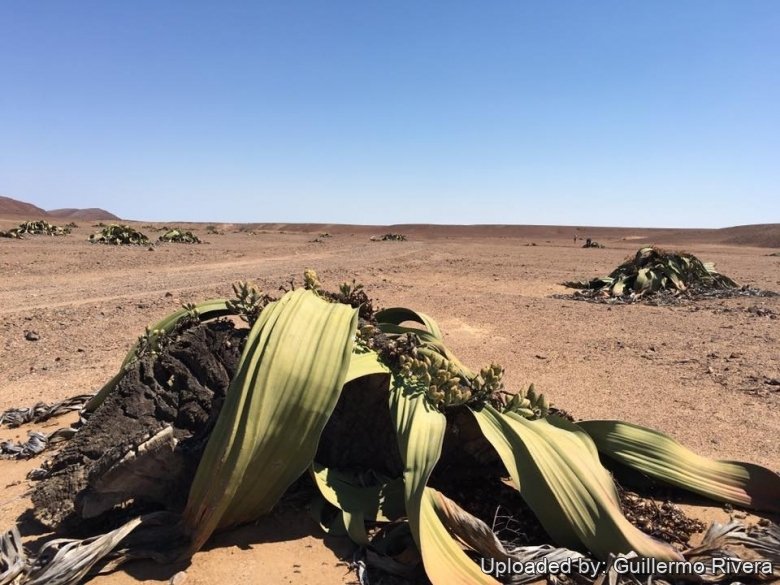 Welwitschia mirabilis Photo by: Guillermo Rivera
This is one of the most rare plants on the earth. It is amazing how they can survive in that conditions! And how seedlings can establish.
Origin and Habitat: Welwitschia mirabilisSN|22991]]SN|22991]] is endemic of Namibia and Angola in a narrow strip, about 1000(-1200) km along up the coast from the Nicolau River (north Mossamedes or Namibe, Angola) to the Kuiseb River (Swakopmund, Namibia). The plants are seldom found more than 100 to 150 km from the coast, and their distribution coincides with the fog belt.
Habitat and ecology: This plant is confined to the cost of the Namib desert. The plants occurs scattered in patches on sandy or stony plains and hills under extreme xerophytic conditions. The plant is perfectly adapted to live in the fog zone and draws all its water from the fogs which roll in from the sea. The Welwitschia mirabilisSN|22991]]SN|22991]] absorbs water from fog through the millions of stomata on the surfaces of it's large leaves, from there the water is transported to the roots, where it is stored. The stomata remains open under foggy conditions and closed when it is hotter and although much of the water that has condensed on the leaves runs off the direct intake of a proportion of this water takes place. In most parts of its habitat the rainfall does not exceed 25 mm x annum. Temperatures differ greatly, between up to 45° centigrade by day while in winter night frosts occur.
Synonyms:
See all synonyms of Welwitschia mirabilis
Common Names include:
ENGLISH:
Tree Tumbo, Tumboa, Namibia's Living Fossil
AFRIKAANS (Afrikaans):
tweeblaarkanniedood
Description: Welwitschia mirabilis is a very curious relict gymnosperm with only a single pair of extremely wide, persistent adult leaves. Its barrel-shaped woody stem or crown (caudex) in the center is deeply imbedded in the ground and rooted by a very long tap root. During all its long life-cycle the hypocotyl continues to enlarge forming a short "trunk", for this reason it is said it is a persistent seedling. It is a very long living plant and some specimens is assumed to be 1000 (or even more) years old. It is one of the most bizarre of all the seed plants often described as unlike any known plant on earth.
Derivation of name: Welwitschia is named after the Austrian botanist and doctor Friedrich Welwitsch, who was the first European to describe the plant, and Joseph Hooker proposed to name the species mirabilis meaning 'wonderful' or 'extraordinary' in Latin in his honour.
Trunk (hypocotyl): Woody broadly obconic or turbinate, concave on the top, more or less circular or elliptic in horizontal section, rising 20-30 cm above the ground (or rarely more tall), 30-90(-120) cm in diameter at the top, most of which is underground and tapering down to its main taproot. It is covered by thick corrugated cork. The stem widens with age to become a concave disc from which grow small ramified branch systems that serve only to bear pollen and seed cones.
Root: It has a long tap root that is elongate, usually branching near the apex with some pronounced lateral roots, and a network of delicate spongy roots. The turnip-like tap-root can can grow up to 30 meters deep. The seedling root system is not extensive and appears to serve mainly to anchor the plant and as water storage organ.
Leaves: Parallel-veined, leathery, fibrous and curled, strap-shaped up to 1,3-2 mm thick and 2 or more meters in length. Like grass leaves, their meristematic region is at the base so they continually grow even though their tips get worn off by abrasion. In fact, the leaves lie on the ground and as they flap about in the wind they become split and frayed. Leaves typically grow at a rate of 8-15 cm per year on mature plants, some of which have been found with leaves measuring 1.8 m wide and 7(-9) m long, suggesting potential ages of 500-1000 years. Therefore the plant can produce up to 150 m of leaf tissue over a growth period of 1000 years.
Flowers: Welwitschia plants are dioecious, produces separate, scaly male and female cones on separate male and female plants.
Male cones (strobili): Male pollen cones, resembling those of Ephedra, appearing in groups of 2-3 terminally on each branch. Salmon-red coloured , oblong, cone-like, 1-4 cm long, 5-7 mm wide, and on a pedicel 2-5 mm long, with bracteoles 1-3 mm long.
Female cones (strobili): Larger than male strobili also arising from branched reproductive shoots, each red cone consisting of a single nucellus enclosed in an integument and another layer derived from two confluent primordia ('perianth') with 2 'bracts' 3,5-8 cm long, 2-3 cm wide, with outer bracteoles 5 mm long and inner bracteoles 8 mm long.
Fruit: Normally, only one seed develops within each cone.
Seeds: 36 x 25 mm with a large papery wing. They are dispersed by wind, in spring, when the female cone disintegrates. The seeds remain viable for a number of years. They germinate only if fairly heavy rain is spread over a period of several days.
Subspecies, varieties, forms and cultivars of plants belonging to the Welwitschia mirabilis group
Welwitschia mirabilis

Hook.f.

: Male cones smooth, purplish brown, without evident wax cover; longer peduncles usually c. 5-11 cm long, secondary branches to 2 cm long; longest male cones 30-45 mm long; bract pairs overlapping about 2 mm, margin of bracts smooth. Distribution: Angola

Welwitschia mirabilis subs. namibiana

Leuenb.

: Male cones sculptured, glaucous green to salmon, with evident wax cover; longer peduncles c. 7-15 cm long, secondary branches to 7 cm long; longest male cones 20-30 cm long; margin of bracts slightly erose. Distribution: Namibia
Notes: Welwitschia mirabilisSN|22991]]SN|22991]] is commonly refered as a "living fossil" because it is the only surviving member of the ancient family Welwitschiaceae belonging to the the Gnetales a group of plants which may have been early precursors to the flowering plants, which appeared in the fossil record after the Cretaceous (about 140 Million years ago) and still existing today. Genetic analysis have indicated a close relationship with the angiosperms and the Gnetales.
Bibliography: Major references and further lectures
1) Wikipedia contributors. "Welwitschia." Wikipedia, The Free Encyclopedia. Wikipedia, The Free Encyclopedia, 1 Apr. 2017. Web. 3 Apr. 2017.
2) A. Lewington & E. Parker (1999). "Ancient Trees: Trees that Live for a Thousand Years." Collins & Brown Ltd.
3) "Welwitschia mirabilis (tree tumbo)". Kew Royal Botanical Gardens. Kew Royal Botanical Gardens. Retrieved 03 April 2017 from http://powo.science.kew.org/taxon/urn:lsid:ipni.org:names:383591-1.
4) V.P. Singh "Gymnosperm (naked seeds plant) : structure and development" Sarup & Sons, 01 January 2006
5) H. H. W. Pearson. "Flora Capensis", Vol 5, Part 2 (Supplement), 1933.
6) Welwitschia mirabilis in The Gymnosperm Database Retrieved 03 April 2017 from http://www.conifers.org/we/Welwitschiaceae.php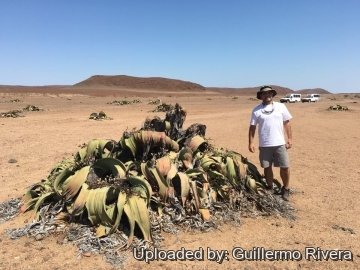 Welwitschia mirabilis
Photo by: Guillermo Rivera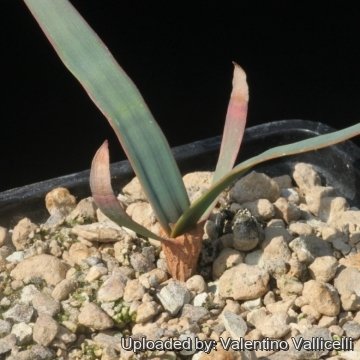 Welwitschia mirabilis
Photo by: Valentino Vallicelli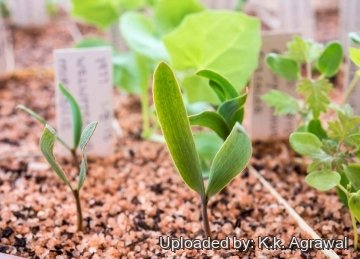 16 day old seedlings of Welwitschia mirabilis
Photo by: K.k. Agrawal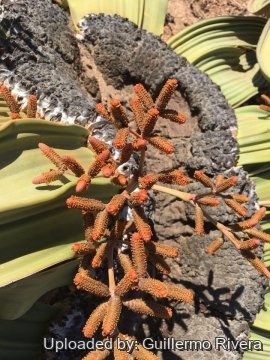 Welwitschia mirabilis
Photo by: Guillermo Rivera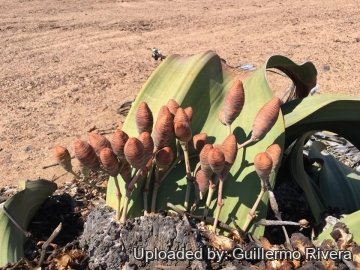 Welwitschia mirabilis
Photo by: Guillermo Rivera
Welwitschia mirabilis
Photo by: Guillermo Rivera
Welwitschia mirabilis
Photo by: K.k. Agrawal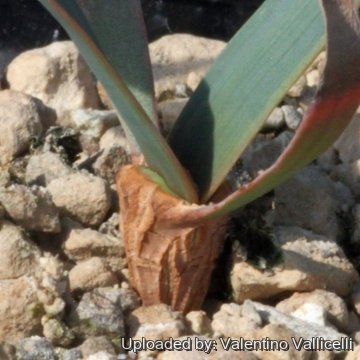 Welwitschia mirabilis
Photo by: Valentino Vallicelli
Cultivation and Propagation: Difficult to cultivate it is thought that it requires desert conditions and room to accommodate its long tap-root, so in cultivation they are mostly underwatered to prevent rot and often they die from underwatering, But be aware that Welwitschia are not succulent plants, so should not be allowed to dry completely at any time. During the summer, if grown in full sun they can be drenched thoroughly, allowing to become slightly dry between waterings, but care should be taken that the soil does not dry out completely. It is thought that they must have a very deep pot to thrive, but it is now known that they will live quite nicely in a standard depth pot. The will slow their growth when transplanted. During the natural resting period in winter, watering should be reduced, and increased again in late spring when the weather warms up again.
Exposition: Bright light or full sun.
Propagation: By seeds on light draining soil with a temperature above 20-25° C. They must be kept very moist for the first weeks, then, they are quite easy to maintain, and they add considerable to their size. The seedlings will only survive, given a constant moist soil.