Donate now to support the LLIFLE projects.
Your support is critical to our success.
Since 4 Aug 2013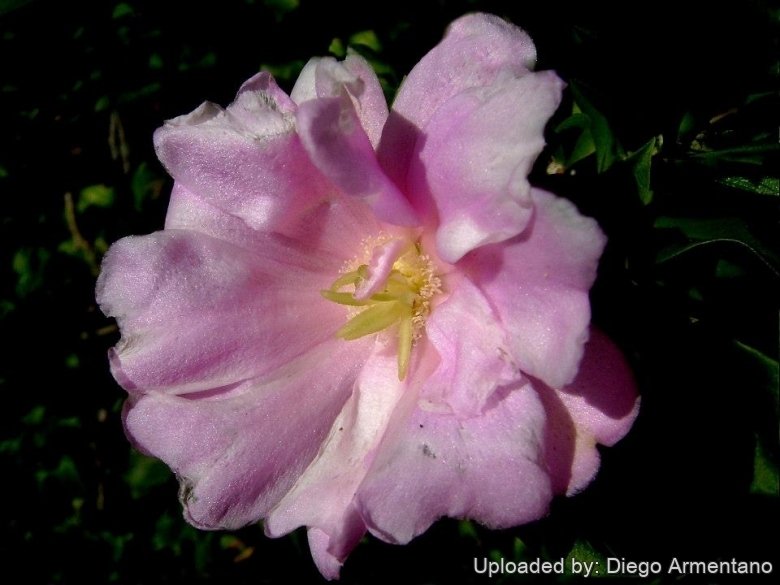 Pereskia quisqueyana Photo by: Diego Armentano
Origin and Habitat: Southeastern part of the Dominican Republic (Caribbean, Southern America). It is known from a single locality near the village of Bayahibe in La Romana. It is naturally rare and is found in a single, extremely small and exposed habitat with less than 100 individuals. Pereskia quisqueyana is only known from the type locality and is closely related to Pereskia zinniiflora.
Habitat and Ecology: It is found only at sea level on a shoreline in coastal thickets on coral limestone and sand. This species is listed as Critically Endangered because it is only known from one location and the habitat has been extirpated. The species is surviving due to conservation measures to protect the plants. In 1977, in the Bayahibe region, an archaeological survey was conducted by the French Henry Alain Liogier. This religious and researcher expert in botany, has identified pollen from this flower dates back to 1300 BC. For its reproduction the flowers need to be pollinated by insects.
Synonyms:
Common Names include:
SPANISH (Español):
Mata de chele., Rosa de Bayahibe
Description: The Rose of Bayahibe (Pereskia quisqueyanaSN|32840]]SN|32840]]) is one of the rarest cactus, it is a dioecious species, meaning that the sexes are in different individuals. It is one of only several cactus species which contain leaves.
History. Pereskia quisqueyanaSN|32840]]SN|32840]] was discovered in 1977 by French botanist Brother Alain Liogier in Bayahíbe, and declared a new species for science in 1980. When the species was originally described, only sterile material was known, and the plants were assumed to be staminate (male) only. Afterwards a few females plants were found in a private coastal area. Fortunately the plant produced fruits ensuring genetic variability. Although the person who owned the place understood about the importance of these plant for science, all specimens were cut. At first people cut the plants because of the spines bringing the species to near extinction, but later Pereskia quisqueyanaSN|32840]]SN|32840]] became the national flower of the Dominican Republic (in 2011) and it is depicted on banknotes and postage stamps.
Derivation of specific name: This plant was named quisqueyana, in honor of the Dominican Republic, which is also referred to as Quisqueya by the Taínos on the island of Haiti (Hispaniola).
Habit: Plants shrubby or tree-like, 2-4 metres tall
Stems. Trunks to 25 cm in diameter, greenish brown to brown, smooth covered by numerous clusters of spines sprouting from the areoles.
Roots: Main root thickened, spindle-shaped, 20-30 cm long, and 5-10 cm in diameter.
Leaves: Elliptic to obovate lance shaped, succulent, glossy green, 3-5 cm long, 2.5-3 cm broad, with petioles.
Areoles: Producing only spines (not leaves).
Spines: 0-4 on twigs, 1-1.5 cm long, yellow, straw-coloured or brown. As many as 120 on trunks, 2-6 cm long.
Flowers: Very showy, salmon pink sprouting from the terminal part of the branches. Uni-sexual, 5-7 cm in diameter. Flowering was observed (in Dominican Republic) in March and July. Grafted in other pereskias it may bloom all year.
Fruits: Globose to pear-shaped, usually larger than longer, yellowish-green when ripe and containing many black seeds.
Bibliography: Major references and further lectures
1) Gann, G.D. & Griffith, P. 2013. Pereskia quisqueyana. The IUCN Red List of Threatened Species 2013: e.T151927A577173. http://dx.doi.org/10.2305/IUCN.UK.2013-1.RLTS.T151927A577173.en. Downloaded on 10 April 2016.
2) Edward F. Anderson "The Cactus Family" Timber Press, 2001
3) Collectif, Dominique Auzias, Jean-Paul Labourdette "République Dominicaine 2016 Petit Futé (avec cartes, photos + avis des lecteurs)" Petit Futé, 20 August 2015
4) David Bramwell, Juli Caujapé-Castells "The Biology of Island Floras" Cambridge University Press, 21 July 2011
5) CITES. CoP14 Prop. 24: "Deletion from Appendix II of Pereskia spp. and Quiabentia spp. (Cactaceae)." Fourteenth meeting of the Conference of the Parties. The Hague (Netherlands). 2007.
6) Garcia, M, Mejia, R.S. "La Rosa de Bayahibe, salvamento de una especie." Boletin Jardin Botanico nacional Dr. Rafael Ma. Moscoso 8(6): 12-13. 1999.
7) Hunt, D., Taylor, N. and Charles, G. (compilers and editors). "The New Cactus Lexicon." dh Books, Milborne Port, UK. 2006.
8) Leuenberger, Beat. Memoirs of the New York Botanical Garden "Pereskia (Cactaceae)". New York Botanical Garden, New York. 1986.
9) Liogier, A. "Noviates Antillanae." Phytologia 47(VIII): 167-198. 1980.
10) Yaniris López. «La rosa de Bayahíbe, nuestra flor nacional». Retrieved 09 April 2016 from <http://www.listindiario.com/la-vida/2011/7/16/196080/La-rosa-de-Bayahibe-nuestra-flor-nacional>
11) Henrry Alain Liogier "Diccionario Botánico de Nombres Vulgares de la Española." .
12) Wikipedia contributors. "Pereskia quisqueyana." Wikipedia, The Free Encyclopedia. Wikipedia, The Free Encyclopedia, 20 Jan. 2015. Web. 10 Apr. 2016.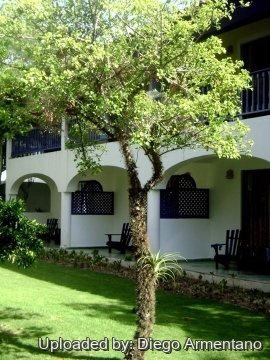 Pereskia quisqueyana
Photo by: Diego Armentano
Pereskia quisqueyana
Photo by: Diego Armentano
Pereskia quisqueyana
Photo by: Diego Armentano
Pereskia quisqueyana
Photo by: Diego Armentano
Pereskia quisqueyana
Photo by: Diego Armentano
Send a photo of this plant.
The gallery now contains thousands of pictures, however it is possible to do even more. We are, of course, seeking photos of species not yet shown in the gallery but not only that, we are also looking for better pictures than those already present.
Read More...
Cultivation and Propagation: Pereskia quisqueyana requires full sun or light shade and well drained soils, preferably rich neutral soils.
Growing rate: It is a fast grower, and will quickly become large landscape masterpieces in just a few years. It is a long lived plant and once established, it will be content in its position and with its soil for years.
Waterings: Water regularly during the active growing season from March to September. No water should ever be allowed to stand around the roots. Keep almost completely dry in winter. It is drought resistant, but leaves drop during drought.
Hardiness: Frost tender, it likes warmth (recommended minimum winter temperature 10° C) however plants kept perfectly dry can can survive lower temperatures, but for safe cultivation it is best to avoid freezing temperatures. Never let the roots chill. Deciduous below 4°C.
Maintenance: Can be pruned for shape and branching.
Plant Pests: Prone to mealy bugs and rarely scale.
Propagation: It's easy to propagate from cuttings or seeds, contrarily to most other cacti, Pereskia cuttings should be planted immediately without a dry out period. (you can also let them sit in a jar of water).