Donate now to support the LLIFLE projects.
Your support is critical to our success.
Since 4 Aug 2013
Delonix pumila Photo by: © Plantemania
Sarodrano, Faritanin' i Toliara, Madagascar (Photo by Alain Christophe)
Origin and Habitat: Delonix pumila occurs in the Toliara region in the southwestern part of Madagascar, around La Table hill, approximately 25 km east of Toliara and along the adjacent escarpment edge of the flat limestone plateau (Mahafaly Plateau) above St. Augustin extending to the area just south of Onilahy river (23 32'12"S, 43 45'50"E). The extent of occurrence (EOO) is 311 km² and the area of occupancy (AOO) is 93 km².
Altitude range: Sea level up to 160 metres.
Habitat and Ecology: D. pumila is found within the dry, xerophytic spiny forest and coastal bushland with succulent species of Euphorbia and Commiphora on limestone rock. It is slow-growing, and thought to be pollinated by moths due to its night opening flowers. Delonix pumila is endangered in habitat since its occurs in a very small area of occupancy and consists of a single interbreeding population that contains low levels of genetic diversity compared to other species in Delonix. This may limit its ability to adapt to environmental change. The habitat continues to decline in quality and extent, and probably in the number of mature individuals due to the effect of harvesting, population expansion and habitat destruction. The natural vegetation where D. pumila is found is under threat from widespread exploitation for firewood and charcoal production. Selective logging, increased cultivation and grazing of livestock are also leading to further degradation of the habitat. Many of the species in the spiny forest, including D. pumila, are naturally slow-growing so the regeneration of the species is unable to keep up with increased rates of degradation. The species can have a caudiciform trunk and is therefore grown by collectors as an ornamental. There may be trade in wild-collected plants.
Synonyms:
Delonix pumila

Du Puy, Phillipson & R.Rabev.

Poinciana adansonioides

R.Vig.
Description: Delonix pumila is a dwarf, deciduous shrub-like pachycaul tree less than 3 m tall with numerous branches that are oddly contorted and gnarled, forming a rounded crown. Flowers are large and showy, white with long dark stamens and an upper petal with a narrow tubular nectariferous claw, they resemble those of Delonix decaryi but the petals are narrower and fading to butter-yellow.
Stem: 1.5-3 tall. Trunk short, swollen, thick, to 40 cm in diameter and 50 cm tall. Branches contorted and gnarled and often with twigs trailing to ground level. Trunk and twigs pale grey and smooth.
Leaves: With 1 or 2(3-) pairs of pinnae, each with (2-)3 or 4(-5) pairs of leaflets. Leaflets, elliptic to broadly oblong-elliptic, 5-27(-40) mm long, 8-17(-26) mm wide, thinly coriaceous, glabrous, grey-green above, slightly paler beneath.
Inflorescences (racemes): Terminal in the axils of developing or fully developed leaves, combined into corymbs held above the foliage, axis glabrous. Pedicels 12-15(-45) mm long.
Flowers: Large, white fading to butter-yellow. Calyx green, whitish within. Calix segments 15-20 mm, spreading, outside glabrous, inside white-woolly. Petals white, not overlapping, with narrow acute blades, crinkled, crisped and with slightly erose margins, the claws bright crimson red, the upper petal with a large pale sulphur-yellow blotch with a white margin. Stamens pink, exserted, 4.5-5.5 cm long, the anthers maroon. Style pale green, the ovary covered with white hairs. Ovary densely woolly. The flowers last a single day, and are thought to be pollinated by moths.
Fruits: Linear-oblong, compressed, often spirally twisted, dark blackish-brown. Old fruits are often present on the ground.
Seeds: Ellipsoid.
Bibliography: Major references and further lectures
1) Werner Rauh, Herman Schwartz "Succulent and xerophytic plants of Madagascar", Volume 2, Strawberry Press, 1998
2) David Du Puy "The Leguminosae of Madagascar" Royal Botanic Gardens, Kew, 2002
3) Holotype of Delonix pumila DuPuy & Labat [family LEGUMINOSAE-CAESALPINIOIDEAE] Herbarium Royal Botanic Gardens, Kew (K), K000232320 Collector Dupuy, D.J.; Labat, J-N.; Comtet, S., #M685 Collection Date 02-12-1993 Locality S.W. Madagascar, Province of Toliara (Tulear), Hill "La Table" to the NE of Toliara, edge of the Mahafly Plateau. Madagascar (Madagascar) Collection altitude120 <http://plants.jstor.org/stable/10.5555/al.ap.specimen.k000232320> Web. 26 Sep. 2015.
4) The Global Trees Campaign, Fauna & Flora International and Botanic Gardens Conservation International. "Delonix pumila" <http://globaltrees.org/threatened-trees/trees/delonix-pumila/> Web. 26 Sep. 2015.
5) Rivers, M. 2014. "Delonix pumila". The IUCN Red List of Threatened Species 2014: e.T36269A2864319. http://dx.doi.org/10.2305/IUCN.UK.2014-1.RLTS.T36269A2864319.en . Downloaded on 26 September 2015.
6) Wikipedia contributors. "Delonix pumila." Wikipedia, The Free Encyclopedia. Wikipedia, The Free Encyclopedia, 21 Sep. 2015. Web. 26 Sep. 2015.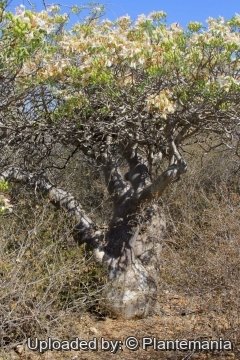 Sarodrano, Faritanin' i Toliara, Madagascar (Photo by Alain Christophe)
Photo by: © Plantemania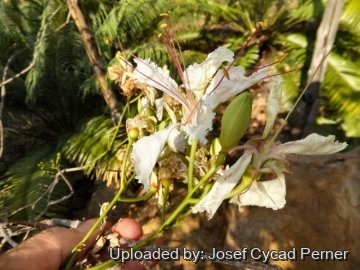 Delonix pumila
Photo by: Josef Cycad Perner
Delonix pumila
Photo by: Josef Cycad Perner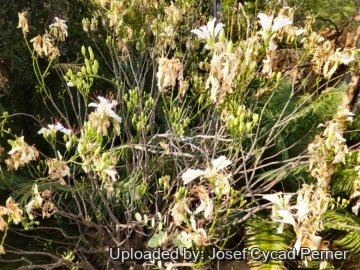 Delonix pumila
Photo by: Josef Cycad Perner
Sarodrano, Faritanin' i Toliara, Madagascar (Photo by Alain Christophe)
Photo by: © Plantemania
Delonix pumila
Photo by: Josef Cycad Perner
Delonix pumila
Photo by: Josef Cycad Perner
Delonix pumila
Photo by: © Plantemania
Cultivation and Propagation: Delonix pumila is a slow-growing tree raised easily from seed. It grows in any rich, very well drained, soil with some water and lots of sun throughout the year. It is suited to greenhouse cultivation because it is a dwarf species, but does well out of doors in tropical and mild Mediterranean climates.
Exposure: It requires high light, so it is planted in full sunlight, but tolerates light shade.
Hardiness: Keep at a minimum winter temperature of about 12°C (Mature plants are tender and hardy only to 2° C for a short period; avoid in any case freezing temperatures).
Watering: Water plentifully in summer but keep rather dry in winter. It doesn't like wet winter but will survive.
Propagation: Propagate usually from seed that are very easy to germinate. Germination: Seeds need up to 1 month to germinate. Minimum 30°C. Maximum 42°C. Before sowing put the seeds in hot boiling water and the seed starts to peel, don't worry and put them in pots they will start germinating in the following week, just ensure that they grow straight, they have the tendency to fall down. Browsers are used to protect the young seedlings.