Donate now to support the LLIFLE projects.
Your support is critical to our success.
Since 4 Aug 2013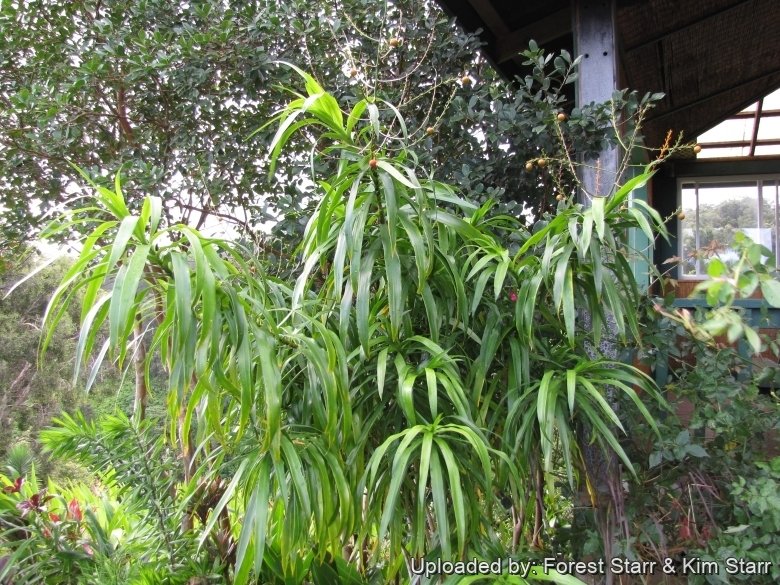 Dracaena angustifolia Photo by: Forest Starr & Kim Starr
Habit at Garden of Eden Keanae, Maui, Hawaii, USA. March 30, 2011.
Origin and Habitat: South-east Asia in a geographical area covering India, South China, Pacific islands, Bhutan, Cambodia, Indonesia, Laos, Malaysia, Burma, Papua New Guinea, the Philippines, Thailand, Vietnam, and North Australia.
Habitat and ecology: This plant is found in the forests and thickets.
Synonyms:
See all synonyms of Dracaena angustifolia
Accepted name in llifle Database:
Dracaena angustifolia
(Medik.) Roxb.
Hort. Bengal. 24 (1814)
Synonymy: 23
Cultivars (1):
Common Names include:
ENGLISH:
Nam ginseng, Soap tree, Narrow-leaf Dracaena, Narrow-leaf Pleomele
CHINESE (中文):
长花龙血树, 番仔林投, meng la long xue shu, chang hua long xue shu, 龙血树属
FRENCH (Français):
Bois chandelle
MALAY (بهاس ملاي /Bahasa Melayu ):
Suji
MAORI (Māori):
Rautī, Lautī
Description: Dracaena angustifoliaSN|30145]]SN|30145]] is a rhizomatous, perennial herbaceous plant, forming large climbing shrubs with few ascending branches or small Slender trees with weak pendulous twigs, and 1-3 m tall. The sessile linear leaves are born in dense rosettes, followed by yellow flowers in terminal racemes to spreading panicles and globose compressed 3-lobed berry. It is widely cultivated as a garden and indoor ornamental plant.
Stems: The stems are simple or few branched, greyish and smooth. Internodes often longer than wide.
Leaves: Leaves spirally arranged, spaced along distal part of stems, sessile, subsessile or indistinctly petiolate; petiole to 1 cm, base not completely covering internode. Blade, fleshy, sword-shaped to linear-oblanceolate, (15–)20-45(–50) cm long, (1–)1.5-3.5(-5) cm wide AND tappering to a sharp tip.
Inflorescence: Terminal, paniculate, usually with only one order of branching, and 30-50 cm long. Rachis glabrous. Pedicels (5)7-8(-10) mm long, articulated above the middle.
Flowers: Arranged in clusters of 2 or 3(-4), perianth greenish white, 1.8–2.3 long, tube 7-8 mm in diameter. Lobes of the perianth 6, 10-16 mm long. Filaments filiform, anthers 2-3 mm long. Style 5-8 as long as ovary.
Fruits. Orange, globose, 8-12 mm in diameter, flesh thin orange and contain 1-2 seeds.
Seeds: Large (12mmØ), translucent cream.
Blooming season: Flowering March-May, fruiting June August.
Chromosome number: 2 n = 40.
Subspecies, varieties, forms and cultivars of plants belonging to the Dracaena angustifolia group
Dracaena angustifolia

(Medik.) Roxb.

: is a climbing shrubs with few ascending branches 1-3 m tall. Leaves are born in dense rosettes, followed by yellow flowers in terminal racemes. Distribution: South-east Asia

Dracaena angustifolia cv. Honoriae

: has narrow foliage, with a narrow light golden margin, on snake like stems.

Dracaena menglaensis

G.Z.Ye

: has longer, sword-shaped leaves with bases completely covering internodes, perianth lobes tinged reddish purple distally, and 3-ribbed berry with 4 small, apical projections. Distribution: S Yunnan (Mengla Xian).
Bibliography: Major references and further lectures
1) Geoffrey Mwachala & Paul Mbugua "Flora of Tropical East Africa", 2007
2) Flora of China Editorial Committee. 1988-2013. "Fl. China Unpaginated." Science Press & Missouri Botanical Garden Press, Beijing & St. Louis.
3) Flora of China Editorial Committee. 2000. "Flora of China" 24: 1–431. Science Press & Missouri Botanical Garden Press, Beijing & St. Louis.
4) Umberto Quattrocchi "CRC World Dictionary of Medicinal and Poisonous Plants: Common Names, Scientific Names, Eponyms, Synonyms, and Etymology" (5 Volume Set) CRC Press, 03 May 2012
5) Christophe Wiart "Medicinal Plants of China, Korea, and Japan: Bioresources for Tomorrow's Drugs and Cosmetics" CRC Press, 11 May 2012
6) Forest & Kim Starr "Dracaena angustifolia (Dracaena)". Plants of Hawaii. <http://www.starrenvironmental.com>. Web. 13 Jan. 2015.
Flowering habit at Nahiku, Maui, Hawaii, USA. June 23, 2009.
Photo by: Forest Starr & Kim Starr
Flowers at Nahiku, Maui, Hawaii, USA. June 23, 2009.
Photo by: Forest Starr & Kim Starr
Fruit and leaves at Garden of Eden Keanae, Maui, Hawaii, USA. March 30, 2011.
Photo by: Forest Starr & Kim Starr
Send a photo of this plant.
The gallery now contains thousands of pictures, however it is possible to do even more. We are, of course, seeking photos of species not yet shown in the gallery but not only that, we are also looking for better pictures than those already present.
Read More...
Cultivation and Propagation: Dracaena angustifoliaSN|30145]]SN|30145]]is comes under the category of Tropical Shrubs and is perfect for growing indoors. Average water needs, but don't over-water and suitable for growing in Pots. Suitable for both Home and Office, also cultivated as an ornamental shrub for parks and gardens. It will grow in warm subtropical or tropical climates and appears to be easy-to-grow and rewarding. It has average water needs, but don't over-water.
Soils: Need very drained soils and is suitable for growing in Pots. Give the plant an airy growing medium consists of both non organic material such us clay, pumice, lava grit, and peat or leaf-mould. It like quite small pots, repott in very later winter, early spring.
Fertilizing: Ferilizers can be used in light amounts. Apply general garden fertilizer (10-30-10) including all micro nutrients and trace elements or slow release fertilizer to the planting bed at 3-month intervals during growing season, and to container plants at bimonthly intervals.
Exposure: Requires sunny or half-shaded locations.
Water Requirements: Water regularly during the active growing season from March to September, but do not overwater this plant. No water should ever be allowed to stand around the roots. Keep almost dry in winter.
Hardiness: This plant has tolerated temperatures down to –0ºC. However it can be difficult to get it to look its best without a good amount of heat and sun and so it is only really suited to the tropics (USDA Zones 10-11). Keep the plant cooler in winter, but maintain the light as bright as you can so that any growth which it may produce at this time will not be etiolated. It can be grown outdoors in the summer months to benefit from direct exposure to light, and especially exposure to high summer temperatures.
Wind tolerance: Has a limited wind tolerance it is knock over by very strong winds, the plants may smash to to the ground... best to plant in such a location where winds are not a big issue.
Pruning: None necessary, except to remove dead lower leaves and spent fruit stems (panicles). Drastic pruning usually not needed.
Medicinal properties: Each part of the neem tree has some medicinal property. Antispasmodic, anti-proliferation activity, leaves boiled and the juice drunk for asthma; leaves poultice applied on swelling of joint; leaves decoction given to patients with poor appetite. Roots juice given in jaundice; a decoction of roots of Dracaena angustifoliaSN|30145]]SN|30145]] with bark of Mangifera indica and Syzygium cumini given as a postpartum remedy.
Traditional uses: Ceremonial, ritual, used in ceremonies of worship, plants placed in the altar.)
Edible Uses: Very young leaves - cooked and eaten as a side dish with rice. The leaves can be pounded then mixed with water to give a green juice that is used for colouring an Indian pastry made of glutinous rice. Fruits – roasted.
Garden uses: The neat appearance of this shrub ensures it a place in parks and gardens wherever there is a suitable tropical climate. It also cultivated as specimen plant; and large container plant with dramatic sword-like foliage. It makes a good house plants for a Dracaena, though recommend higher light if possible.
Propagation: Seeds. The seeds must be removed from the fleshy fruits. Best results are obtained with fresh seed. Plant the seeds in shallow containers in a quick draining mixture and cover the seeds with green sphagnum moss. Remove most of the moss when the seeds begin to germinate. Keep the containers in a covered, shaded area to protect them from rain damage. The seeds germinate in 2 to to 6 months, and the germination rate is usually only 5 to 10%. The seeds rot easily if the medium is too moist or if not pre-treated with fungicide. Transplant as soon as possible. Fresh seeds lose viability when stored. If seeds must be stored, the cleaned, air dried seed should be put in an paper bag or envelope and placed in an airtight container with desiccant.