Donate now to support the LLIFLE projects.
Your support is critical to our success.
Since 4 Aug 2013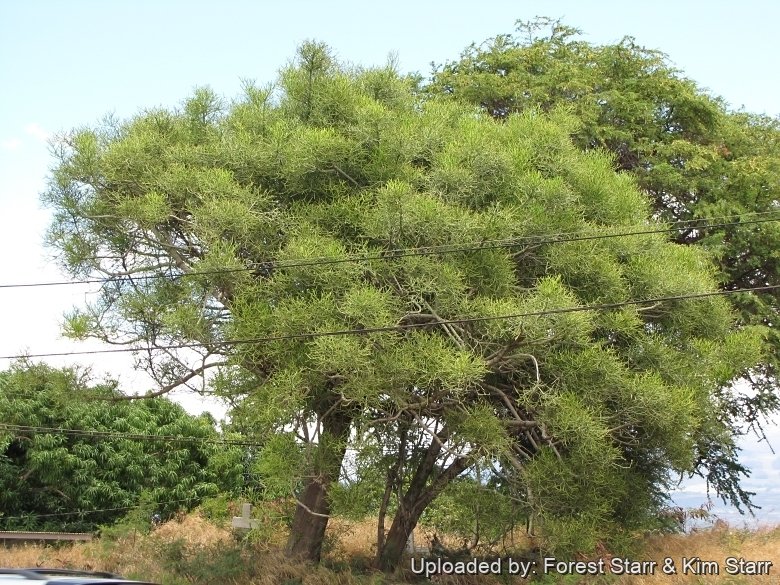 Euphorbia tirucalli Photo by: Forest Starr & Kim Starr
Habit at Kahului, Maui, Hawaii (USA). August 06, 2009.
Origin and Habitat: Euphorbia tirucalliSN|23187]]SN|23187]] is native of Angola, Congo, Mozambique, Rwanda, South Africa, Swaziland, Tanzania and Zambia. Present - origin uncertain: Eritrea, Ghana, Ethiopia, Sao Tomé and Principe, Somalia, South Sudan, Sudan.
Introduced from Africa as a garden plant, it is now naturalized in tropical areas and rainforests in the Amazon, Madagascar, Asia (India, Philippines, Viet Nam), Australia and South Africa and elsewhere in the tropics. The modern distribution of this species appears to have become confused by introductions and subsequent naturalization (it has a long history of utilization be people), so it is hard to know which countries are part of the original range.
Altitude: 0-2000 m.
Habitat: Occurs in semi-arid tropical climates in various habitats ranging from the sea-coasts to the mountain in open savanna, thin woodland, grassy hills, rocky outcrops and ridges, and along river courses. Dense thickets are associated with this species and the plant itself may form hedge-like barriers in the veld. Major Threat(s): Habitat degradation, fire, habitat clearing for charcoal.
Ecology: Euphorbia tirucalliSN|23187]]SN|23187]] produces yellowish flowers that attract butterflies, bees and other insects.



Synonyms:
See all synonyms of Euphorbia tirucalli
Accepted name in llifle Database:
Euphorbia tirucalli
L.
Sp. Pl. 1: 452. 1753 [1 May 1753]
Synonymy: 18
Common Names include:
ENGLISH:
Pencil Tree, Pencil Bush, Naked Lady, Indian Tree Spurge, Milkbush, Milk-hedge, Rubber Hedge Euphorbia, Pencil Euphorbia, Milk Bush, Rubber Euphorbia, Rubber Hedge Plant, African Milkbush, Milk Hedge, Tirucalli rubber, Petroleum plant, Pencil cactus, Indian spurge tree, Firestick plant, Finger tree, Finger euphorbia
AFRIKAANS (Afrikaans):
Kraalnaboom
AMHARIC (ኣማርኛ Amarəñña):
Kinchib, Kanchab
ARABIC ( لعربية ):
Zaqqume hindi, Injil, Azfur zukkum
BENGALI (বাংলা):
Siju, Latadaona, Lanka sij
BORANA (Afaan borana):
Aanno
CHINESE (中文):
綠珊瑚 (Taiwan), 绿玉树 (Lü yu shu)
DANISH (Dansk):
Levende pind
DIGO (Chidigo):
Utudi
FRENCH (Français):
Liane sans feuille, Garde maison, Euphorbe éffilée, Euphorbe antivenérienne, Arbre de Saint-Sebastien
GERMAN (Deutsch):
Bleistiftstrauch, Milchbusch, Gummihecke, Latex-Wolfsmilch, Benzin-Wolfsmilch
GIRIAMA (Kigiriama, or Kigiryama):
Mirila
GREEK (Ελληνικά):
Εφόρμπια εριτρέα
GUJARATI (ગુજરાતી):
Thor dandalio
HEHE (Hehe):
Mgofu
HINDI ( हिन्दी):
सेहुनड (Sehund ), कोनपाल सेहुनड (Konpal sehund), Konpal-sehnd, Konpahlsehnd, कोनपाल (Konpal), Barki-sehund
ITALIAN (Italiano):
Albero Matita, Pianta del Latte, Latte delle Streghe, Albero delle Dita, Albero delle Matite, Albero della Benzina
KANNADA (ಕನ್ನಡ):
ಮೊಂಡುಗಳ್ಳಿ (Moṇḍugaḷḷi), Bonta kalli
KINYARWANDA (Ikinyarwanda):
Umuyeenzi
KIRUNDI or RUNDI (íkiRǔndi):
Umunyari
LUGURU (Luguru):
Kigomru
MAASAI or MASAI (ɔl Maa):
Ol oile
MALAY (بهاس ملاي /Bahasa Melayu ):
Tulang-tulang (Malaysia), Tulang, Tikel tosan (Java), Tentulang, Kayu patah, Kaju tangan (Java), Getih urip (Java)
MALAYALAM (മലയാളം):
Tirukalli, Kol kalli, Kalli, Guda
MARAKWET (Markweta ):
Asubugwa
MARATHI (मराठी):
शेर-कांडवेल Sher-kandvel, Vajraduhu, Shera, Kada nivali
MBEERE (Mbeere or Ambeere):
Riaria
NDEBELE (NORTHERN) (Sindebele / isiNdebele):
Ingotsha
NYAMWEZI (Nyamwezi):
Manyara
NYANJA or CHEWA (chinyanja - chicheŵa):
Ngachi, Nkhadze
ORIYA (ଓଡି଼ଆ):
Vajradruma
PERSIAN (فارسی):
Shir tothar
PORTUGUESE (Português):
Forquilha, Coroa-de-cristo, Avelós, Árvore-de-sao-sebastiäo, Árvore-de-coral, Almeidinha (dried latex), Cassoneira, Aveloz
RUSSIAN (Русский):
Молочай тирукалли (Molochai tirukalli), Молочай тирукали
SAMBURU (Samburu):
lorien, l'puciril'i, l'oile
SANSKRIT (संस्कृतम्):
सातला (Satala - Sātalā), सप्तला Saptala, Vajradruma, Trikantaka
SHAMBALA or SHAMBAA (ki-Sambaa):
Ngeza, Sapu
SHONA (ChiShona):
Rusungwe
SINHALESE:
Nawa handi
SOMALI ( Soomaaliga):
Dania, Dana, Dano, Dharkayn, Dhakeen, Danno
SPANISH (Español):
Arbusto de Goma, Palitroque, Árbol de los Dedos, Palito, Esqueleto, Disciplinilla (Cuba), Consuelda, Aveloz, Alfabeto chino
SUKUMA (Sukuma):
Mhunga shalo, Mnyala, Inala
SWAHILI ( Kiswahili):
Mchakaazi, Mwasi mchakaazi, Mwasi, Mtovua macho, Mtupa mwitu, Malanfili, Malangili, Myniara, Chakaazi, Malangali, Mwazi, Utupa, Utupu, Mguru wa kuku, , Sapo, Mnyaa, Minyara, Mwitu
SWEDISH (Svenska):
Gummieuforbia
TAGALOG:
Suerda, Putputud, Konsuerda, Katuit
TAMIL (தமிழ்):
Tirukalli, திருகள்ளி (Tirukaḷḷi), Thiru kaḷḷi, Thadi kaḷḷi, Kompu kaḷḷi, Kodi kaḷḷi, கள்ளி (Kalli), Eli pālai
TELUGU (తెలుగు):
Kada jemudu, Chemudu
TSONGA (xiTsonga):
Mahumbana
VIETNAMESE (Tiếng Việt):
San hô xanh, Xương khô, Cây xương khô, Cây xương cá, Cành giao
VISAYAN (Bisayan or Bisaya):
Solda-solda (Philippines)
XHOSA (isiXhosa):
umHolonhlo
ZIGULA (Zigua):
Ganga
ZULU (isiZulu):
uMunde, umuNdewasehalanzeni, umDuze, umSutulu
Description: Euphorbia tirucalliSN|23187]]SN|23187]] is an unarmed succulent shrub often apparently dioecious growing to a height of about 5 m or a small tree up to 12(15) m tall with masses of cylindrical, pencil-like, succulent branches that form a dense crown. All parts of the plant ooze a caustic milky white sap at the slightest injury, like many other Euphorbia species.
Stem: The usually single main trunk and branches are woody and brown, but the younger branches are succulent, smooth, glabrous-green and cylindrical, 5-8 mm thick, green with fine longitudinal white striations looking like many pencils and earning the plant its common name - pencil tree. The distal branches forms brush-like masses or whorls that are the best known feature of this species. The bark of very old specimens is grey and rough with longitudinal dents and ridges that break up into very small fragments. There are sometimes conspicuous, small protuberances, such as a bulge, knob, or swelling, on the bark, and occasionally black, rough, crosswise bands.
Leaves: Few, minute linear-lanceolate to narrowly obovate, fleshy only on new growth and ephemeral, and the function of the leaves is taken over by the green branches.
Flowers: Yellow, inconspicuous, and carried in clusters at the apex of the short branches or in the angles of branches. Cymes 2-6, congested at tips of branchlets, forking 2-4-times, producing cyathia, these usually either all male or all female. Cyathium about 3 × 4 mm; glands to 1.5 × 2 mm, 5, subspherical to transversely elliptic, bright yellow; lobes about 0.5 mm, triangular.
Blooming season (Southern hemisphere): September to December.
Fruit: Tripartite capsules (divided into three parts) about 8 × 8.5 mm (but up to 12 mm in diameter), subspherical, glabrescent, longitudinally very slightly lobed, exserted on a tomentose pedicel.
Seeds: 3.5 × 2.8 mm, ovoid, smooth to conspicuously pubescent (clothed with soft hairs), pale green, with a pink tinge and . As with other members, the capsules dehisce while still on the tree. Generally the stalks are bent at an angle.
Fruiting season (Southern hemisphere): November to December.
Seeds: Oval, about 4 x 3 mm, glabrous, smooth and dark brown with a white line around the small white caruncle (fleshy wart near the hilum of the seed).
Bibliography: Major references and further lectures
1) Forest & Kim Starr "Euphorbia tirucalli (Milkbush, pencil tree)". Plants of Hawaii. <http://www.starrenvironmental.com>. Web. 27 Sep. 2014.
2) James Cullen, Sabina G. Knees, H. Suzanne Cubey "The European Garden Flora Flowering Plants: A Manual for the Identification of Plants Cultivated in Europe, Both Out-of-Doors and Under Glass" Cambridge University Press, 11/Aug/2011
3) Urs Eggli "Illustrated Handbook of Succulent Plants: Dicotyledons" Springer, 2002
4) Wikipedia contributors. "Euphorbia tirucalli." Wikipedia, The Free Encyclopedia. Wikipedia, The Free Encyclopedia, 27 Aug. 2014. Web. 1 Oct. 2014.
5) HANSEN, A. & P. SUNDING "Flora of Macaronesia." Checklist of vascular plants. 4. revised edition. Sommerfeltia 17: [1-295] 1993
6) Haevermans, T. 2004. "Euphorbia tirucalli". The IUCN Red List of Threatened Species. Version 2014.2. <www.iucnredlist.org>. Downloaded on 01 October 2014.
7) C.S. Walker, M. Thorburn "The Euphorbias of Gran Canaria, Canary Islands" The Euphorbia Journal, Vol. 4: 46-47, 1987
8) P. Lawant, R. Suntjens "Euphorbias of La Gomera, Canary Islands." The Euphorbia Journal, Vol. 10: 36-37, 1996
9) B. Mies, M.S. Jiminez & D. Morales "Ecophysiology and distribution of the endemic leafless spurge Euphorbia aphylla and the introduced Euphorbia tirucalli (Euphorbiaceae, Euphorbia Sect. Tirucalli) in the Canary-Islands." Plant Systematics and Evolution 202: 27-36, 1996
10) Gaby H. Schmelzer "Medicinal Plants" Volume 1 PROTA, 2008
11) Hans Dieter Neuwinger "African Ethnobotany: Poisons and Drugs : Chemistry, Pharmacology, Toxicology" CRC Press, 1996
12) Umberto Quattrocchi "CRC World Dictionary of Medicinal and Poisonous Plants: Common Names, Scientific Names, Eponyms, Synonyms, and Etymology" (5 Volume Set) CRC Press, 03/May/2012
Euphorbia tirucalli
Photo by: Giuseppe Distefano
Habit at Enchanting Floral Gardens of Kula, Maui, Hawaii (USA). October 24, 2007.
Photo by: Forest Starr & Kim Starr
Leaves at Kahului, Maui, Hawaii (USA). August 06, 2009.
Photo by: Forest Starr & Kim Starr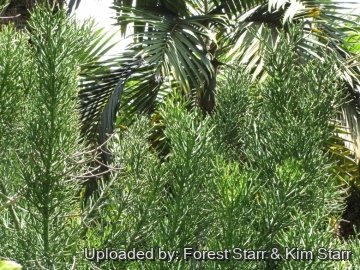 Habit at Iao Tropical Gardens of Maui, Maui, Hawaii (USA). May 22, 2012.
Photo by: Forest Starr & Kim Starr
Habit at Enchanting Floral Gardens of Kula, Maui, Hawaii (USA). October 24, 2007.
Photo by: Forest Starr & Kim Starr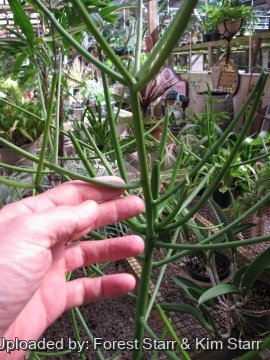 Habit at Sacred Garden of Maliko, Maui, Hawaii (USA). January 24, 2011.
Photo by: Forest Starr & Kim Starr
Cultivation and Propagation: It is an easy species to grow that is suited for any well drained soil in full sun. But young plant are happy growing indoors, where they can easily reach the ceiling. Give the plant an airy growing medium which mainly consists of non organic material such us clay, pumice, lava grit, and only a little peat or leaf-mould. Water regularly during the active growing season from March to September. No water should ever be allowed to stand around the roots. Keep almost completely dry in winter. It is a moderately fast grower, and will quickly become large landscape masterpieces in just 3-5 years. Only downside is from strong winds, the columns often smash into each other, causing permanent scarring... best to plant in such a location where winds are not a big issue. If plant becomes very red, this is a sign that the roots have not developed properly. It is a relatively fast growing and long lived plant and once established, it will be content in its position and with its soil for years. It can tolerate moderate shade, and a plant that has been growing in shade should be slowly hardened off before placing it in full sun as the plant will be severely scorched if moved too suddenly from shade into sun. Like quite small pots, repott in very later winter, early spring. Can be pruned for shape and branching. Frost tender, frost free zones only. Plant Pests: Prone to mealy bugs and rarely scale.
Propagation: It is easy to propagate by cuttings in late spring to summer, just take a cutting of the plant let it dry for 1 and stuff it in the ground (preferably dry, loose, extremely well draining soil).
Use: Even if this plant has been used in traditional medicine in many part of the world as a remedy for a series of diseases ( cancers, excrescences, tumors, warts, asthma, cough, earache, neuralgia, rheumatism, toothache, etc..) it is highly recommended do not use it as a medicine due to its toxicity and its immune suppression and tumor-promoting properties.
Beware: The milky sap contained in this plant is extremely irritating to the skin and mucosa and possibly toxic. If swallowed, it may cause burning to the mouth, lips, and tongue. Contact with skin causes severe irritation, redness and a burning sensation; contact with the eyes may cause severe pain, and in some cases temporary blindness for several days. Symptoms may worsen over 12 hours. For eye exposures, flush eyes with fresh, cool water for at least 15 minutes and repeat after a few minutes. Seek medical attention if there is no relief. Over-the-counter anti-histamines may provide relief for some people. Deaths have been recorded from swallowing the sap and, if swallowed one should seek medical attention.