Donate now to support the LLIFLE projects.
Your support is critical to our success.
Since 4 Aug 2013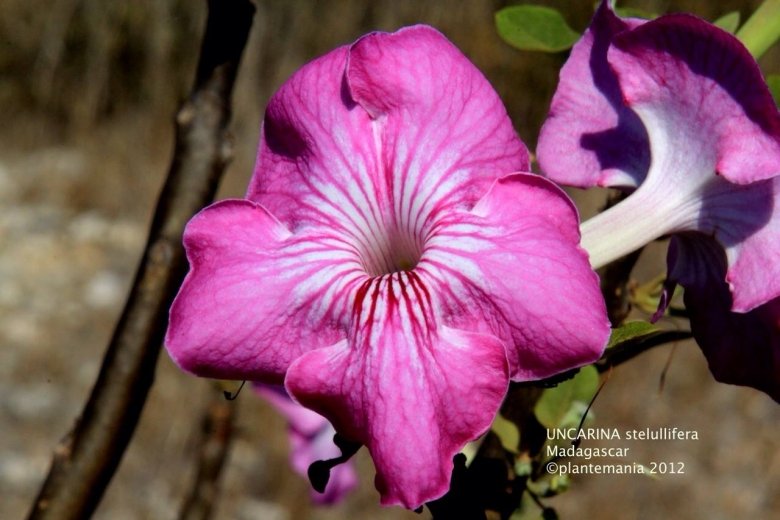 Uncarina stellulifera Photo by: © Plantemania
Origin and Habitat: Uncarina stellulifera has a comparatively small distribution area in the dry southwest corner of Madagascar, where it is found on the Mahafaly limestone plateau (SW Toliara) to Lake Tsimanampetsotsa towards the south. The area of occupancy of the species is less than 500 km² and the extent of occurrence is 9,105.4 km².
Altitude range. Altitude between 0 and 200 metres.
Habitat and ecology: This species grows in the xerophytic scrub and dry forests of south-western Madagascar in tropical ferruginous soil (reddish-brown sand), coastal sand, calcimorphic sand, stony calcareous soil and unconsolidated sand between limestone rocks. This species is closely linked to the rain cycle. They are deciduous and starts to flower before the leaves appear, often at the beginning of the wet season (November-April). The fruiting period is between December and March. The bright colours and funnel shape of the flowers suggest that the species is pollinated by wasps, bees and butterflies. It has disappeared from many regions due to a considerable cutting of thickets to provide grazing for the zebu (a Madagascan cow). The area actually occupied by the species is continually decreasing due to habitat degradation, slash and burn agriculture, pastures for livestock (mainly cattle and goats). Recent trade outside Madagascar appears to be very largely in seeds. Some export of plants, presumed wild-collected, has taken place in the past, although there is no indication of ongoing export of wild-collected plants. The scale of the reported trade is very small and this species does not appear to seriously threatened by excessive collection for export.
Synonyms:
Description: Uncarina stellulifera is a succulent shrub or small tree that grows 1 to 2,5, occasionally to 3.5 metres tall with a dense crown of erect swollen branches. The leaves are lobed, ovate-triangular in shape white hairs and long petioles. The flowers appear solitary or in pairs, they have a long corolla with a whitish-pink tube with veins that are crimson red inside and brown in the throat, and a pink-lilac lobe, but plants with prolonged flowering period. The fruit is 4 to 5 cm long; it bears two types of spines ending in hooks that are minute harpoons.
Stem: Branches more or less erect. Terminal branchlets 0.5 cm in diameter.
Leaves: Petiolate. Petiole about as long as blade (lamina). Blade ovate-triangular 4-10(-12) cm long, 3-7(-10) cm wide, with 3 very indistinct lobes, more or less rounded at the base rounded, apex obtuse. Margin entire, upper surface green glabrous or with few short mucilage-glands with stellate head (hence the specific name) and very few simple hairs, lower face greyish-green due to a dense cover of short mucilage-glands.
Inflorescences (cymes): Few, growing from the axil of higher leaves, 1-2 flowered and not forming dense clusters.
Flowers: Pale pink to purplish (rarely pure white), mouth of the throat with red colouration from where red lines run over all the corolla-lobes, gradually fading towards the margin of the lobes; Corolla-tube 4.5 cm long
Fruits: Indehiscent, 4 to 5 cm long, not laterally compressed, nearly circular in cross section, body in lateral view ovate and with a long obtuse and emarginate beak, 4-5 cm long, 1-1.5 cm leaves. Species dimorphic: Barbed spines about 5 in each row, to 30 mm, not overtopping the beak, simple spines numerous though reduced to small protuberances, false septa present and complete.
Seed: Obovate to sub-triangular, 6 mm long, 44 mm wide,wrinkled on both sides, papillose,
narrow-winged, wings 0.5 mm long.
Related species: U. stellulifera shares several rare characters with Uncarina abbreviata (purplish-flowers, false septa, mucillage-gland with stellate head), though the fruits are completely different.
Notes: The fruits of Uncarina species are covered with hooked spines that resemble harpoons. This provides the fruits with devices that facilitate seed dispersal by clinging to animal fur (zebus, lemurs). The harpoons covering of the two carpels of the fruit of Uncarina stellulifera assure an extremely powerful attachment, they fall to the ground when mature and accumulate around the base of adult plants, often in large numbers. Also, the attachment hooks are only exposed after the fruit dries out. The fruit is thus not spiny when on the plant. Furthermore, the sharp terminal spines of the mature are too large and far apart to clasp the fur of small animals, given the absence of large terrestrial mammals in Madagascar, most likely dispersers of uncarina fruits were the extinct elephant bird (Aepyornis).
Bibliography: Major references and further lectures
1) Werner Rauh, Herman Schwartz "Succulent and xerophytic plants of Madagascar", Volume 2 Strawberry Press, 1998
2) Keith Grantham, Paul Klaassen "The plantfinder's guide to cacti & other succulents"
Timber Press, 18 May 1999
3) "British Cactus & Succulent Journal" Cactus & Succulent Society, 2001
4) "DIAGNOSES DES ESPÈCES NOUVELLES 1. Uncarina stellulifera H. Humb. sp. nov." Adansonia, Muséum National d'Histoire Naturelle, Laboratoire de phanérogamie, 1961
5) Ihlenfeldt H.D. "Pedaliaceae." Springer-Verlag, Berlin. 2004.
6) Humbert H. "Les Pedaliacees de Madagascar". Adansonia 2, 200–215. 1962.
7) J.J. Midgley, N. Illing "Were Malagasy Uncarina fruits dispersed by the extinct elephant bird?" South African Journal of Science vol.105 n.11-12 Pretoria Nov./Dec. 2009
8) "Sixteenth meeting of the Conference of the PartiesBangkok (Thailand), 3-14 March 2013 CONSIDERATION OF PROPOSALS FOR AMENDMENT OF APPENDICES I AND II" <https://www.cites.org/sites/default/files/eng/cop/16/prop/E-CoP16-Prop-68.pdf>
9) Recommendations on the Proposals to Amend the CITES Appendices at the
10) "16th Meeting of the Conference of the Parties. Proposal RECOMMENDATION for Uncarina stellulifera" <http://www.trafficj.org/cop16/pdf/CoP16_Prop68.pdf>
11) Urs Eggli "Illustrated Handbook of Succulent Plants: Dicotyledons" Springer Science & Business Media, 2002
Uncarina stellulifera. A rare white flowering form.
Photo by: © Plantemania
Send a photo of this plant.
The gallery now contains thousands of pictures, however it is possible to do even more. We are, of course, seeking photos of species not yet shown in the gallery but not only that, we are also looking for better pictures than those already present.
Read More...
Cultivation and Propagation: Uncarinias are easy to grow heat resistant plant, which grow better than the average. Their attractiveness is further enhanced because they will flourish very easily in any pseudo-tropical environment. It can tolerate neglect, and as soon as you pay it a little attention (like repotting or fertilizing) it recovers and puts out plentiful new growth. They will tolerate intense heat and sun, when provided with adequate water, but must be protected from frost.
Growth rate: These plants can grow quite quickly if provided with adequate water, warmth and root run.
Soil: It needs a rich, very well drained potting medium (add pumice, vulcanite, and perlite).
Waterings: It should be watered plentifully in Summer and kept drier in Winter. This species like all Uncarinias, is sensitive to excess moisture, and should be kept on the dry side. It rot easily and do not like any water when it has no leaves.
Fertilization: Use diluted fertilizer on young plants to speed up growth.
Exposure: They do best when grown in part shade to full sun. G
Hardiness: Due to their Madagascan origin keep warm in winter, the minimum safe average temperature is 10°C, although they can go lower for short periods (cannot endure temperatures below 2° C). If grown outdoors they will probably grow back from roots, if frozen. They are quite heat tolerant, and survive easily temps above 45° in summer, without dropping leaves.
Bonsai/caudex culture: Lifting the thickened root system periodically creates a cool, gnarled bonsai look.
Traditional uses. This species plays an important role in the daily life of the local population, owing to its use for traditional medicine and various purposes. The leaves of Uncarina species are used as soap by local populations. They are also used by cosmetic manufacturers to make shampoo.
Reproduction: Seeds, and they can be reproduced by cuttings as well.