Donate now to support the LLIFLE projects.
Your support is critical to our success.
Since 4 Aug 2013
Accepted Scientific Name: Astrophytum myriostigma Lem.
Cact. Gen. Sp. Nov. 4 (-6). 1839 [Feb 1839] Lem.
Astrophytum myriostigma var. nudum f. cristatum Photo by: Flavio Agrosi
Origin and Habitat: San Luis Potosi, Mexique but many of the clones actually in cultivation are of garden origin (Nursery produced cultivar)
Synonyms:
See all synonyms of Astrophytum myriostigma
Description: The crested form of the Astrophytum myriostigma var. nudum, only deviate from the typical form for lacking or mostly lacking white flecks, giving a green colour overall. There are several crested forms mainly selected by Asian growers.
Stem: Fan shaped, smooth, glossy green, blue-green, grey-green or mauve-green thin or thick (depending on clone) up to 30 cm (or more ) in diameter and height with age.
Ribs: Vertical, regular, deep, prominent and acute.
Spines: None.
Flowers: The flowers are unusual and eventually produced only by some clones.
Subspecies, varieties, forms and cultivars of plants belonging to the Astrophytum myriostigma group
Bibliography: Major references and further lectures
1)James Cullen, Sabina G. Knees, H. Suzanne Cubey "The European Garden Flora Flowering Plants: A Manual for the Identification of Plants Cultivated in Europe, Both Out-of-Doors and Under Glass" Cambridge University Press, 11/Aug./2011
2) Edward F. Anderson "Das große Kakteen-Lexikon." Eugen Ulmer KG, Stuttgart 2005
3) Keith Grantham, Paul Klaassen "The plantfinder's guide to cacti & other succulents" Timber Press, 18/mag/1999
4) Britton & Rose "The Cactaceae" 4: 273, 1923
5) Hiroshi Hirao "Colour encyclopaedia of cacti" Japan 1979 (Japanese language and script)
6) Willy Cullmann, Erich Götz (Dozent Dr.), Gerhard Gröner "The encyclopedia of cacti" Portland, OR: Timber Press, 1986
7) David Hunt, Nigel Taylor "The New Cactus Lexicon" DH Books, 2006
8) Curt Backeberg "Cactus Lexicon" Sterling Publishing Company, Incorporated, 1978
9) Del Weniger "Cacti of the Southwest: Texas, New Mexico, Oklahoma, Arkansas, and Louisiana" University of Texas Press, 1969
10) Del Weniger "Cacti of Texas and Neighboring States: A Field Guide" University of Texas Press, 1984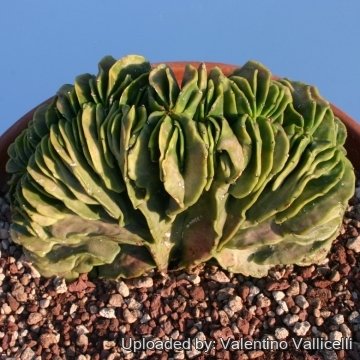 - This form is without (or with very few) white tufted characteristics flecks, so it is 'nude', which in this case means smooth green.
Photo by: Valentino Vallicelli
Send a photo of this plant.
The gallery now contains thousands of pictures, however it is possible to do even more. We are, of course, seeking photos of species not yet shown in the gallery but not only that, we are also looking for better pictures than those already present.
Read More...
Cultivation and Propagation: Although regarded as a choice and difficult plant is not too difficult in a greenhouse, although grows quite slowly. It is sometime seen as a grafted plant but grows very well on its own roots too. Use mineral well permeable mineral soil with little organic matter (peat, humus). Water sparingly from March till October (weekly during summertime, if the weather is sunny enoughand) , with a little fertilizer added. keep perfectly dry in winter at temperatures from 5 to 15 degrees centigrade. (but it is relatively cold resistant and hardy to -7° (-10°)C for short periods) In the rest period no high atmospheric humidity!! They need a good amount of light shade to full sun this help to keep the plants healthy, although slow growth.
Propagation: Grafting or cuttings. Plants are usually grafted onto column-shaped cacti but proved to be able to produce their own roots if degrafted.