Donate now to support the LLIFLE projects.
Your support is critical to our success.
Accepted Scientific Name: Parodia ottonis (Lehm.) N.P.Taylor
Bradleya 5: 93. 1987
Notocactus ottonis var. tenebrosus Photo by: Valentino Vallicelli
Origin and Habitat: Unknown.
Synonyms:
See all synonyms of Parodia ottonis
Accepted name in llifle Database:
Parodia ottonis
(Lehm.) N.P.Taylor
Bradleya 5: 93. 1987
Synonymy: 67
Accepted name in llifle Database:
Parodia ottonis subs. horstii
(F.Ritter) Hofacker
Cactaceae Consensus Init. 6: 12. 1998
Synonymy: 14
Description: Parodia ottonisSN|748]]SN|748]] var. tenebrosa|SN|25373]] is one of the innumerable local form of the very variable Parodia ottonisSN|748]]SN|748]]. The varietal epithet "tenebrosus" is Latin word meaning "Of dark places" and may refer to the shaded habit in which this plant grows.
This variety has has dark green stems with 8-10 radial spines and 1 darker central spines. Flowers are bright satiny yellow.
Habit: Simple at first later usually clustering.
Stems: More or less spherical with flattened top, deep-green and can get deep purplish to maroon during winter dormancy, though this colour can be retained if grown in sufficient light. However the new growth is green but will soon darken to match the older epidermis.
Ribs: about 12, well defined rounded.
Spines: Slender hair-like, straight or slightly curved, relatively sparse that does not hide the epidermis.
Central spines: 1 (or more), brown or black, about 20 mm long tending to point downward.
Radial spines: about 12 spreading radially, with a starlike appearance, whitish, pale rose or brown about 10 mm long.
Flowers: Large up to 6 cm in diameter, few often closely packed apically, bright satiny yellow, pericarpels and tube with dense white to brownish wool and bristles. Stigma-lobes purplish.
Fruit: Ovoid to short oblong dehiscent lengthwise to expose the seeds and white pulp.
Seeds: Bell-shaped glossy black.
Subspecies, varieties, forms and cultivars of plants belonging to the Parodia ottonis group
Bibliography: Major references and further lectures
1) Krainz, Hans "Die Kakteen" 1957-1975
2) Friedrich Ritter "Kakteen in S?damerika: Ergebnisse meiner 20jährigen Feldforschungen" Friedrich Ritter Selbstverlag, 1979
3) E Haustein "Der Kosmos Kakteenfuehrer (the Kosmos Cactus Guide)" Balogh Scientific Books 01 December 1998
4) Mariella Pizzetti, Giuseppe Mazza "Piante grasse: le cactacee" A. Mondadori, 1985
5) Edward Anderson "The Cactus family" Timber Press, Incorporated, 2001
6) James Cullen, Sabina G. Knees, H. Suzanne Cubey "The European Garden Flora Flowering Plants: A Manual for the Identification of Plants Cultivated in Europe, Both Out-of-Doors and Under Glass" Cambridge University Press, 11/Aug/2011
7) David R Hunt; Nigel P Taylor; Graham Charles; International Cactaceae Systematics Group. "The New Cactus Lexicon" dh books, 2006
8) Urs Eggli, Leonard E. Newton: "Etymological Dictionary of Succulent Plant Names" Springer, Berlin/Heidelberg 2010
9) 5) N. L. Britton, J. N. Rose: "The Cactaceae. Descriptions and Illustrations of Plants of the Cactus Family." Volume III, The Carnegie Institution of Washington, Washington 1922
10) David Squire "Complete Indoor Plants" New Holland, 28/May/2007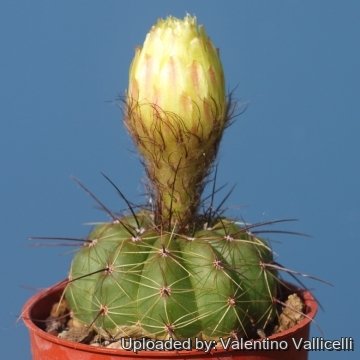 Notocactus ottonis var. tenebrosus
Photo by: Valentino Vallicelli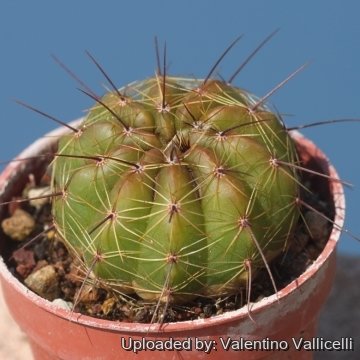 Notocactus ottonis var. tenebrosus
Photo by: Valentino Vallicelli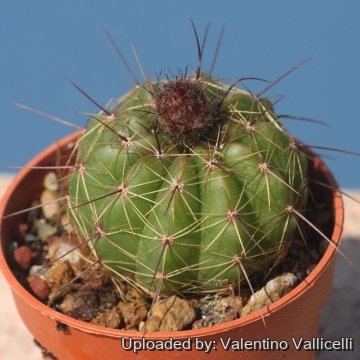 Notocactus ottonis var. tenebrosus
Photo by: Valentino Vallicelli
Send a photo of this plant.
The gallery now contains thousands of pictures, however it is possible to do even more. We are, of course, seeking photos of species not yet shown in the gallery but not only that, we are also looking for better pictures than those already present.
Read More...
Cultivation and Propagation: Parodia ottonisSN|748]]SN|748]] is a summer grower species easy to grow and to bloom. It makes a very suitable indoor plants for any luminous windowsills.
Growth rate: It is a moderately fast growing and easily flowering species.
Soil: Use mineral well permeable substratum with little organic matter (peat, humus), plants may become too elongated if compost is too rich.
Repotting: Re-pot every 2 years. Use pot with good drainage.
Fertilization: It grows much faster with a low nitrogen content fertilizer in spring and summer.
Watering: Requires careful watering to keep plant compact. Water sparingly from March till October, the thin, fibrous roots suffer if there is humidity, therefore the plant should be watered only when the surrounding terrain is dry. Keep dry as soon as the temperature starts dropping in October and keep it perfectly dry in winter at temperatures from 5 to 15 degrees centigrade.
Hardiness: They need to be kept in a cool place during winter rest and are somewhat resistant to frost if kept on the dry side prior to, and during, cold weather ( they are hardy to -5 C ° C, for short periods). Although it is one of the easier Parodia to grow, it tends to rot in winter during the resting phase, if kept wet. In the rest period no high atmospheric humidity!!
Sun Exposure: Requires full sun in winter and some protection in summer, its colour tends to richer and darker when grown in light shade.
Uses: It is an excellent plant for container growing. It always looks good and stays small.
Pests & diseases: It may be attractive to a variety of insects, but plants in good condition should be nearly pest-free, particularly if they are grown in a mineral potting-mix, with good exposure and ventilation. Nonetheless, there are several pests to watch for:
- Red spiders: Red spiders may be effectively rubbed up by watering the infested plants from above.
- Mealy bugs: Mealy bugs occasionally develop aerial into the new growth among the wool with disfiguring results, but the worst types develop underground on the roots and are invisible except by their effects.
- Scales: Scales are rarely a problem.
- Rot: Rot is only a minor problem with cacti if the plants are watered and "aired" correctly. If they are not, fungicides won't help all that much. To prevent rottenness it is also advisable to surround its root neck by very rough sand or grit, this help a fast water drainage.
Propagation: Almost exclusively by seed. Cutting scions from a flourishing plant may also been used to propagate this plant.