Donate now to support the LLIFLE projects.
Your support is critical to our success.
Since 4 Aug 2013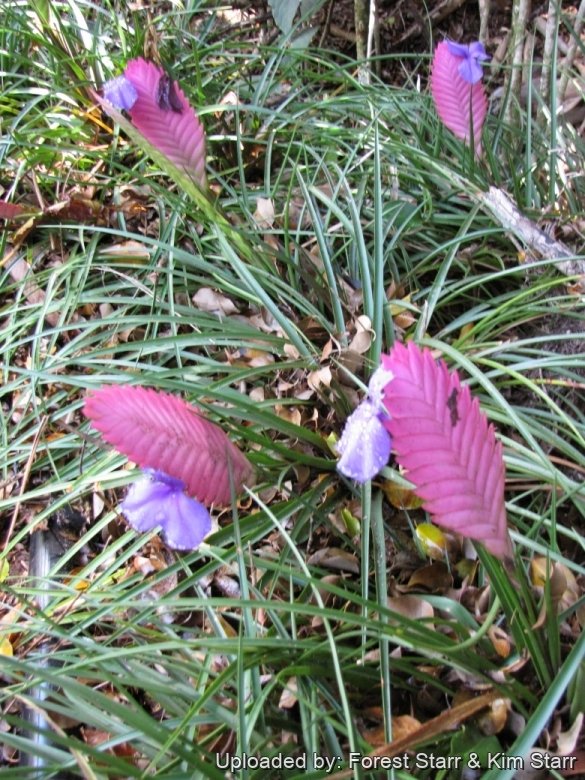 Tillandsia lindenii Photo by: Forest Starr & Kim Starr
Flowering habit at Iao Tropical Gardens of Maui, Maui, Hawaii (USA). May 22, 2012.
Origin and Habitat: Native to Ecuador and Peru,
Habitat: Tillandsia lindenii is an epiphytic plant that grows in rainforests on tree trunks, tree hollows and even rocks and sandy soils.
Synonyms:
See all synonyms of Tillandsia lindenii
Accepted name in llifle Database:
Tillandsia lindenii
Regel
Index Seminum [St.Petersburg (Petropolitanus)] 1868: 92 1869
Synonymy: 17
Common Names include:
ENGLISH:
Air Plant, Pink Quill, Blue-flowered torch, Tillandsia
ITALIAN (Italiano):
Tillandsia
SWEDISH (Svenska):
Väktaren i tornet
Description: Tillandsia lindenii is one of the most widely cultivated Tillandsias It is a medium sized epiphytic species and has a large showy long-lasting bloom. Tillandsia cyaneaSN|22257]] are similar to the well known Tillandsia cyaneaSN|22257]], but are a bit larger and supposedly a bit more cold tolerant.
Stem: Stemless
Rosette: Loose with arching dark leaves. About 30 to 50 cm. in width and uo to 40 cm. in height in the non-blooming state.
Leaves: Up to 40 cm long, narrowly triangular, long tapered, about 1.5 cm wide at the base, dark green with red or brown stripes more prominent on the upper side at the base of each leaf.
Inflorescence: The flower-scape is a plump blade-like feather that may reach 20 cm long, and is composed of dense, flattened pink bracts from which the large, bluish flowers emerge . Tillandsia cyaneaSN|22257]] is considered to have a "paddle-shaped inflorescence" by bromeliad collectors.
Flowers: Pansy-shaped, white-eyed, deep purple-blue with three spreading petals, that appear successively along the edge of the spike between the showy bracts, 1 or 2 at a time, for long periods. Some have a cinnamon-clove fragrance especially in the morning.
Blooming season: Winter. Its inflorescence can last several months. Each purple-blue flower lasts 1-3 days, and it continues to produce the flowers for 1-3 months.
Remarks: A closely related species, Tillandsia cyaneaSN|22257]], is smaller up to 30 cm tall and differs somewhat, including that its flowers are (usually) not white-throated and the paddles (inflorescences) are differently-shaped, more blunted, elliptical shaped and with a shorter scape than Tillandsia lindenii.
Bibliography: Major references and further lectures
1) Forest & Kim Starr "Tillandsia lindenii (Air plant, tillandsia)". Plants of Hawaii. <http://www.starrenvironmental.com>. Downloaded on 20 August 2014.
3) Wikipedia contributors. "Tillandsia lindenii." Wikipedia, The Free Encyclopedia. Wikipedia, The Free Encyclopedia, 6 Jul. 2014. Web. 18 Sep. 2014.
3) David H. Benzing "Bromeliaceae: Profile of an Adaptive Radiation" Cambridge University Press, 06/Apr/2000
4) Paul T. Isley "Tillandsia: the world's most unusual air plants" Volume 1 Botanical Press, 1987
5) Ulrich Baensch, Ursula Baensch "Blooming bromeliads" Tropic Beauty Publishers, 1994
6) Smith, L.B. & R. J. Downs. "Tillandsioideae (Bromeliaceae)" Part II. Flora Neotropica, Monograph 14(2): 663–1492 1977.
7) "Gardeners Chronicle & New Horticulturist" Haymarket Publishing, 1919
8) Stuart Max Walters "European Garden Flora: A Manual for the Identification of Plants Cultivated in Europe, Both Out-of-Doors and Under Glass" Cambridge University Press, 15/Mar/1984
9) Alfred Byrd Graf "Hortica: color cyclopedia of garden flora in all climates--worldwide--and exotic plants indoors" Roehrs Co., 1992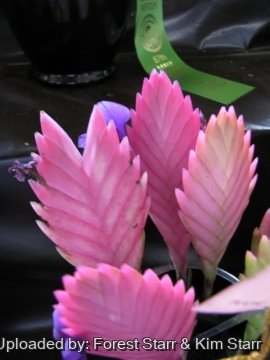 Flowers at Maui County Fair Kahului, Maui, Hawaii (USA). October 03, 2009.
Photo by: Forest Starr & Kim Starr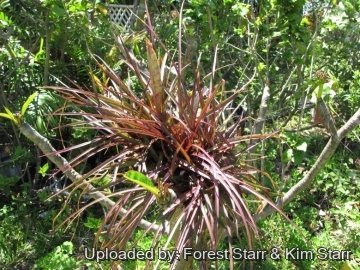 Habit at Ulana St Makawao, Maui, Hawaii (USA). April 11, 2010.
Photo by: Forest Starr & Kim Starr
Cultivation and Propagation: Tillandsia lindenii is easy to grow, and will thrive within a broad latitude of care conditions. Locate in a well ventilated place.
Soil: This species seems to grow faster potted up unlike most Tillandsia which prefers to be mounted on wood or grown bare root. Under these conditions they develop a significant root system, which appears to produce a more robust and prolific plant. Transplant them in spring and, if potted, it must be in a free-draining soil (i.e. leaf mould, peat and sphagnum added with perlite, sharp sand or orchid bark, pH Range 5,5 to 7,5). They can also be grown on slabs of bark or tree fern fibre.
Exposure: This plant likes bright indirect light and protection from hot sun, it is best placed in a sheltered spot in the garden during the summer to facilitate flowering. Low light often diminishes the inflorescence colours. In a dark location the plant will gradually weaken and wither.
Fertilizing: It should be watered with a liquid fertilizer diluted to ½ the strength recommended on the label added to the current irrigation water once a month from spring to autumn. Can also be applied to the leaves.
Waterings: Allow medium to dry out between watering. From mid spring through fall, mist daily. If grown outdoors, keep dry during winter. All of the leaf surfaces should dry between waterings. If the plants in a clump become wet and remain so for a few days they may suffocate and die. In a clump, air cannot circulate among the leaves as well as in individual plants.
Temperature: It must be grown in a frost-free situation in open air in the tropical and humid subtropical climates, with temperatures which it is good to keep over the 8°C, best 20-24°C. However its cultivation can be tried also in the warm temperate climates, in sheltered position, as it can stand, for short time, temperatures around the -2°C (but plants foliage will suffer little cold damage where frost settles on them). Winter hardy to USDA Zones 10-11. North of Zone 10, this bromeliad is usually grown in containers that must be overwintered indoors.
Pest & diseases: No serious insect or disease problems. Watch for aphids, thrips and scale. Mealybugs infestations are also a frequent problem. Rot may develop if soil is kept too moist.
Maintenance: Transplant them in spring
Propagation: Division or seed. The primary plant tends to die off after flowering, but will be replaced by the offshoots. Plants can be divided at any time of the year. Seeds are germinated on peat moss. Seeds need light to germinate