Donate now to support the LLIFLE projects.
Your support is critical to our success.
Accepted Scientific Name: Lophophora diffusa (Croizat) Bravo
Cact. Suc. Mex. 12: 13. 1967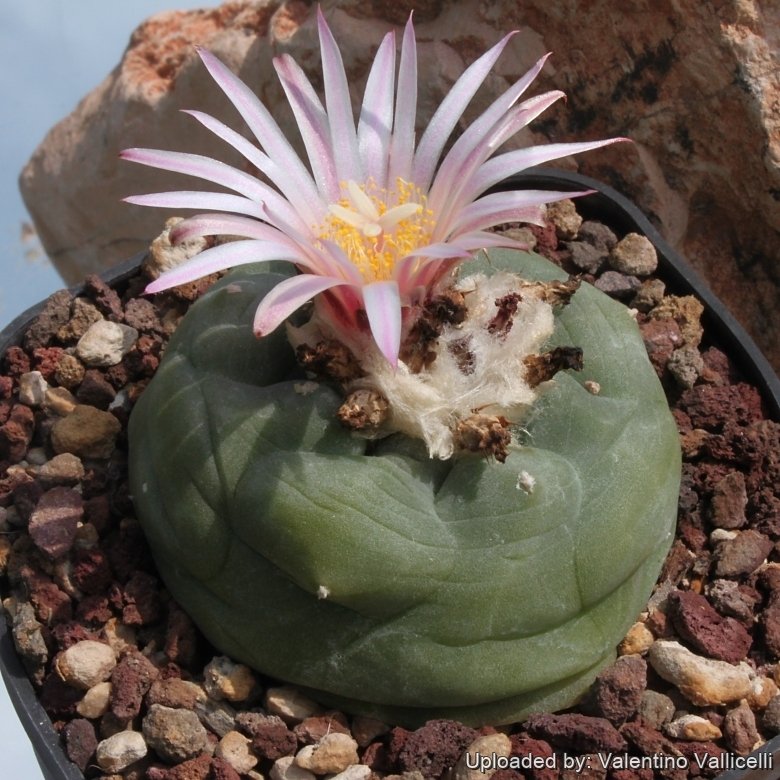 Lophophora diffusa var. koehresii Photo by: Valentino Vallicelli
is probably the smallest Lophophoras. It has big pale pink flowers with darker midstrip.
Origin and Habitat: Lophophora diffusaSN|1749]]SN|1749]] var. koehresii grows around the outskirts of Queretaro Mexico spanning quite a bit further than Lophophora diffusaSN|1749]]SN|1749]] inhabiting a large flat basin (lagoon) between the Rio Verde in San Luis Potosi and Tula in Tamaulipas.
Altitude range: Around 1050 metres above sea level.
Habitat: This species is mainly restricted to shallow lake beds in the soft alluvial sediments of the drainless basin and becomes totally covered by water for days if not weeks at a time during the rainy season. During the dry season, L. Diffusa var. koehresii pull itself deep into the ground to a point of being completely buried until the rainy season appears.
Synonyms:
See all synonyms of Lophophora diffusa
Accepted name in llifle Database:
Lophophora diffusa
(Croizat) Bravo
Cact. Suc. Mex. 12: 13. 1967
Synonymy: 18
Lophophora diffusa subsp. kubesai

Halda, Kupčák & Malina
Description: Lophophora diffusaSN|1759]]SN|1749]] var. koehresii is a globular spineless cactus with large tap root and very interesting flower with pink to brownish coloured strips. It differs from the closely related Lophophora diffusaSN|1749]]SN|1749]] by being a characteristically dark green colour. It is also a smaller size (smaller than any other plant within the entire Lophophora family), and the ribs are more strongly in relief. Although this species usually grows as a single headed plant in its native habitat, in cultivation with time, once a mature plant reaches 5-6 centimetres in width, pups do begin showing themselves.
Stem: 6-10(-12) cm in diameter. It has the darker skin tone than any other lophophora.
Root: It has a huge fat underground tap-root that greatly exceeds the size of the aerial stem. May be this is one of the largest and deeper tuberous roots, when compared to others within the genus of Lophophora of the same age. Although the tuber is one of the largest when compared to its body and stem it is indeed one of the smallest grower with dimensions of ten centimetres in diameter rarely reached.
Flowers: Pinkish to cream with a darker pink or brownish midrib, reaching over 3 cm in diameter. Unlike the somewhat wider flower petals of Lophophora diffusaSN|1749]]SN|1749]] and Lophophora williamsii, this variety has unusually thin petals. Like Lophophora diffusaSN|1749]]SN|1749]], it is also self-sterile and requires cross pollination to produce seed.
Fruits: Creamy-white, often turning to a nice rosy pink. Each fruit containing twenty plus seeds.
Seeds: Lophophora koehresiiSN|1749]]SN|1759]] has a seed testa structure completely different from the other lophophoras. The hilum is open and almost circular. The testa is reticulated, not nodulated. The individual cells of the testa almost merge.
Subspecies, varieties, forms and cultivars of plants belonging to the Lophophora diffusa group
Notes: This is a relative of Lophophora williamsiiSN|1117]]SN|1117]], the true Peyote. But although this species has many morphological and chemical differences, it does not contain the same substances as L. williamsii, it is not narcotic, it is not specifically named in the law, and it's probably legal to possess (depending on local legislation).
Bibliography: Major references and further lectures
6) Cactus and Succulent Journal, Volume 81, Editions 1-6, page 299, 2009
7) Gómez-Hinostrosa, C., Sánchez , E., Guadalupe Martínez, J. & Terry, M. 2013. Lophophora diffusa. In: IUCN 2013. "IUCN Red List of Threatened Species." Version 2013.2. <www.iucnredlist.org>. Downloaded on 24 February 2014 .
8) Edward Anderson "The Cactus family" Timber Press, Incorporated, 2001
9) James Cullen, Sabina G. Knees, H. Suzanne Cubey "The European Garden Flora Flowering Plants: A Manual for the Identification of Plants Cultivated in Europe, Both Out-of-Doors and Under Glass" Cambridge University Press, 11/Aug/2011
10) David R Hunt; Nigel P Taylor; Graham Charles; International Cactaceae Systematics Group. "The New Cactus Lexicon" dh books, 2006
11) Frank Valente "Growers Notes... New Species or Not?? Lophophora Diffusa var. koehresii" MagiCactus.com <http://www.magicactus.com/l_d_koehresii.html> Web. 5 Jun. 2015.
Lophophora diffusa var. koehresii
Photo by: Valentino Vallicelli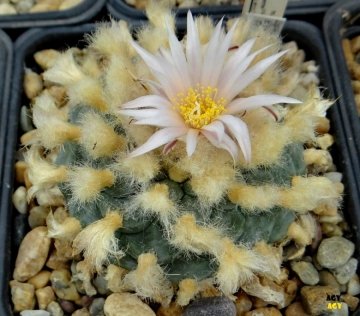 Lophophora diffusa var. koehresii
Photo by: Agócs György
Lophophora diffusa var. koehresii
Photo by: Valentino Vallicelli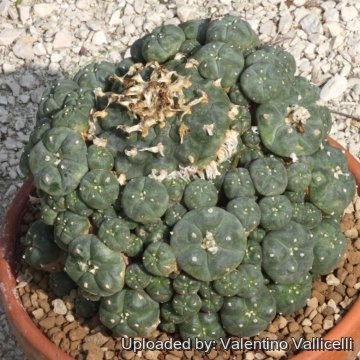 In its native habitat it grows as a single headed plant, but in cultivation, pups are often produced.
Photo by: Valentino Vallicelli
It differs from Lophophora diffusa by being a darker green colour with more raised and wavy ribs.
Photo by: Valentino Vallicelli
Lophophora diffusa var. koehresii
Photo by: Valentino Vallicelli
Lophophora diffusa var. koehresii
Photo by: Cactus Art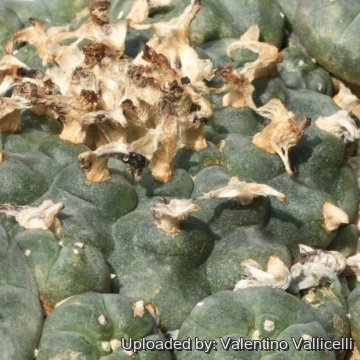 Lophophora diffusa var. koehresii
Photo by: Valentino Vallicelli
Cultivation and Propagation: Slow growing, it requires half-shade in summer, full sun the rest of the year. Grow it in a narrow and deep container to accommodate the tap root. This species is quite resilient to the elements and possibly the most hardy within the "diffusa" group of plants.
Soil: Use highly gritty compost with much drainage.
Moisture: Waterings should be rather infrequent, to keep the plant compact and not to become excessively elongated and unnatural in appearance. Watering it properly is often difficult, because this plant tends to crack open or rot if over-watered. The fact that the plant retracts into the soil and assumes a grey-green colouring between waterings is perfectly natural, and doesn't cause any damage.
Overwintering: Like other arid zone cacti, they require a dry and cool over-wintering; otherwise they may succumb to rot. This also promotes flowering. Assure good ventilation.
Use: Lophophora diffusa var. koehresii tends to maintain a smaller size than any other plant within the entire Lophophora genus, which makes it a nice window sill plant for many years without taking up much space.
Propagation: Seeds germinate quite readily and the plant is one of the easiest to grow within the Lophophora family as it seems to be quite resistant to rot. Seeds should be sown in spring, in sterile cacti mix. Cover with a humidity dome or plastic wrap and leave in a warm spot in 50-75% shade. Fluctuating temperatures are best (ie. high day temperature and low night temperature), as they simulate the desert environment. Keep constantly humid, as seedlings cannot survive if too dry. Seedlings will emerge in 7-21 days and can be grown in the same environment for a number of months. Mulch with thin layer of small quartz gravel (1-2mm diameter). This helps them stay upright, hinders algae growth and regulates moisture. As they get older, the watering can become less frequent. Potting up can be done when 5-10 mm in diameter.
Your Photos
---
by Valentino Vallicelli
by Cactus Art
by Cactus Art

by Valentino Vallicelli

by Valentino Vallicelli