Donate now to support the LLIFLE projects.
Your support is critical to our success.
Since 4 Aug 2013
sponsored link
Strombocactus disciformis cv. Cespitosa Photo by: Valentino Vallicelli
Origin and Habitat: Horticultural sport (Cultivated variety)
Synonyms:
See all synonyms of Strombocactus disciformis
Description: This is a strange plant that forms lots of axillary shoots in a continuous series on almost each node starting from the base of the stem, while the typical Strombocactus disciformisSN|2103]]SN|2103]] is usually solitary.
Stem: The body is flattened or spherical, 3 to 8 cm high, reaching 20 cm in age, and 3 to 9 cm across and branches profusely from the base to form a crowded clump with hundred of small heads around the main stem. The crown is slightly depressed and felted. The colour is blue-green with greyish tinge, the base covered with brown corky spots in age. It is composed of hard, spirally arranged rhomboid and imbricate tubercles, 1 to 1.8 cm high. These tubercules are flattened and almost truncated above and somewhat horny or keeled below.
Spines: 4 to 5, erect and dark grey at the tips and pale grey at the base, 1.2 to 2 cm long, they become calcified, they are caducous and in age fall at the stem base.
Roots: Strong napiform (turnip-like).
Flower: Arise on the crown, measure about 3.5 cm in length and breadth, are shiny cream coloured with occasional spots at the tip and in the throat, The filaments are white or reddish, the anthers yellow. The 8 to 10 lobed stigma are white or yellowish.
Fruit: 7 mm across, splits down its length.
Seeds: Very small.
Blossoming time: Flowers emerge early in spring and are freely produced throughout the summer, remaining open for several days.
Subspecies, varieties, forms and cultivars of plants belonging to the Strombocactus disciformis group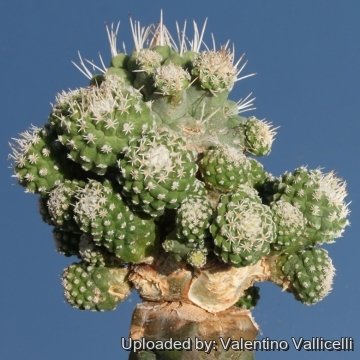 Strombocactus disciformis cv. Cespitosa
Photo by: Valentino Vallicelli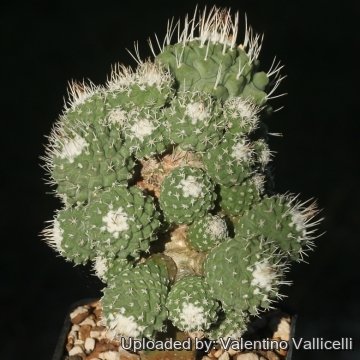 Strombocactus disciformis cv. Cespitosa
Photo by: Valentino Vallicelli
Cultivation and Propagation: It is relatively easy to grow, but very slow growing. It is often seen as a grafted plant but grows very well on its own roots too. Needs a very well drained mineral substratum with little organic matter (peat, humus). Requires strong sun to part sun to develop good compact growth and waterings should be rather infrequent, to keep the plant flat shaped and not become excessively elongated and unnatural in appearance. Use Water sparingly from March till October and keep perfectly dry in winter, or when night temperatures remain below 10° C (but some people give this plant a light monthly watering to prevent the drying and shedding of the lower tubercles.) It is hardy to -4°C (or less) for a short period. In the rest period no high atmospheric humidity!! Ensure a good ventilation.
Propagation: Almost exclusively by grafting. Plants are grafted onto column-shaped cacti.