Donate now to support the LLIFLE projects.
Your support is critical to our success.
Since 4 Aug 2013
sponsored link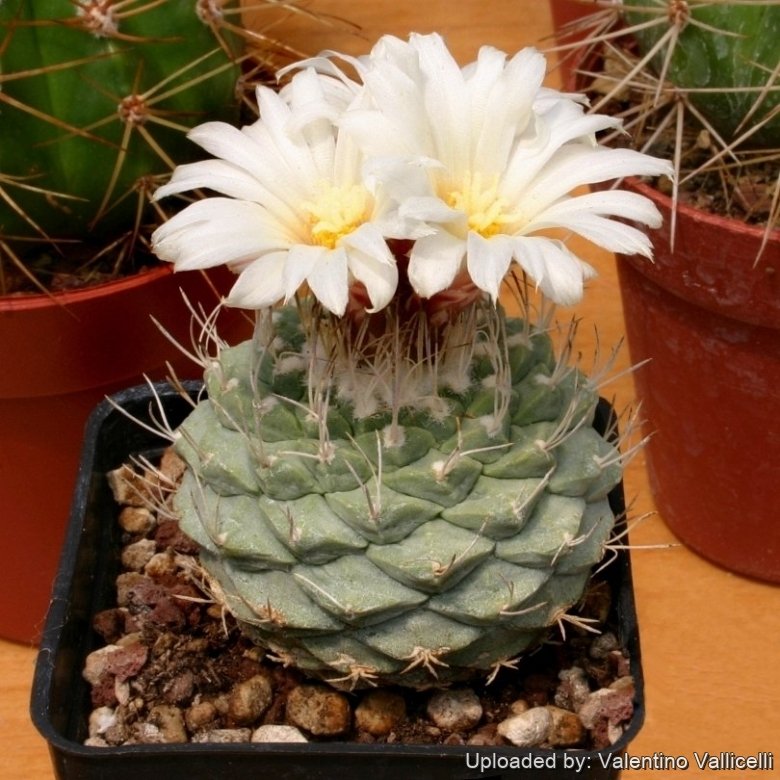 Strombocactus disciformis Photo by: Valentino Vallicelli
It is a superb slow-growing miniature plant from Mexico. The cream blooms are freely produced throughout the summer. The 8 to 10 lobed stigma is white or yellowish.
Origin and Habitat: Mexico (Quetaro, Hidalgo and Guanajuato), extent of occurrence approximately 4,500 km2. It occurs in 19 known localities, and is experiencing a decline in mature individuals due to illegal overcollection.
Habitat: Strombocactus disciformisSN|2103]]SN|2103]] is reported in matorral on steep, limestone cliffs and slopes, mudrock (lutita) alluvial cliffs along stream beds or nearly vertical canyon walls. Illegal collection for the ornamental plant trade is an increasing threat. This cactus is found in the Mexican trade of ornamental plants.





Synonyms:
See all synonyms of Strombocactus disciformis
Description: Strombocactus disciformisSN|2103]]SN|2103]] is a rare geophytes, usually solitary. Two subspecies are recognized, the nominate form and subsp. esperanzae Glass & S. Arias.
Stem: The body is flattened or spherical, 3 to 8 cm high, reaching 20 cm in age, and 3 to 9 cm across. The crown is slightly depressed and felted. The colour is blue-green with greyish tinge, the base covered with brown corky spots in age. It is composed of hard, spirally arranged rhomboid and imbricate tubercles, 1 to 1.8 cm high. These tubercules are flattened and almost truncated above and somewhat horny or keeled below.
Spines: 4 to 5, erect and dark grey at the tips and pale grey at the base, 1.2 to 2 cm long, they become calcified, they are caducous and in age fall at the stem base.
Roots: Strong napiform (turnip-like).
Flower: Arise on the crown, measure about 3.5 cm in length and breadth, are shiny cream coloured with occasional spots at the tip and in the throat, The filaments are white or reddish, the anthers yellow. The 8 to 10 lobed stigma are white or yellowish.
Fruit: 7 mm across, splits down its length.
Seeds: Very small.
Blossoming time: Flowers emerge early in spring and are freely produced throughout the summer, remaining open for several days.
Subspecies, varieties, forms and cultivars of plants belonging to the Strombocactus disciformis group
Bibliography: Major references and further lectures
1) Edward Anderson "The Cactus family" Timber Press, Incorporated, 2001
2) James Cullen, Sabina G. Knees, H. Suzanne Cubey "The European Garden Flora Flowering Plants: A Manual for the Identification of Plants Cultivated in Europe, Both Out-of-Doors and Under Glass" Cambridge University Press, 11/Aug/2011
3) David R Hunt; Nigel P Taylor; Graham Charles; International Cactaceae Systematics Group. "The New Cactus Lexicon" dh books, 2006
4) Urs Eggli, Leonard E. Newton: "Etymological Dictionary of Succulent Plant Names" Springer, Berlin/Heidelberg 2010
6) Gómez-Hinostrosa, C., Sánchez , E., Guadalupe Martínez, J. & Bárcenas Luna, R. 2013. "Strombocactus disciformis." The IUCN Red List of Threatened Species. Version 2014.3. <www.iucnredlist.org>. Downloaded on 14 December 2014.
Strombocactus disciformis
Photo by: Cactus Art
Blooming habit. Mexico.
Photo by: Agócs György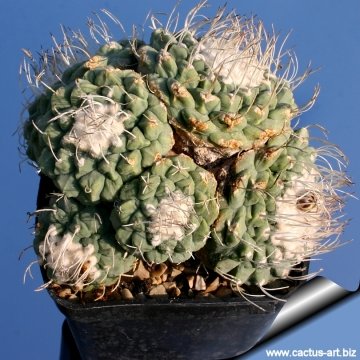 Strombocactus disciformis
Photo by: Cactus Art
Strombocactus disciformis
Photo by: Valentino Vallicelli
Nesled in gypsum rocks. Mexico.
Photo by: Agócs György
Grown on a slab of red tuff (a friable volcanic rock)
Photo by: Flavio Agrosi
Strombocactus disciformis
Photo by: Valentino Vallicelli
Blooming habit. Mexico.
Photo by: Raimondo Paladini
Cultivation and Propagation: It is relatively easy to grow, but very slow growing. It is often seen as a grafted plant but grows very well on its own roots too. Needs a very well drained mineral substratum with little organic matter (peat, humus). Requires strong sun to part sun to develop good compact growth and waterings should be rather infrequent, to keep the plant flat shaped and not become excessively elongated and unnatural in appearance. Use Water sparingly from March till October and keep perfectly dry in winter, or when night temperatures remain below 10° C (but some people give this plant a light monthly watering to prevent the drying and shedding of the lower tubercles.) It is hardy to -4°C (or less) for a short period. In the rest period no high atmospheric humidity!! Ensure a good ventilation.
Propagation: Almost exclusively by seeds. But the seedlings are tiny and very slow growing and at first they take one or two years to reach the diameter of 1 mm!!! Once they have reached 4 years old or more they are relatively easy to grow, the problem is getting them to 4 years old! Than they reach 2 cm of diameter in about 6/8 years, and require very careful watering. Plants need 8 to 10 years to reach the flowering size.
Sometime, older specimens may shoot tillers from under tubercles, so they can be propagated by cuttings in spring (but rooting may prove a challenge). Plants are sometimes grafted onto column-shaped cacti, which is a much easier way of propagation than sowing.
Your Photos
---

by Valentino Vallicelli

by Agócs György
by Valentino Vallicelli
by Cactus Art
by Valentino Vallicelli