Donate now to support the LLIFLE projects.
Your support is critical to our success.
Accepted Scientific Name: Mammillaria marcosii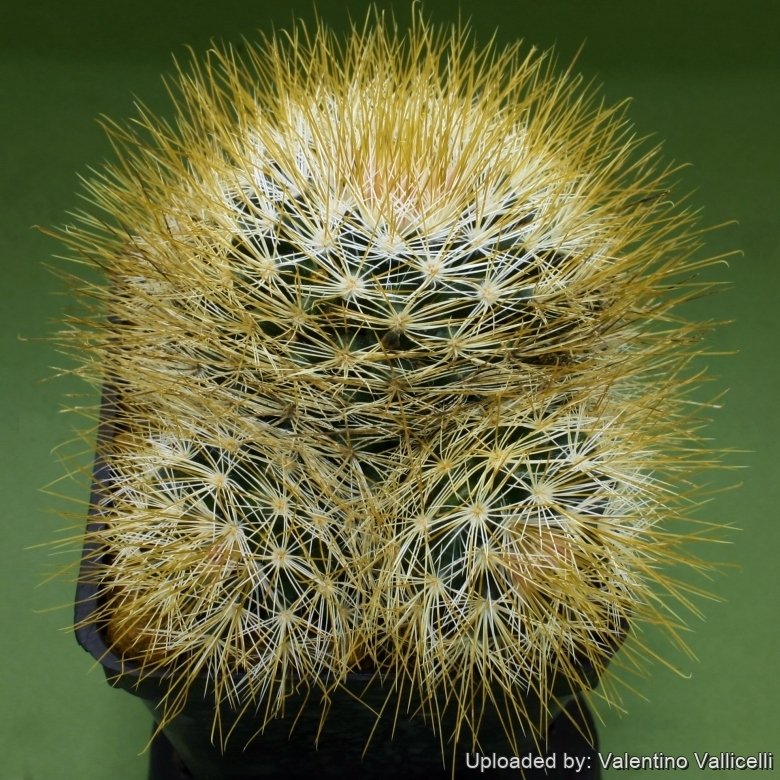 Mammillaria marcosii Yellow Spines Photo by: Valentino Vallicelli
It is a small clumping plant with a wide range of thorn colours. This is one of the best colour form with white radials and bright yellow central spines.
Origin and Habitat: Guanajuato (Municipio Atarjea east of Xichú), Mexico. Its area of occupancy is estimated to be less than than 10 km². The whole population consists of fewer than 150 plants.
Altitude range: 1.200-1.400 metres above sea level.
Habitat: Mammillaria marcosiiSN|9327]]SN|9327]] grows on steeply sloping volcanic rocks. in semi-desert (submontane matorral). Generation length is 5-10 years. It is considered to be Critically Endangered due to its very small range and its occurrence in a single location. Furthermore, it does not occur in any protected area. The population has diminished by an estimated 90% due to illegal collecting. It is cultivated commercially for international trade.
Synonyms:
Common Names include:
SPANISH (Español):
Biznaguita
Description: Mammillaria marcosii Yellow SpinesSN|20795]]SN|20795]] forms irregular clumps of low round to short cylindrical stems up to 5 cm in diameter. Tubercle are soft, cylindrical, with round tips. In the axil there are wool and up to 15 bristles to 15 mm long.
Radial spines: 16 - 25, radiating, needle-like shining white, 4 - 12 mm long.
Central spines: 7 - 14, mostly needle-like, yellow, 10 - 20 mm long one of which is descending and slightly hooked, all other straight.
Flower: Yellowish white with pinkish tint up to 10 mm in diameter.
Fruits: Red, 6 - 13 mm long, not arising above the spines.
Subspecies, varieties, forms and cultivars of plants belonging to the Mammillaria marcosii group
Bibliography: Major references and further lectures.
1) Robert T. Craig "The Mammillaria handbook: with descriptions, illustrations, and key to the species of the genus Mammillaria of the Cactaceae" E P Publishing, 1945
2) John Pilbeam "Mammillaria The Cactus File Handbook" Cirio Pub. Services, 01/Dec/1999Edward Anderson "The Cactus family" Timber Press, Incorporated, 2001
3) James Cullen, Sabina G. Knees, H. Suzanne Cubey "The European Garden Flora Flowering Plants: A Manual for the Identification of Plants Cultivated in Europe, Both Out-of-Doors and Under Glass" Cambridge University Press, 11/Aug/2011
4) David R Hunt; Nigel P Taylor; Graham Charles; International Cactaceae Systematics Group. "The New Cactus Lexicon" dh books, 2006
5) Fitz Maurice, B, Fitz Maurice, W.A., Guadalupe Martínez, J. & Sánchez , E. 2013. Mammillaria marcosii. The IUCN Red List of Threatened Species. Version 2014.2. <www.iucnredlist.org>. Downloaded on 01 November 2014.
6) Ulises Guzmán, Salvador Arias, Patricia Dávila, "Catálogo de cactáceas mexicanas" Universidad Nacional Autónoma de México, Mexico 2003, p.114.
7) Urs Eggli, Leonard E. Newton: "Etymological Dictionary of Succulent Plant Names" Birkhäuser 2004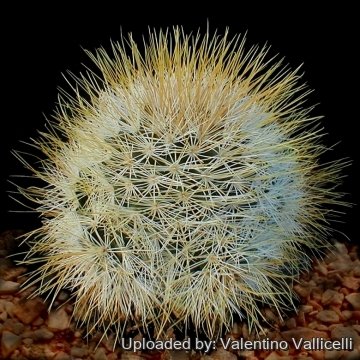 Mammillaria marcosii Yellow Spines
Photo by: Valentino Vallicelli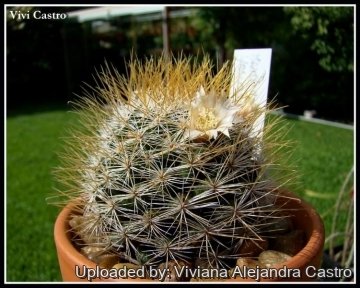 Mammillaria marcosii Yellow Spines
Photo by: Viviana Alejandra Castro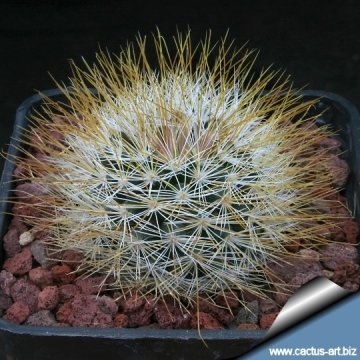 Mammillaria marcosii Yellow Spines
Photo by: Cactus Art
Send a photo of this plant.
The gallery now contains thousands of pictures, however it is possible to do even more. We are, of course, seeking photos of species not yet shown in the gallery but not only that, we are also looking for better pictures than those already present.
Read More...
Cultivation and Propagation: It is a slow growing species of easy culture, recommended for any collection that needs lots of light with ample airflow. Water regularly in summer, but do not overwater (very wet-sensitively, especially in light of its small root system) Water thoroughly only if soil is dry to the touch, let soil dry in between to prevent root rot, keep dry in winter. Use a very porous mineral-based potting mix, with excellent drainage, as can be achieved by the addition of extra perlite or pumice. Feed with a high potassium fertilizer in summer. Care must be taken with watering as they tends to become swollen and untidy in growth habit if given too much water and shade.
Sun Exposure: High levels of light are needed to flower and for good spine development. Can be sunburned if moved from shade/greenhouse into full sun too quickly. During the spring it may be able to take full sun until the heat arrives at the end of spring. In an area that has hot afternoon sun, it may be able to take full morning sun, but requires afternoon shade or afternoon light shade. If grown correctly, it will reward the grower with generous displays of flowers. It is quite frost resistant if kept dry, hardy as low as -5° C (or less) A resting period in winter and strong light are necessary so that it can flower properly.
Clustering in cultivation after several years and easily flowered. For best results, use a shallow pot, and only use the smallest diameter pot that will accommodate the plant. Sensitive to red spider mite. Overhead watering is helpful in controlling mites.
Propagation: Direct sow after last frost (usually) or division, wait until the offsets that appear at the base of old clustered specimens are 1/3 the size of the parent and then detach and plant.