Donate now to support the LLIFLE projects.
Your support is critical to our success.
Accepted Scientific Name: Mammillaria multihamata Boed.
Monatsschr. Kakteenk. 1915 xxv. 76. ( = M. marcosii ? )
Mammillaria marcosii Photo by: Valentino Vallicelli
It is a beautiful plant with (usually) white radial spines and reddish-brown centrals, but it is also available in a wide range of spine colours. (white, yellow, red and dark-brown)
Origin and Habitat: Mammillaria marcosii is endemic to Guanajuato, Mexico, where it is found east of Xichú (El Guamúchil, Xichú to El Guamúchil to Atarjea) and grows over a range of less than 10 km². The current population is estimated to be less than 150 individuals.
Altitude range: This species is found at an altitude around 1,200-1,400 metres above sea level.
Habitat and Ecology: This species is found on steeply sloping volcanic rocky terrain in semi-desert (submontane matorral). Generation length is 5-10 years. This species is threatened by extensive illegal overcollecting. The habitat is now well known to both commercial and amateur collectors. The population has diminished by an estimated 90% due to illegal collecting and there is continuing decline of mature individuals.
Synonyms:
See all synonyms of Mammillaria multihamata
Accepted name in llifle Database:
Mammillaria multihamata
Boed.
Monatsschr. Kakteenk. 1915 xxv. 76. ( = M. marcosii ? )
Synonymy: 5
Common Names include:
SPANISH (Español):
Biznaguita
Description: Mammillaria marcosii is a small cactus that readily forms irregular clumps with dense spination. In habitat the clumps may grow up to 25 cm in diameter, with up to 30 heads. The spines are bicoloured (usually red and white, but they may occur in a wide range of colours).
Derivation of specific name: This member of the Cactaceae family was given this name in by the Mexican cactus grower Marcos Sierra Pichardo from the city of San Miguel de Allende, who discovered the species.
Stems: Low, round to short cylindrical, up to 5 cm in diameter. Without latex.
Tubercles: Soft, cylindrical, with round tips. In the axil there is wool and up to 15 bristles, up to 15 mm long.
Radial spines: 16-25, radiating, needle-like, straight, 4-12 mm long.
Central spines: 7-14, mostly needle-like, radiating, ascending, white, yellow, reddish brown or brown, 10-20 mm long, one of which is pointing downward and more or less hooked, all others straight.
Flowers: Bell shaped, to 15 mm long and up to 10 mm in diameter, not rising above the spines, yellowish or creamy-white, with pink throat and darker pinkish midrib, stigma pale yellow.
Fruits: Red, egg-shaped, 6 - 13 mm long, not arising above the spines.
Seeds: Brownish-black.
Subspecies, varieties, forms and cultivars of plants belonging to the Mammillaria marcosii group
Bibliography: Major references and further lectures
1) Fitz Maurice, B, Fitz Maurice, W.A., Guadalupe Martínez, J. & Sánchez , E. 2013. Mammillaria marcosii. The IUCN Red List of Threatened Species 2013: e.T40840A2936060. Downloaded on 31 March 2016.
2) Anderson, E.F. "The Cactus Family". Timber Press, Portland. 2001
3) Fitz Maurice, W. A., Fitz Maurice, B. and Glass, C. "A new species of Mammillaria (M. marcosii), Series Stylothelae, from northwestern Guanajuato, Mexico." Cactus and Succulent Journal (US) 69(1): 10-14, ills. 1997.
4) Fitz Maurice, W. A., Fitz Maurice, B. and Glass, C. "Repercussions - Mammillaria marcosii." Mammillaria Society Journal 37(4): ?.1997.
5) Hunt, D. "CITES Cactaceae Checklist", 2nd ed. Royal Botanic Gardens, Kew and International Organization for Succulent Plant Study (IOS). 1999.
6) Pilbeam, J. "Mammillaria." Cirio Publishing Services, Southampton. 1999.
7) Charles Glass "People and Their Plants: Marcos Sierra Pichardo and Mammillaria marcosii" British Cactus & Succulent Journal, pag 169, Cactus & Succulent Society, 1997
8) Urs Eggli, Leonard E. Newton "Etymological Dictionary of Succulent Plant Names". Birkhäuser 2004
Clump at El Charco del Ingenio (Jardín Botánico y Reserva Natural). San Miguel de Allende, Guanajuato, Mexixo.
Photo by: Raimondo Paladini
Mammillaria marcosii
Photo by: Cactus Art
Mammillaria marcosii
Photo by: Valentino Vallicelli
Mammillaria marcosii
Photo by: Valentino Vallicelli
Mammillaria marcosii
Photo by: Valentino Vallicelli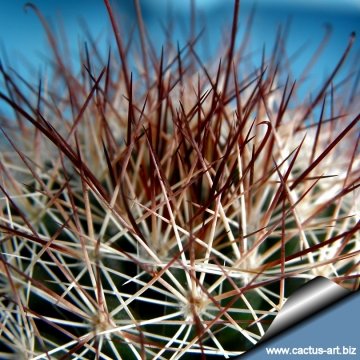 Mammillaria marcosii
Photo by: Cactus Art
Mammillaria marcosii
Photo by: Cactus Art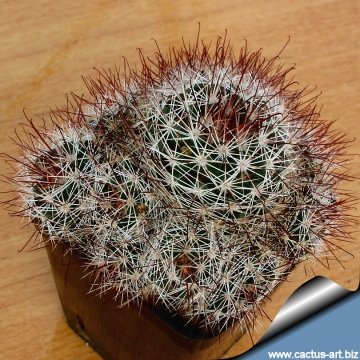 Mammillaria marcosii
Photo by: Cactus Art
Cultivation and Propagation: Mammillaria marcosii isn't famous for being easy to cultivate, but in good conditions with excellent ventilation, it grows without difficulty. It is especially sensitive to over-watering. So careful watering and an open mineral potting soil are a must. Avoid the use of peat or other humus sources in the potting mixture.
Don't add limestone to the potting mix, which must be moderately acidic. Can be sensitive to frost. Requires maximum sun exposure to reach its full potential. and in order to achieve success in flowering.
A winter rest that allows the plant to shrivel will encourage flowering and long term survival. Be careful to encourage slow growth.
Propagation: Direct sow after last frost (usually) or division, wait until the offsets that appear at the base of old clustered specimens are 1/3 the size of the parent and then detach and plant.