Donate now to support the LLIFLE projects.
Your support is critical to our success.
Echinocereus stramineus subs. conglomeratus
Xerophilia S7.2: 16, photogr. 2015 [Oct 2015]
Family: CACTACEAE
= Echinocereus conglomeratus C.F.Först. ex K.Schum.
Gesamtbeschr. Kakt. 278., 1897(1898) [ See also: F.Seitz.Cat.Cact.Cult: 10. 1870]
Accepted Scientific Name: Echinocereus stramineus (Engelm.) Engelm. ex Rümpler
Handb. Cacteenk. (ed. 2 - Rümpler) 2, 797. 1886 Rümpler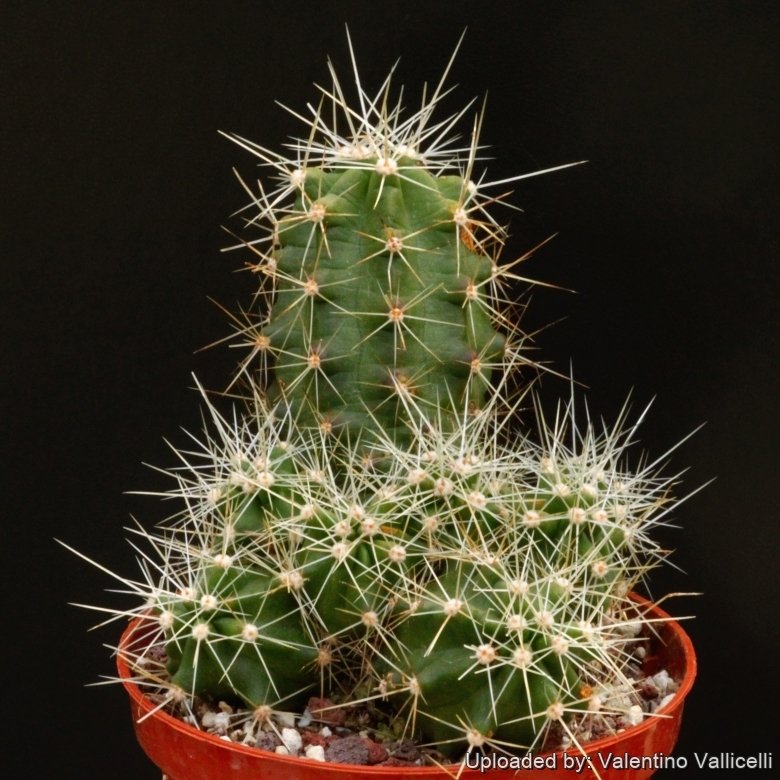 Echinocereus stramineus subs. conglomeratus (Echinocereus conglomeratus) Photo by: Valentino Vallicelli
Origin and Habitat: Mountains in the states of Nuevo Leon, Coahuila, and Zacatecas,
Type locality: Rinconada, near Monterey, Mexico.
Synonyms:
See all synonyms of Echinocereus stramineus
Common Names include:
ENGLISH:
Porcuspine Hedhog Cactus, Spiny Strawberry Hedhog, Strwberry Cactus, Straw-coloured Heghogg, Mexican Srawberry, Glass-needled alicoche
SPANISH (Español):
Agosteña, Pitaya, Sanjuanera, Alicoche, Pitahaia de Agosto, pitahaya, pitahaya de Agosto, Alicoche verde
Description: Echinocereus conglomeratusSN|7817]]SN|7820]] is a cespitose erect, cactus, with long white pellucid spines, and a species resembling Echinocereus stramineusSN|7820]]SN|7817]], with coarser straw-like spines. These two species are erect and grow in groups.
Taxonomic notes: Echinocereus conglomeratusSN|7817]]SN|7820]] was reduced by Bravo-Hollis and Sanchez-Mejorada (1991a) as a variety of E. stramineus. Taylor (1985), Blum et al. (1998), and Zimmerman et al. have dismissed E. conglorneratus as perhaps not worthy of even varietal status. It is at most a race of Echinocereus stramineusSN|7820]]SN|7817]]. The key difference by which the two were separated, namely the smaller, more open flowers, smaller fruit, the higher rib number and a more southern separated distribution area, seems entirely spurious, but plants from Mexico do differ in various respects from that from the southern USA.
Stems: Joints simple, upright, columnar, slightly tapered at the apex, base often half covered in the ground, 10 to 30 cm long and 5 cm in diamete, light green.
Ribs: 11 to 13, slightly undulate, above very narrow, to 1 cm high, clearly indented.
Areoles: Small, circular 8 to 15 mm apart about 2 mm in diameter, at first snow-white felted, but quickly naked.
Spines: Glassy white to brownish, needle-like, not completely hiding the stem.
Radial spines: About 9-10 sharp, the lower pair longest,1.5-2.5 cm long, spreading, becoming yellow after the disappearance of wool felt at the base.
Central spines: 1-4 , elongated, often 4-7 cm long, very flexible, almost glassy, otherwise similar to the radial.
Flowers: 6 to 7 cm long, broad and open, purplish. Perianth segments broad, 2 cm long; spines on ovary and flower long, white, more or less curved.
Fruit: Globular, 3 cm in diameter, somewhat acid, edible.
Seeds: Numerous.
Subspecies, varieties, forms and cultivars of plants belonging to the Echinocereus stramineus 2 group
Echinocereus conglomeratus

C.F.Först. ex K.Schum.

: has smaller, more open flowers, smaller fruit, higher rib number and glassy white spines. Distribution: has a southern distribution area in Mexico (Nuevo Leon, Coahuila, and Zacatecas).

Echinocereus stramineus

(Engelm.) Engelm. ex Rümpler

: (subsp. stramineus) is the most abundant in the southwestern US.
Echinocereus stramineus subs. occidentalis

(N.P.Taylor) N.P.Taylor

: It is found only in the wild in Durango Mexico, and blooms a month later than the 'stramineus' subspecies.
Bibliography: Major references and further lectures
1) N. L. Britton, J. N. Rose: "The Cactaceae. Descriptions and Illustrations of Plants of the Cactus Family." Volume II, The Carnegie Institution of Washington, Washington 1920
2) José Arturo de Nova Vázquez, Pedro Castillo-Lara, Wolfgang Blum "new subspecies of Echinocereus occidentalis in Coahuila" Xerophilia – Special Issue, No. 7.1 - October 2015 www.xerophilia.ro
3) David R Hunt; Nigel P Taylor; Graham Charles; International Cactaceae Systematics Group. "The New Cactus Lexicon" dh books, 2006
4) Edward Anderson "The Cactus family" Timber Press, Incorporated, 2001
5) Del Weniger "Cacti of the Southwest: Texas, New Mexico, Oklahoma, Arkansas, and Louisiana" University of Texas Press, 1969
6) Paul Carpenter Standley "Trees and Shrubs of Mexico ..." U.S. Government Printing Office, 1920
7) Bravo-Hollis, Sanchez-Mejorada "Las Cactaceas de Mexico" volume 2 , D.F. Universidad Nacional Autonoma de Mexico 1991
8) Nigel P. Taylor "The Genus Echinocereus" Royal Botanic Gardens, Kew, 1985
9) W. Blum, M. Lange, W. Rischer, J. Rutow "Echinocereus" Preprint, 1998
10) A. Michael Powell, James F. Weedin "Cacti of the Trans-Pecos & Adjacent Areas" Texas Tech University Press, 2004
11) William Edwin Safford "Cactaceae of northeastern and central Mexico together with a synopsis of the principal Mexican genera" Govt. print. off., 1909
12) Förster C.F. "Handb.Cakteenk.", ed. 2: 773 - 834. - Verlag von Im.Tr. Wöller, Leipzig 1886
Cultivation and Propagation: Rot easily it is sensitive to overwatering (rot prone) needs a very good drainage to avoid rotting, Keep drier and cool in winter. Need full sun. Very cold resistant above approx -12C or less for short periods of time.
Uses: The Indians have known for a very long time that the Strawberry Cactus or Pitaya (Echinocereus stramineusSN|7817]]SN|7817]]) is good to eat, and modern science employs the fruit in the treatment of diabetes.
Propagation: Cutting as it produces abundant suckers. Also can be grown from seeds.