Donate now to support the LLIFLE projects.
Your support is critical to our success.
Accepted Scientific Name: Echinocereus stramineus (Engelm.) Engelm. ex Rümpler
Handb. Cacteenk. (ed. 2 - Rümpler) 2, 797. 1886 Rümpler
Echinocereus enneacanthus var. stramineus (Echinocereus stramineus) Photo by: Julio C. García
Origin and Habitat: Echinocereus stramineusSN|7817]]SN|7817]] has a very wide range in USA (southwest Texas, New Mexico) and Mexico (Chihuahua, Coahuila, Durango, Nuevo León, San Luis Potosí, Tamaulipas and Zacatecas).
Typical Locality: Texas, Mtns near El Paso.
Altitude range: It grows at elevations from 1,200 to 2,100 metres above sea level.
Habitat and Ecology: This cactus dwells in hilly to mountainous shrub desert on rocky limestone slope and igneous soil in full sun, in desert scrub and pine forest forming large mounds of many stems. It is abundant, and grows in inaccessible places not suitable for farming or agriculture. There are no known threats to this species.
Synonyms:
See all synonyms of Echinocereus stramineus
Common Names include:
ENGLISH:
Strawberry hedgehog cactus, Straw-Colored Hedgehog, Spiny Hedgehog Cactus, Purcuspine Hedgehog-Cactus, Strawberry Cactus
SPANISH (Español):
Sanjuanera, Pitaya, Agosteña, Órgano-pequeño Sanjuanero, Alicoche sanjuanero
Description: Echinocereus stramineusSN|7775]]SN|7817]] is a clumping cactus, forming large, compact colonies with 100 or more stems (occasionally up to 500 heads). These larger clumps are rounded, often 60-90 cm across and nearly as high.
Stem: Each head 10-30 cm long, 3-10 cm in diameter.
Ribs: 10 to 13 sinuous with fairly deep furrows between them.
Areoles: 8 to 25 mm apart.
Spines: 1 to 4 central spines, up to 9 cm long; 7-14 radials, up to 3 cm long. They vary from shortly - and frankly spined to long - and dense spined and from brightly white/ yellowish until dark red and black colours of spination.
Flowers: Abundant large bright pink to purple-red flowers in late spring, up to 12.5 cm diameter, 8-12 cm long, They are dark red (or rarely gold & green) at the base, fading to rose at the tips. The inner petals are toothed. The 10–15 outer petals have pink edges
Fruits: Dark red edible and delicious (tastes similar to strawberries just like Echinocereus engelmannii & Echinocereus cinerascensSN|7817]]SN|7775]] do), 5 cm in diameter.
Subspecies, varieties, forms and cultivars of plants belonging to the Echinocereus stramineus 2 group
Echinocereus conglomeratus

C.F.Först. ex K.Schum.

: has smaller, more open flowers, smaller fruit, higher rib number and glassy white spines. Distribution: has a southern distribution area in Mexico (Nuevo Leon, Coahuila, and Zacatecas).

Echinocereus stramineus

(Engelm.) Engelm. ex Rümpler

: (subsp. stramineus) is the most abundant in the southwestern US.
Echinocereus stramineus subs. occidentalis

(N.P.Taylor) N.P.Taylor

: It is found only in the wild in Durango Mexico, and blooms a month later than the 'stramineus' subspecies.
Bibliography: Major referencences and further lectures
1) James Cullen, Sabina G. Knees, H. Suzanne Cubey "The European Garden Flora Flowering Plants: A Manual for the Identification of Plants Cultivated in Europe, Both Out-of-Doors and Under Glass" Cambridge University Press, 11/Aug./2011
2) David Hunt, Nigel Taylor "The New Cactus Lexicon" DH Books, 2006
3) Edward F. Anderson "The Cactus Family" Timber Press, 2001
4) Urs Eggli, Leonard E. Newton "Glossary of Botanical Terms with Special Reference to Succulent Plants." British Cactus and Succulent Society, Richmond 1993
5) Forrest Shreve, Ira Loren Wiggins "Vegetation and Flora of the Sonoran Desert" Volume 1 Stanford University Press, 1964
6) Brian Loflin, Shirley Loflin "Texas Cacti: A Field Guide" Texas A&M University Press, 26/Oct/2009
7) N. L. Britton and J. N. Rose "The 'Cactaceae', Descriptions and Illustrations of Plants of the 'Cactus' Family" volume 2 Carnegie Institution, 1920
6) Corral-Díaz, R., Goettsch, B.K., Heil, K. & Terry, M. 2013. Echinocereus stramineus. The IUCN Red List of Threatened Species. Version 2014.2. <www.iucnredlist.org>. Downloaded on 11 August 2014.
7) Ulises Guzmán, Salvador Arias, Patricia Dávila "Catálogo de cactáceas mexicanas." Universidad Nacional Autónoma de México, Mexiko-State 2003
8) Delena Tull "Edible and Useful Plants of Texas and the Southwest: A Practical Guide" University of Texas Press, 1999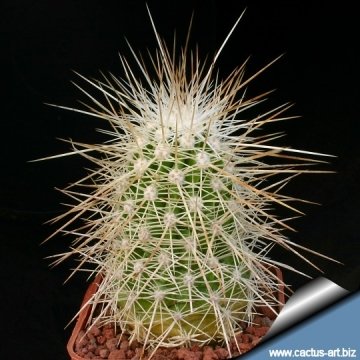 Echinocereus enneacanthus var. stramineus
(Echinocereus stramineus)
Photo by: Cactus Art
- SB1038 San Pedro, Coah. MX (form with very dense white spines ) The plants of this species are densely covered with many thin spines that give them a straw-like appearance. They vary from shortly - and frankly spined to long - and dense spined and from brightly white until dark colours of spination.
(Echinocereus stramineus)
Photo by: Valentino Vallicelli
Echinocereus enneacanthus var. stramineus
(Echinocereus stramineus)
Photo by: Cactus Art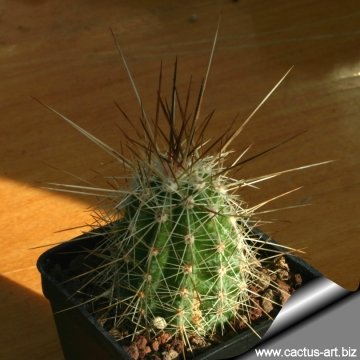 Echinocereus enneacanthus var. stramineus
(Echinocereus stramineus)
Photo by: Cactus Art
Cultivation and Propagation: Rot easily it is sensitive to overwatering (rot prone) needs a very good drainage to avoid rotting, Keep drier and cool in winter. Need full sun. Very cold resistant above approx -12C or less for short periods of time.
Uses: The Indians have known for a very long time that the Strawberry Cactus or Pitaya (Echinocereus stramineus) is good to eat, and modern science employs the fruit in the treatment of diabetes.
Propagation: Cutting as it produces abundant suckers. Also can be grown from seeds.