Donate now to support the LLIFLE projects.
Your support is critical to our success.
Echinocereus coccineus Photo by: Valentino Vallicelli
AG11 Jarilla Mts. These cacti can clump to form mounds of almost mythic proportions. The birdie-flowers are red with rounded petal tips, they are real traffic-stoppers.
Origin and Habitat: Southwestern USA (Arizona, Texas, New Mexico, Colorado, Utah, Nevada, California) and Mexico (Baja California, Sonora, Coahuila, Chihuahua). Echinocereus coccineusSN|7140]]SN|7140]] has a very large extent of occurrence, is abundant and common, and there are no major threats.
TL: New Mexico, Wolf Creek, Wislizenus,24 June 1846 (MO).
Altitude range: (150-)1500-2800(-3000) metres above sea level.
Habitat: Chihuahuan Desert, desert scrub (chaparral), desert grasslands, bajadas, Great Plains grasslands, pinyon-juniper and oak woodlands, mountain forest, forest clearings. It grows on rocky outcroppings and cliffs, on loamy, humus, mineral soil and and also in igneous, metamorphic, and limestone substrates, with humus, often in the partial-shade of oak and pine-oak woodlands and mixed conifer forest. It is pollinated by hummingbirds and halictid bees, and it has both hermaphroditic and dimorphic populations.
Synonyms:
See all synonyms of Echinocereus coccineus
Accepted name in llifle Database:
Echinocereus coccineus
Engelm. in Wisliz.
Mem. Tour N. Mexico [Wislizenus] 93, adnot. 1848 [Apr 1848]
Synonymy: 46
Accepted name in llifle Database:
Echinocereus coccineus subs. paucispinus
(Engelm.) W.Blum, Mich.Lange & Rutow in W.Blum et al.
Echinocereus Monogr. (preprint) [4] (1998)
Synonymy: 5
Common Names include:
ENGLISH:
Scarlet Hedgehog Cactus., Mexican Claret Cup
SPANISH (Español):
Órgano-pequeño de Espinas Escarlatas
Description: Usually clumping, Echinocereus coccineusSN|8493]]SN|7140]] forms large colonies of as many as 50-100 (500)-thick stems on each plant at maturity. Stems can vary from almost spineless to wildly and densely spined. Two subspecies are recognized, the nominate and Echinocereus coccineus subs. paucispinusSN|7140]]SN|8493]] (Engelm.) W.Blum. Mich.Lange & Rutow.
Stems: Semi-erect, dark green, from 8 cm to 40 cm tall, 5 cm in diameter.
Ribs: 8 to 11.
Spines: Mostly undifferentiated between radials and centrals. Spines are yellowish and turn grey after a number of years.
Central spines: 0 to 4 , up to 7.5 cm long.
Radial spines:* 5-20.
Flowers: Hummingbird-attracting, colour ranges from near orange, scarlet , and pink to deep crimson shades, with rounded petal tips length and width averaged 80 mm and 30 mm, respectively, stigma with 7 or 8 lobes.
Blooming season: Peak flowering comes from late April to June on mature clumps. Fruiting 2-3 months after flowering.
Subspecies, varieties, forms and cultivars of plants belonging to the Echinocereus coccineus group
Notes: Female and male flowers: Echinocereus coccineusSN|7140]]SN|7140]] is a cactus with both hermaphroditic (bisexual) and dioecious (male and female) forms of flowers in different plants. Male flowesr show pollen-filled anthers surrounding the base of the stigma lobes. Functional female flowers from different plants show reduced filaments and empty anther sacs held below the stigma lobes.
The flowers appear specialized in hummingbirds, but are also pollinated by bees. They are huge and highly rewarding, and daily nectar production averages 30 mg sugar per flower. This set of traits represents a syndrome rare among hummingbird flowers, in which the flower fits the head rather than just the bill, and birds are well rewarded for a risky or inconvenient visit.
Bibliography: Major references and further lectures
1) David Hunt, Nigel Taylor "The New Cactus Lexicon" DH Books, 2006
2) Edward F. Anderson "The Cactus Family" Timber Press, 2001
3) Terry, M., Heil, K., Gómez-Hinostrosa, C. & Corral-Díaz, R. 2013. Echinocereus coccineus. The IUCN Red List of Threatened Species. Version 2014.3. <www.iucnredlist.org>. Downloaded on 29 April 2015.
4) Stuart Max Walters "The European Garden Flora: Dicotyledons (Part I)" Cambridge University Press, 1989
A female flower from different plants show reduced filaments and empty anther sacs held below the stigma lobes.
Photo by: Cactus Art
Carizzozo, New Mexico, USA
Photo by: Valentino Vallicelli
Echinocereus coccineus
Photo by: Valentino Vallicelli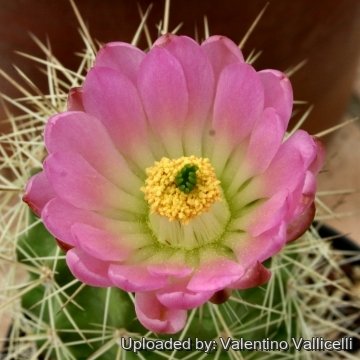 Echinocereus coccineus
Photo by: Valentino Vallicelli
- Echinocereus coccineus AG12 (Collector Alan Gilmore), Jarilla Mountains, Otero County, New Mexico, USA. Rare yellow flower.
Photo by: Raimondo Paladini
Echinocereus coccineus
Photo by: Cactus Art
A female flower with green stigma lobes and sterile stamens.
Photo by: Carolina González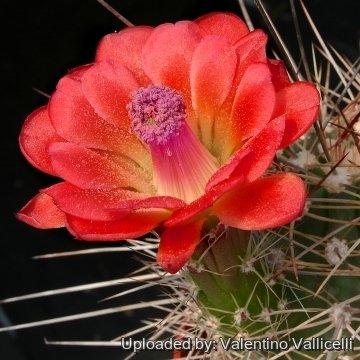 A male flower with abundant pollen.
Photo by: Valentino Vallicelli
Cultivation and Propagation: Echinocereus coccineusSN|10576]]SN|7140]] is fairly easy to grow. It makes great potted specimens.
Soil: Use a mineral well permeable soil with little organic matter (peat, humus). It grows in limestone areas of Texas (Big Bend area) and adjacent areas of Mexico, so will probably benefit from extra calcium in its soil.
Growth rate: It grows well, though slowly, but it possible to increase the speed of growth to some extent by providing adequate amount of water, warmth, and a liquid fertilizer diluted half strength during the active growing season, but it's susceptible to rotting if too wet. Most plants will offset readily, and clumps can be produced in a few years.
Soil: It needs a very porous, slightly acidic potting medium (add pumice, vulcanite, and perlite). Outdoors it does well on poor, rocky soils.
Exposure: It likes a sunny position also blasting sun in summer. If grown indoor provide 4 to 6 hours, or more, direct morning or afternoon sun.
Watering: It is sensitive to overwatering (rot prone) needs a very good drainage to avoid rotting, but requires more moisture than true desert cacti to grow and produce flowers.
Hardiness: It its natural environment it is very cold resistant from -10° to -25° C (depending on clones) or less for short periods of time. It can be grown outdoors in Mediterranean warm-temperate climates, But for safe cultivations needs anyway to kept above 5 °C and dry in winter. But it can tolerate temperatures down to -5° C (or even less) for very short periods if very dry and ventilated. During winter month, put them in a cool luminous place and encourage them to enter winter dormancy by withholding water and fertiliser over the winter as they will etiolate, or become thin, due to lower levels of light.
Maintenance: Repot every two years. Needs lots and lots of space to grow, use large shallow container or bowl filled with very porous compost. It like pots with generous drain holes.
Pest & diseases: They are susceptible to fungal diseases if overwatered, but are not nearly as sensitive as many other cacti, especially in warm weather. If kept damp through cold periods, they will invariably suffer.
Garden uses: It is a fine plant for a rock garden or container, contrasts well with agaves, yuccas, and low-growing flowering plants.
Grafting stock: The taller fast-growing forms of Echinocereus coccineusSN|7140]]SN|7140]] and of Echinocereus triglochidiatusSN|7140]]SN|10576]] are highly recommended stocks for grafting cold hardy type cactus species. These can be used as cold hardy type stocks for almost all types of cactus, while still retaining the original natural grown look to the scion.
Edible uses: The fruit can be consumed fresh or preserved.
Propagation: Cutting as it branches freely from the base; Also can be grown from seeds. The seeds may be germinated and grown in containers. Their main requirements consist of high humidity levels, free-draining soil mix, and enough water, light, and nutrition.