Donate now to support the LLIFLE projects.
Your support is critical to our success.
= Maihueniopsis conoidea (F.Ritter ex Backeb.) F.Ritter
Kakteen Südamerika 3: 873 (1980)
Accepted Scientific Name: Maihueniopsis glomerata (Haw.) R.Kiesling
Darwiniana 25: 202. 1984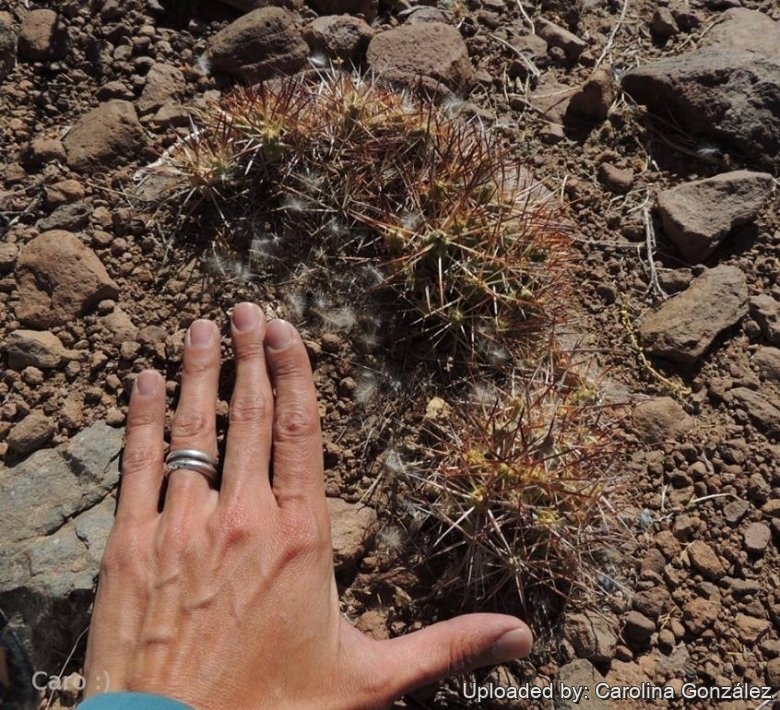 Opuntia conoidea (Maihueniopsis conoidea) Photo by: Carolina González
Origin and Habitat: Maihueniopsis conoideaSN|7342]]SN|7369]] is only known from the type locality in Baños de Puritama, Prov. Antofagasta, Chile, and adjacent areas, its extent of occurrence is 2,000 km2
Altitude range: 2500-4050 metres above sea level.
Habitat and ecology: It grows in grasslands at high altitudes, on slopes of the western edge of the Andean desert. Mainly on sandy and rocky soils in close association with the local form of Maihueniopsis glomerataSN|7369]]SN|7342]] (camachoi) and Cumulopuntia bolivianaSN|4047]]SN|4047]] subsp. ignescens (hystrix). There are no threats, it is abundant, it occurs in a protected area, and easily reproduces vegetatively. The species is collected as an ornamental for specialized collections outside Chile. It reproduces by seed and spreads vegetatively by means detached joints or cladodes, which can take root and establish themselves as independent individuals.
Synonyms:
See all synonyms of Maihueniopsis glomerata
Description: Maihueniopsis conoideaSN|7342]]SN|7369]], sometime considered a local or morphological form of the widespread and variable Maihueniopsis glomerataSN|7369]]SN|7342]], differes from the latter mainly for its usually smaller segment size in small flat clusters. Throughout its natural range there is considerable variation in segment size, spine colour and spine count per areola.
Habit: This cactus forms dense and small cushions.
Stems (joints): Tapered-conical to spheroidal to 2 to 4 cm long, something sharply pointed and not tuberculate.
Areoles: About 20 small.
Spines: Concentrated in upper areoles of the joint, the apex of which sometimes without spines.
Central spines: 1-2 very variable, stout to bristly, long to short, up to 5 cm long flat, straight or slightly curved. Sometimes absent (spineless).
Radial spines: 0 to 2, bristly.
Flowers: Up to 5 cm, pale yellow. Pericarpel obconic.
Fruit: Globular, large green or yellowish spineless.
Seeds: Lenticular creamy-brown 2.5 to 4 mm with
Bibliography: Major references and further lectures
1) Maihueniopsis conoidea in: Bradleya: Yearbook of the British Cactus and Succulent Society, Volumi 26-27, page 64, The Society, 2008
2) Faundez, L., Saldivia, P. & Walter, H.E. 2013. Maihueniopsis conoidea. The IUCN Red List of Threatened Species 2013: e.T151949A579962. http://dx.doi.org/10.2305/IUCN.UK.2013-1.RLTS.T151949A579962.en. Downloaded on 17 February 2016.
3) Hunt, D., Taylor, N. and Charles, G. "The New Cactus Lexicon." dh Books, Milborne Port, UK. 2006
4) EGGLI U, M MUÑOZ & B LEUENBERGER "Cactaceae of South America: The Ritter Collections." Englera 16: 1- 646. (1995)
5) HOFFMANN A "Cactáceas en la flora silvestre de Chile," 1ª ed. Fundación Claudio Gay, 272 pp. (1989)
6) KATTERMANN F "Observations of Chilean Opuntioideae Part III, Maihueniopsis." Cactus and Succulent Journal 82:168-171. (2010)
7) KIESLING R, J LARROCA, L FAÚNDEZ, D METZING & S ALBESIANO Cactaceae. En: Zuloaga FO, M Belgrano & O Morrone (eds) "Catálogo de las Plantas Vasculares del Cono Sur (Argentina, Sur de Brasil, Chile, Paraguay y Uruguay). Volumen 2. Dicotyledonae: Acanthaceae – Fabaceae (Abarema – Schizolobium)": 1715-1830. Monographs in Systematic Botany from the Missouri Botanical Garden 107. (2008)
8) RITTER F "Kakteen in Südamerika" volume 3 Chile.Spangenberg. 857-1238. (1980)
9) FICHA DE ANTECEDENTES DE ESPECIE Id especie: 550 "Maihueniopsis glomerata" viernes, 30 de noviembre de 2012 Retrieved 17 February 2016 <http://www.mma.gob.cl/clasificacionespecies/fichas9proceso/FICHAS_INICIO_9o_PROCESO_PDF/Maihueniopsis_glomerata.pdf>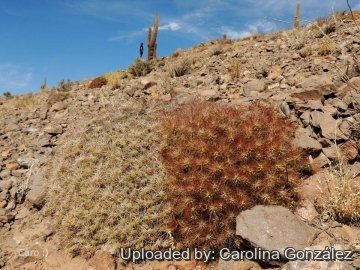 Maihueniopsis conoidea (left) in close association with a red spiny Cumulopuntia boliviana subsp. ignescens (right).
(Maihueniopsis conoidea)
Photo by: Carolina González
Send a photo of this plant.
The gallery now contains thousands of pictures, however it is possible to do even more. We are, of course, seeking photos of species not yet shown in the gallery but not only that, we are also looking for better pictures than those already present.
Read More...
Cultivation and Propagation: Maihueniopsis conoideaSN|7369]]SN|7369]] cannot endure any standing heat and need an absolutely airy and sunny place this brings very healthy plants with a good spination and flowers, but often in cultivation the plants are rarely so compact as they are best grown inside a greenhouse because of our very humid weather in North Europe and America which gives a relatively low light intensity compared to the temperature. However, this species takes considerable frost and is certainly worth growing.
Soil: Use a very draining compost-mix with a high mineral content, they needed deeper pots to accommodate the big tap root.
Watering: Water and feed in the vegetation period from April until to mid of September, keep dry and cool in winter, they have to be stimulated to bloom by dryness and you may give them water first when the plants start to produce the new buds.
Repotting: Generally, these plants should be re-potted every other year, in order to provide fresh soil. Pot bound, starved plants will rapidly look tatty and won't flower well.
Hardiness: Hardiness Zone 8. The plant tolerates low temperatures (-8°C), can tolerate occasional snow cover for up to a couple of weeks per year.
Propagation: Cuttings (let dehydrate the cuttings for a few weeks and the roots will coming quick). To get new clones it is necessary to use seeds. Seeds require some preliminary manipulations, in fact, the shell/husks of the seeds are very hard (like a hazelnut), it is necessary to soak the seeds 24 hours, and break or scarify the husks before planting, by any means. In these conditions, germination occurs in 5 or 6 days. Otherwise, with intact seeds, germination can take several months or even years.