Donate now to support the LLIFLE projects.
Your support is critical to our success.
Since 4 Aug 2013
sponsored link
Echinocereus cinerascens
Cact. 56, nomen. 1868 [ see also: H.P.Kelsey & Dayton in Standard. Pl. Names, ed. 2. 71. 1942 ]
Family: CACTACEAE
Echinocereus cinerascens Photo by: Valentino Vallicelli
RCH268 Tula, Tam. Mx. The flowers are large pink to purple open petaled in spring.
Origin and Habitat: Central Mexico (Estados de Hidalgo, Distrito Federal México, Guanajuato, Querétaro, San Luís Potosí y Zacatecas.)
Altitude: 2000-2600 meters above sea level.
Habitat: It is a very widespread and extremely common species that grows in thorny Prosopis scrub (mesquite) and xerophytic shrubland together with Coryphantha clavaSN|10262]]SN|3896]], Coryphantha pallidaSN|3896]]SN|10262]], Neolloydia conoideaSN|10089]]SN|10089]], Echinofossulocactus obvallatusSN|6292]]SN|6292]], Mammillaria uberiformisSN|8862]]SN|11268]], Mammillaria painteriSN|11268]]SN|8862]], Ferocactus latispinusSN|4259]]SN|4259]], Myrtillocactus geometrizansSN|8050]]SN|8050]], Stenocereus dumortieriSN|7942]]SN|7942]], Opuntia imbricataSN|32724]]SN|8157]], Opuntia tomentosaSN|19920]]SN|34821]], Opuntia microdasysSN|16289]]SN|15506]], Opuntia kleiniaeSN|15506]]SN|16289]], Opuntia engelmanniiSN|34821]]SN|19920]], Opuntia robustaSN|8157]]SN|32724]], Agave salmianaSN|27883]]SN|27883]], Dasylirion acrotrichumSN|2998]]SN|2998]], Jatropha spathulata, Larrea tridentata, Selaginella lepidophylla, Ipomoea arborescens, Dodonaea viscosa and Yucca filifera.
Synonyms:
See all synonyms of Echinocereus cinerascens
Description: Echinocereus cinerascensSN|7817]]SN|7775]] is an open, caespitose cactus that produce masses of bright pink or purple blooms up to 12 cm in diameter which finally produce edible and delicious fruits (tastes similar to strawberries just like Echinocereus engelmannii and Echinocereus stramineusSN|7775]]SN|7817]] do). It is quite variable.
Habitat: Growing in patches 6 to 12 dm broad, branching at base, the stems semi-erect, ascending to decumbent about 3 dm tall.
Stems: Soft, pale green (that redden in full sun and with freezing climate), cylindrical, 10-30 cm tall (rarely up to 60 cm), (1,5-)4-10(-12) cm in diameter; erect or slightly prostrate as they age.
Ribs: 5 to 8 (-12) blunt prominent, obtuse, slightly warty or evenly edged;
Areoles: Rather scattered, orbicular 5-15 or more apart.
Spines: 7-16 white or pale, straight, rough, 1,5 to 2 cm long.
Central spines: 1 to 4 (- 6), mostly 2-4,5 cm long.
Radial spines: 7-10 variable in length from 1 to 5,5 cm
Areoles: Circular largely spaced.
Flowers: Large, boadly funnel.shaped, including ovary, 6 to 8 cm long and up to 12 cm in diameter, pink to purple open petaled, usually with paler yellow, cream or green throat. They come from the side areoles. The tube very short; scales on ovary and tube small, acute, their axils crowded with short white wool and 6 to 8 long white bristles; inner perianth-segments, when dry, deep purple, 3 to 4 cm long, obtuse, stamens short.
Fruits: Nearly spherical, greenish spiny 2-3 cm in diameter.
Subspecies, varieties, forms and cultivars of plants belonging to the Echinocereus cinerascens group
Bibliography: Major references and further lectures
1) Edward Anderson "The Cactus family" Timber Press, Incorporated, 2001
2) Nathaniel Lord Britton, Joseph Nelson Rose "Cactaceae: Descriptions and Illustrations of Plants of the Cactus Family" vol. 4 The Carnegie Institution of Washington, Washington 1923
3) James Cullen, Sabina G. Knees, H. Suzanne Cubey "The European Garden Flora Flowering Plants: A Manual for the Identification of Plants Cultivated in Europe, Both Out-of-Doors and Under Glass" Cambridge University Press, 11/Aug/2011
4) David R Hunt; Nigel P Taylor; Graham Charles; International Cactaceae Systematics Group. "The New Cactus Lexicon" dh books, 2006
5) Jeff Nugent "Permaculture Plants: Agaves and Cacti" permacultureplants, 1999
6) Nathaniel Lord Britton, Joseph Nelson Rose "The Cactaceae: Descriptions and Illustrations of Plants of the Cactus Family" Volume 3, 1922
7) Fitz Maurice, B, Sotomayor, M., Fitz Maurice, W.A., Hernández, H.M. & Smith, M. 2013. Echinocereus cinerascens. In: IUCN 2013. IUCN Red List of Threatened Species. Version 2013.1. <www.iucnredlist.org>. Downloaded on 26 October 2013.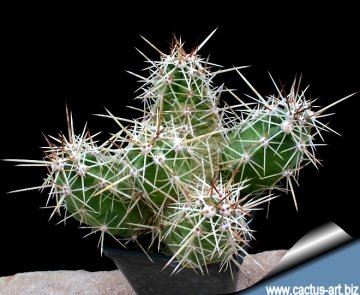 It has very spiny semi-erect or decumbent stems.
Photo by: Cactus Art
Echinocereus cinerascens
Photo by: Cactus Art
Echinocereus cinerascens
Photo by: Cactus Art
Some seedling take a strong nice red colouration during the winter month.
Photo by: Valentino Vallicelli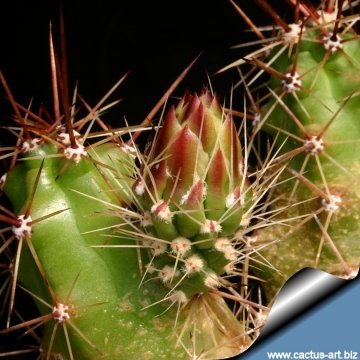 Echinocereus cinerascens
Photo by: Cactus Art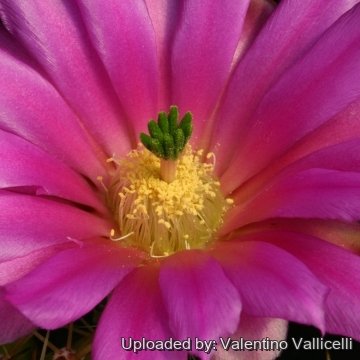 Echinocereus cinerascens
Photo by: Valentino Vallicelli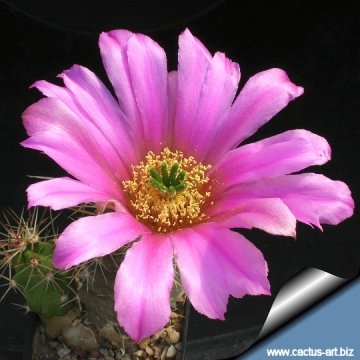 Echinocereus cinerascens
Photo by: Cactus Art
Send a photo of this plant.
The gallery now contains thousands of pictures, however it is possible to do even more. We are, of course, seeking photos of species not yet shown in the gallery but not only that, we are also looking for better pictures than those already present.
Read More...
Cultivation and Propagation: Echinocereus cinerascensSN|7775]]SN|7775]] is an easily grown cactus, suited to hanging baskets as well as pots. This cactus is widely cultivated for its flowers, it is among the easiest species to grow, flower and propagate.
Growth rate: It is a relatively rapidly growing and easily flowering species that will make large clumps given the best conditions.
Soils: It likes very porous standard cactus mix soil. Prefer a low pH compost, avoid substrata rich in limestone; otherwise growth will stop altogether.
Repotting: Use pot with good drainage.
Watering: Needs moderate to copious waterings rom March to October, but do not overwater (Rot prone), keep dry in winter.
Fertilization: Feed with a high potassium fertilizer in summer.
Hardiness: Reputedly moderately resistant to frost if kept on the dry side prior to, and during, cold weather (hardy to -5 C ° C, for short periods). This cactus needs a period of cool rest in winter to produce flowers abundantly. Without this cool winter period these plants normally won't get many buds. It may flowers indoors if conditions suit it.
Exposition: The plant tolerates extremely bright situations but enjoys filtered sunlight or afternoon shade during the hottest part of the summer, inside it needs bright light, and some direct sun. Tends to bronze in strong light, which encourages flowering and heavy spine production.
Uses: It is an excellent plant for container growing. Cascading, clustering, great for a hanging display. Stems may possibly become purple and limp in winter, but revitalize in early spring. It look fine in a cold greenhouse and frame or outdoor in a rockery.
Pests & diseases: It may be attractive to a variety of insects, but plants in good condition should be nearly pest-free, particularly if they are grown in a mineral potting-mix, with good exposure and ventilation. Nonetheless, there are several pests to watch for:
- Red spiders: Red spiders may be effectively rubbed up by watering the plants from above.
- Mealy bugs: Mealy bugs occasionally develop aerial into the new growth among the wool with disfiguring results, but the worst types develop underground on the roots and are invisible except by their effects.
- Scales: Scales are rarely a problem.
- Rot: Rot it is only a minor problem with cacti if the plants are watered and "aired" correctly. If they are not, fungicides won't help all that much.
Propagation: Seeds or (usually) cutting. The stems of this cactus branches readily and soon forms a mass of shoots the simplest way to propagate it is to cut a piece of a stem (or of a stolon) in summer, let it dry for a couple of days, and pot it up. Just let them lay on the soil with no assistance and you have a new start.