Donate now to support the LLIFLE projects.
Your support is critical to our success.
Since 4 Aug 2013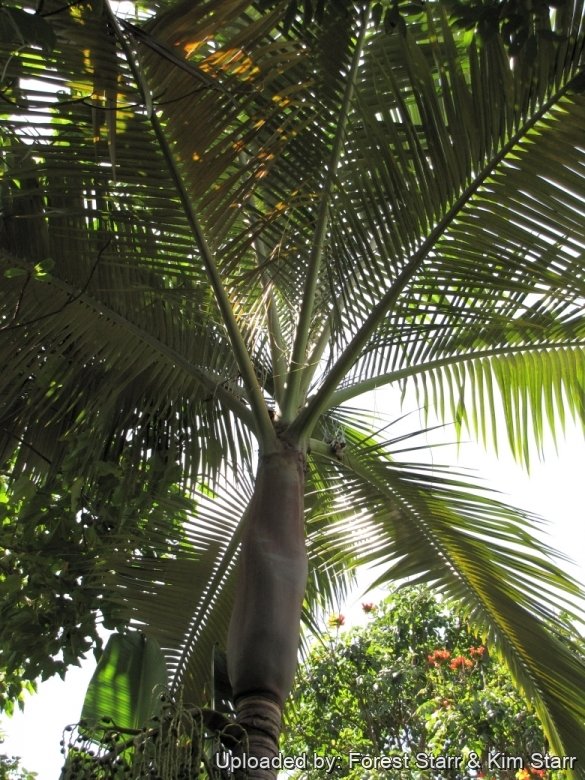 Sheath and leaves at Iao Tropical Gardens of Maui, Maui. May 22, 2012.
Origin and Habitat: It is found in a small region of Far North Queensland (Mt. Spurgeon, Mt. Lewis and Mt. Finnigan), Australia.
Type locality: Australia. Queensland. Mt Lewis.
Altitude range: 400-1200 metres above sea level.
Habitat: Confined to upland rainforest and vineforest amongst granite boulders in soil of compacted granite along creeks with flowing water, and individuals within populations being widely spread.
Synonyms:
Common Names include:
ENGLISH:
Purple King Palm Tree, Mount Lewis King, Purple Piccabean Palm, Purple Palm, Mount Lewis Archontophoenix
Description: The Purple King Palm Tree, scientific name Archontophoenix purpurea is an exotic and rare palm that is well-known for its stunning reddish purple crownshaft. It is absolutely gorgeous in the tropics where the crownshaft is a gorgeous light violet-grey while in cooler climate the colour is sometimes an off-green to brown. It is a close relative to the King Palm Archontophoenix cunninghamiana.
Trunk: Single, up to 25 m tall, 30-45 cm in diameter, expanded at the base, prominently ringed with leaf scars up to 30 mm wide, slightly sunken. Internodes to 15 cm long, green to whitish-grey, initially smooth becoming deeply fissured with age.
Crownshaft: 105-150 cm long, the surface with a dark blue-grey-green glaucous bloom and moderate to densely flecked with deciduous, waxy, reddish-mahogany scales giving the sheath a plum-purple colour, glossy coppery-brown internally. It takes several years for the palm to develop the stunning crownshaft that makes a striking contrast against the dark green leaves.
Crown: With 7-15 leaves held flat or with a moderate lateral twist.
Leaves (fronds): Pinnate, or feather-like, stiff, 4- 6 m long, new leaf frequently with a bronze tinge. Petiole to 40 cm long, to 12 cm wide, narrowing to 1,5 cm at the rachis, with a light coloured band extending to the sheath. Rachis upto 4 m long, light green on the adaxial surface and silvery lepidote on the abaxial surface throughout. Pinnae 50-85 per side, flat, in a near horizontal orientation up to 105 cm long and 7,5 cm wide, rigid, coriaceous, glossy light green dark green to light green above, silver-grey below. Ramenta to 5 mm long, red-brown, irregularly positioned.
Inflorescence: Axillar among the leaves (intrafoliar) below the leafy crown at the point where the crownshaft meets the trunk. Approx. 50-135 cm long and 65 cm wide, branched to 4 orders; rachillae, rigid, irregularly flexuous to 85 cm long, which remain green during maturation of the fruit.
Flowers: Hanging in clusters white-cream tinged with green.
Staminate flowers: 6-7 mm high, 4-5 mm wide in bud, opening to about 17 mm wide at anthesis; stamens 20-34, to 9 mm long; anthers 2-6 mm long, dorsifixed near the middle, white-cream.
Pistillate flowers: Up to 10 mm long, to 7 mm wide in bud; sepals 4 mm long, 6 mm wide, green-cream; petals 6.6-9 mm long, to 5 mm wide, cream-green.
Fruit: Ellipsoid to globose, dark red, , with a single seed inside,20-26 mm long, 18-22 mm in diameter (the largest in the genus). Epicarp glossy, smooth and slightly pebbled, red-crimson at maturity. Fibres in the mesocarp are flat to 1,5-2 mm wide, branched, overlaid and interspersed with thin straight crustaceous fibres. Perianth 3-9 cm high, persistent on fruit.
Seed: subglobose, to 23 mm long and 18 mm diam., light brown, glossy.
Remarks: The red/purple crownshaft, the pinnae having a combination of silver/grey scales beneath and ramenta on the midrib below (features which are mutually exclusive in all other species of the genus), the large fruit and the large number of stamens readily differentiate this species.
Bibliography: Major references and further lectures
1) Forest & Kim Starr "Archontophoenix purpurea (Mount Lewis king palm)". Plants of Hawaii. <http://www.starrenvironmental.com>. Downloaded on 19August 2014.
3) John Dowe "Australian Palms: Biogeography, Ecology and Systematics" Csiro Publishing, 03/feb/2010 Page 182-186
4) Palms & Cycads No. 39, Apr-Jun 1993
5) Dowe, J.L. & Hodel, D.R. (1994) "A revision of Archontophoenix H.Wendl. & Drude (Arecaceae)." Austrobaileya 4(2): 238, fig. 1 C1-C3
6) Dowe, J.L. & Jones, D.L. in Wilson, A.J.G. (Ed) (2011), "Flora of Australia" 39: 189,
7) Donald R. Hodel & John Leslie Dowe "Archontophoenix purpurea" Austrobaileya 4(2): 238 (1994)
In pots at Iao Tropical Gardens of Maui, Maui. May 22, 2012.
Photo by: Forest Starr & Kim Starr
Purple sheath at Iao Tropical Gardens of Maui, Maui. May 22, 2012.
Photo by: Forest Starr & Kim Starr
Fruit at Iao Tropical Gardens of Maui, Maui. May 22, 2012.
Photo by: Forest Starr & Kim Starr
In pots at Iao Tropical Gardens of Maui, Maui.
Photo by: Forest Starr & Kim Starr
Cultivation and Propagation: Archontophoenix purpurea is relatively easy to grow and very adaptable to soil type, but clay soil is much better than sand, or silt, because clay holds water, this palm is rarely watered enough and most planting don't look all that great, but it is a very fast grower if the water is kept up to it, averaging about 0,3-1 metre per year. A. purpurea is a great palm in a boggy spot where the land has been raped, and drainage is not so good. As a seedling this is a pretty robust plant, compared to the more common king palm (Archontophoenix cunninghamiana).
Growth Rate: It is pretty rapid, but the slowest growing species in Archontophoenix.
Transplantation: None of the Archontophoenix species move well, especially as older plants. Plant this one where you want it to stay forever.
Fertilization: Need a perfect fertilizer diet including all micro nutrients and trace elements or slow release fertilizer.
Light: It is the least sun tolerant of the species. As it matures, it does better in the sun (if the water is kept up to them). Young specimens need protection from direct sunlight and grow best in shady to partly shady locations. If home-grown, they look their best in bright diffuse light.
Hardiness: It grows in tropical, sub-tropical and milder temperate areas or under glass and is more cold-tolerant than Archontophoenix alexandrae. However it can be difficult to get it to look its best without a great amount of heat and sun and so it is only really suited to the tropics in frost-free regions, but can tolerate cold down to – 3° C for a short period of time when mature enough. Grows best in USDA Zones (9b-) 10 to 11.
Drought tolerance:This palms like to be waterlogged, since their habitat is periodically flooded and in cultivation they appreciates very abundant waterings. During the summer or warmer months, water frequently (even every 2 days) to keep the soil from drying out. Under-watered specimens tend to yellow, have skinny, weak trunks and only hold 3-4 leaves at a time. Once established as a tall, sturdy tree, their water needs seem to diminish.
Aerosol salt tolerance: It is moderately salt tolerant, but does a lot better inland then it does on the coast.
Maintenance: Easy. This palm requires very little maintenance since it has self-cleaning trunk.
Remarks: Large specimens drop their leaves that weigh several kilograms below, often crushing everything in their path. Pruning them early however, looks very bad and sets up the palm for infections. Just don't plant anything delicate are hard to weed around below them. A single plant can produce thousands of new seedling under it every year. And if you have a nice carefully weeded tropical garden below, this is a real pain.
Use: It is often used as an ornamental plant. While being very attractive individuals, it becoming quite common now to plant them in clusters and close groupings. Its very neat appearance and stature makes it perfect near highways and used to accent residential landscapes. It is also a very popular indoor plant, but really would prefer more light and fresh air. A shade screen patio will provide an excellent environment for young specimens which can eventually be planted in a sunny location. Its flower colour is violet and the red fruits are attractive to birds.
Traditional uses: Aboriginal people used the stems for weaving. Surveyors in the early part of European settlement used one chain lengths of the stems as standard measures. Propagation: Propagation is by seeds. Seed germination is quick and easy. Germination occurs in 6 weeks to 3 months. It is best to sow seeds fresh in the spring.