Donate now to support the LLIFLE projects.
Your support is critical to our success.
Since 4 Aug 2013
sponsored link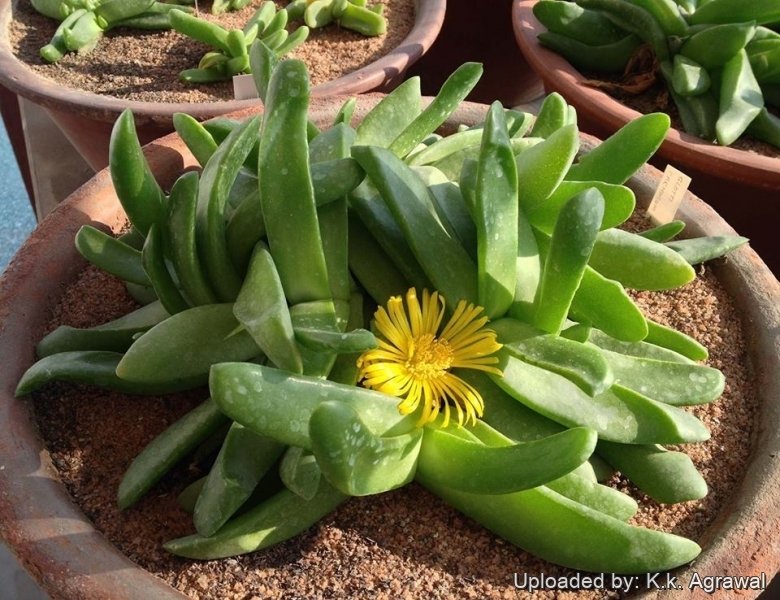 Glottiphyllum carnosum Photo by: K.k. Agrawal
Origin and Habitat: Calitzdorp, Oudtshoorn, Western Cape, South Africa. Extent of occourance 550 km².
Altitude range: 400-650 metres above sea level.
Habitat: Glottiphyllum carnosum grows in Succulent Karoo in gravel flats and sandstone slopes together with Glottiphyllum regium and Glottiphyllum cruciatum, often in shade of taller shrubs, habitat quality at four known locations continue to decline due to the impacts of ostrich farming. Also threatened by trampling and grazing.
Synonyms:
See all synonyms of Glottiphyllum carnosum
Description: Glottiphyllum carnosum is a compact, clump-forming perennial succulent with 3-5 decumbent branches that form a mat of fleshy leaves up to 4 cm tall and 10 cm in diameter, but often much larger in cultivation (up to 30 cm across). It is dormant in high summer heat, and dormant in the darkness of a cold winter, but otherwise happy to grow whenever water is available. There are indeed marked differences in sizes of leaf and flowers in plants from different population and also the growing condition (especially sun exposure and water availability) determine conspicuous differences in habit of cultivate specimens.
Leaves: Distichous, fleshy, keeled, oval, gibbose with a humped lower side, more or less erect up to 65 mm long and 20 mm wide (often longer in cultivation), Green to greyish green, wax cover of dense platelets thick, sides of bladder cells moderately undulate. Leaves of seedlings broadly acuminate
Flowers: Long-lived, solitary, near the centre of the rosette and very showy, approximately 6,5 cm in diameter, yellow, daisy-like almost stalkless. Petals golden yellow.
Fruits: Tumble fruit 6-7(-8)-chambered, base somewhat woody, valves thick and high, rims low, valve wings as awns.
Seeds: 1.4-1.5 mm long, 1-1.2 mm broad, papillate, longer in dorsal region.
Similar species: The species is similar to Glottiphyllum linguiforme and Glottiphyllum suave in oval leaf shape and wax cover, differing in capsule and seed characters mainly.
Bibliography: Major references and further lectures
1) Heidrun E.K. Hartmann "Illustrated Handbook of Succulent Plants: Aizoaceae F-Z" Springer Science & Business Media, 2002
2) Gideon Smith u.a. "Mesembs of the World: Illustrated Guide to a Remarkable Succulent Group." Briza Publications, 1998
3) Gustav Schwantes "Zur Systematik der Mesembryanthemen." In: Zeitschrift für Sukkulentenkunde. volume 2, 1926
4) Gustav Schwantes "Zur Systematik der Mesembryanthemen." In: Zeitschrift für Sukkulentenkunde. Volume 3, 192Major references and further lectures
5) Hermann Jacobsen "A handbook of succulent plants: descriptions, synonyms, and cultural details for succulents other than Cactaceae, Volume 1" Blandford Press, 1960
6) Werner Rauh "The Wonderful World of Succulents:Cultivation and Description of Selected Succulent Plants Other Than Cacti" Smithsonian Institution Press, 1984
7) James Cullen, Sabina G. Knees, H. Suzanne Cubey "The European Garden Flora Flowering Plants: A Manual for the Identification of Plants Cultivated in Europe, Both Out-of-Doors and Under Glass" Cambridge University Press, 11/Aug/2011
8) Barkhuizen. "Succulents of southern Africa." 1981
9) Court. "Succulent flora of southern Africa" 1981
10) Pauline Bohnen "More flowering plants of the Southern Cape" Still Bay Conservation Trust, 1995
11) Glottiphyllum carnosum in: Bradleya 11: 39 1993
12) Vlok, J.H. & Raimondo, D. 2007. Glottiphyllum carnosum N.E.Br. National Assessment: "Red List of South African Plants version" 2014.1. Accessed on 2014/07/10
Single plants progress, this is 13 inches across pot
Photo by: K.k. Agrawal
Send a photo of this plant.
The gallery now contains thousands of pictures, however it is possible to do even more. We are, of course, seeking photos of species not yet shown in the gallery but not only that, we are also looking for better pictures than those already present.
Read More...
Cultivation and Propagation: The plants in this genus represent some of the more easily cultivated succulent species. Their main growth period is in late winter and were heading for spring-summer dormancy, but they do best with at least a little water all year. Requires little water otherwise their epidermis breaks (resulting in unsightly scars). Water moderately from the middle of summer to the end of winter, and keep the compost almost dry when the plants are dormant. Water minimally in spring and summer, only when the plant starts shrivelling (, but they will generally grow even in summer if given water) In areas prone to frost, grow in an intermediate greenhouse or conservatory, in pots of cactus compost, obtainable from good garden centres. Keep cool and shaded in summer, but provide maximum light the rest of the year. Remember that a sunny locality is best, otherwise they will not flower properly. However there are two ways to grow glottiphyllums: The first is to let nature take her course, which means giving them large pots and copious water; they will burgeon into enormous masses of glistening green leaves. The other is to starve them into svelteness by hot summer droughts, small pots, and firm loam. The results can be very attractive. In any case it is best to treat them as late winter growers. Soft leaves mean easy to damage. May be susceptible to mealybugs.
Propagation: Seeds or cuttings. Seeds germinate very easily and can be sown in early to mid-spring, but can be sown at most times of the year (Avoid very hot weather in summer) and germinated in heated humid environment. Do not sow the seeds too deep. If sown too deep, they will be smothered and probably not germinate. Under ideal conditions, seedlings will grow rapidly. Plant the seedlings out when they are 3–5 cm in height.
Alternatively, use stem cuttings taken towards the end of summer in an heated propagating case (15-21°C) Cuttings root easily and remain true to the species, while seeds tend to hybridize.