Donate now to support the LLIFLE projects.
Your support is critical to our success.
Since 4 Aug 2013
sponsored link
Accepted Scientific Name: Orbea macloughlinii (I.Verd.) L.C.Leach
Kirkia 10(1): 291. 1975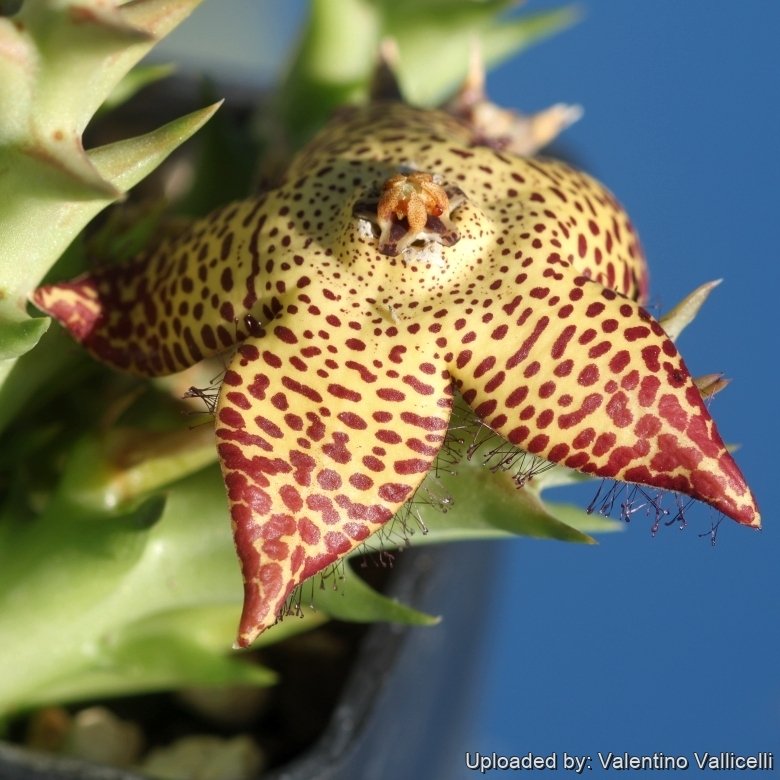 Orbea speciosa Photo by: Valentino Vallicelli
Origin and Habitat: Found only in KwaZulu-Natal (in the valleys of the Umkomaas Rivers )
Altitude: 500–700 metres above sea level.
Habitat: Dry, rocky places in shallow soils along steep edges of river bank.
Synonyms:
See all synonyms of Orbea macloughlinii
Accepted name in llifle Database:
Orbea macloughlinii
(I.Verd.) L.C.Leach
Kirkia 10(1): 291. 1975
Synonymy: 5
Common Names include:
ENGLISH:
Toad Cactus, Toad Plant, Starfish Cactus, Starfish Plant
Description: Orbea speciosa is a dwarf soft stemmed succulent quite widespread in cultivation for the attractive bright yellow mottled flowers. In age forms big clumps or mats of vegetation.
Stems: Leafless, green mottled purple in full sun, four-angled with prominent pointed tubercles, erect, prostrate or decumbent, branched above ground from their bases and rooting at internodes, not rigid. Each stem can reach over 15 cm.
Flowers: Five-lobed , often brilliant yellow colouring mottled dark maroon with a shallow to prominent annulus (raised in the centre of the flowers). The petal edge carry numerous hairs that vibrate with the slightest air motion. As with other Asclepiads, pollen is contained in pollinaria which must be transferred to the female part of the flower by the pollinator (Usually fly).
Blooming season: Flowers coming in late summer or autumn. It is quite free flowering if in direct sunlight.
Fruit & seeds: The plant can readily set seed, after the fecundation the carpels develop pairs of long cylindrical horn-shaped fruits containing many seeds, these need to be contained when they ripen, because as soon as the fruit opens it liberate a cloud of flying seed provided whit a white feathery cotton fluff. The seeds can float from the pods and drift around the greenhouse on the slightest breeze.
Taxonomy notes: This species is closely related to Orbea macloughlinii & Orbea doldii, but in Orbea speciosa the annolus has often a narrow to occasionally deeper recessed sill around the border, which one never sees in Orbea macloughlinii and Orbea doldii. This may not have been very marked in the clonotype, but is nonetheless a common feature of the species, suggesting a more closer relation of O. speciosa with Orbea longidens than O. macloughlinii, and perhaps one is seeing a development in the populations of this southern KwaZulu-Natal endemic towards the deep corolla recess of O. longidens.

Subspecies, varieties, forms and cultivars of plants belonging to the Orbea macloughlinii group
Orbea doldii

Plowes

: has purple flowers with bright yellow marking, more vibratile hairs along margins and a shallower saucer shaped annulus. Distribution: Umtata district, Eastern Cape Province

Orbea macloughlinii

(I.Verd.) L.C.Leach

Orbea speciosa

L.C.Leach

: has yellow flowers mottled dark maroon with a shallow to prominent annulus. The petal edge carry numerous vibratile hairs. Distribution: KwaZulu-Natal,valleys of the Umkomaas Rivers.
Bibliography: Major references and further lectures
1) Focke Albers und Ulli Meve (Hrsg.): "Sukkulenten-Lexikon" Volume 3 Asclepiadaceae" Ulmer, Stuttgart 2002
2) White & Sloane. "The Stapelieae" edn 2. Abbey San Encino Press, 1937
3) Golding, J.S. "Southern African Plant Red Data Lists." Southern African Botanical Diversity Network Report No. 14. SABONET. Pretoria. Page 162. (ed.) 2002
4) James Cullen, Sabina G. Knees, H. Suzanne Cubey "The European Garden Flora Flowering Plants: A Manual for the Identification of Plants Cultivated in Europe, Both Out-of-Doors and Under Glass" Cambridge University Press, 11/Aug/2011
5) Carl August Lückhoff "The stapelieae of Southern Africa" A. A. Balkema, 1952
6) Doreen Court "Succulent Flora of Southern Africa" A.A. Balkema, 2000
7) Hermann Jacobsen "A handbook of succulent plants: descriptions, synonyms, and cultural details for succulents other than Cactaceae" Blandford Press, 1960
8) Bruyns, P.V. "Stapeliads of Southern Africa and Madagascar" Volume I Umdaus Press, Hatfield, South Africa Pages 257 - 259 2005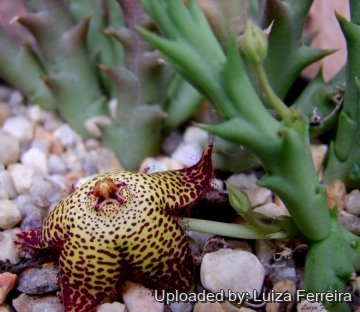 Orbea speciosa
Photo by: Luiza Ferreira
Orbea speciosa
Photo by: Valentino Vallicelli
speciosa hybrid.
Photo by: Julio C. García
Orbea speciosa
Photo by: Valentino Vallicelli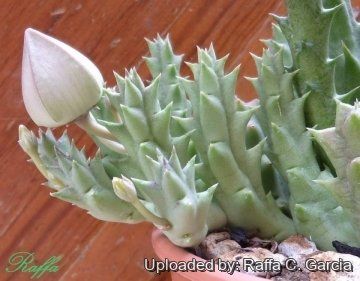 Orbea speciosa
Photo by: Raffa C. Garcia
Orbea speciosa
Photo by: Valentino Vallicelli
Orbea speciosa
Photo by: Valentino Vallicelli
Orbea speciosa
Photo by: Edoardo Mattei
Cultivation and Propagation: Orbea speciosa grow well in light gritty soil with a very liberal drainage. They should at all times sparingly watered (best rain water with some occasional fertiliser), and in winter time they hardly require any. They require outdoor culture, or a warm close greenhouse, while growing in the early part of summer, and afterwards may be ripened and kept in a greenhouse; but as they bloom chiefly in autumn, warmth is desirable to enable them to expand their flowers.
A minimum winter temperature of 5-10°C is acceptable, providing that plants are kept absolutely dry. They prefer light shade rather than full sun, although stems may not colour up under shady conditions.
Propagation: Plants are usually increased by cuttings, which, as they are very succulent, should be allowed to dry a week after they are taken off, when they may at once be put singly into pots.
Pest & diseases: Keep their roots free of mealy bugs, as fungal attack often occurs as a result of damage to stems by insects. A layer of grit on the surface of the compost prevents moisture from accumulating around the base of the stems and minimise the chance of fungal attack on the roots.
Traditional uses: This species is sporadically collected for food by local people.