Donate now to support the LLIFLE projects.
Your support is critical to our success.
Since 4 Aug 2013
Accepted Scientific Name: Orbea decaisneana (Lem.) Bruyns
Aloe 37: 74 2000
Stapelia decaisneana (Orbea decaisneana) Photo by: Luiza Ferreira
Origin and Habitat: Orbea decaisiceana is a very widely distributed species and is found in dry Sahel regions of Mauritania, Senegal, Mali, Burkina Faso, Niger, Sudan, and occurring through the Sahara ( NE Africa Algeria, Morocco) and southern Arabia.
Altitude range: From sea-level up to 2000 m altitude.
Habitat and ecology: Orbea decaisneana grows on desert margins in dry grasslands, among stones on slopes on granite and on limestone outcrops and is locally very common. In Senegal, it occurs in yellow to pale orange sand among fixed dunes mainly between one and three kilometres from the shore among the dense and spiny vegetation covering the dunes. In the south of Morocco, it grows along the coast up to 150 km inland. One locality was found in the Eastern Rif Mountains. It is poorly recorded and it is not known whether it is threatened by genetic erosion.
Synonyms:
See all synonyms of Orbea decaisneana
Accepted name in llifle Database:
Orbea decaisneana
(Lem.) Bruyns
Aloe 37: 74 2000
Synonymy: 17
Common Names include:
ENGLISH:
Carrion plant
Description: Orbea decaisneanaSN|28307]]SN|28307]] (best known as Caralluma decaisneanaSN|28308]]SN|28308]]) is a slender much-branched perennial succulent not passing 20 cm high, forming diffuse mats to c. 50 cm in diameter, the stems decurved and rooting freely in contact with the soil. The star shaped flowers are blackish-purple, frosted with minute white papillae. It is a widespread and variable species
Stems: Slender, cylindrical, slightly angled with conical protuberance, erect to decumbent and rooting, apically tapering, whitish green, grey-green, marbled or spotted with brown to purple, 10-40 cm long, 12-15 mm in diameter, excluding teeth, 3- to 6-ribbed, sides conspicuously furrowed. Tubercles (the 'teeth') 7-15 mm long, strong, conical-subulate, with a slight groove among them, horizontal to ascending.
Leaves: Rudimentary at tubercle apex; stipular denticles absent.
Inflorescence: 1-3 per stem more or less erect. Peduncle, almost absent, cushion-like, 1- to 5(-20)-flowered, sometimes with 1 mm long filiform bracts, flowers developing in gradual succession. Pedicels 1 - 5 mm, more or less conical up to 2(-3) mm in diameter, spreading.
Flowers: Bisexual, regular, 5-merous, with fetid smell 8-15 mm long, 15-25 mm in diameter. Sepals 3-5 mm long, acute. Corolla, campanulate, outside cream mottled with brown, inside dark purple or reddish-brown sometimes yellow towards base of tube, flat, tube 4 (-6) x 6-8 mm in diameter, cup-shaped, embracing the corona. Corolla-lobes 7-12 mm long, 5-8 mm wide, elongate-ovate, acute, ascending then horizontally spreading, inside glabrous to finely papillate, papillae whitish, surface appearing frosted, apically sometimes with a fine white bristle. Margins reflexed at times with purple clavate hairs. Corona flesh-coloured to purple 5-angled c. 4 mm x c. 5 mm. Outer lobes c. 2 mm long, pouch-like, apically often emarginate, inner lobes triangular to broadly lanceolate, c. 1 mm long, slightly longer than style head; style head pentagonal. Pollinia ovoid, 0.5 mm long, 0.3 mm wide, large in relation to flowers size.
Chromosome number: 2n = 22
Blooming season: Summer-autumn.
Fruit: Typical twin seed horns (follicles), narrowly fusiform, acute and often don't appear until a year later.
Seeds: With pappi.
Subspecies, varieties, forms and cultivars of plants belonging to the Orbea decaisneana group
Orbea decaisneana

(Lem.) Bruyns

: has blackish-purple star shaped flowers frosted with minute white papillae. It is a widespread and variable species of Sahel and Sahara regions of Africa and southern Arabia.

Orbea decaisneana subs. hesperidum

(Maire) Jonkers

: is the Moroccan form of Orbea decaisneana. In accordance with the variability of the species the "hesperidum" subspecies is invalid and nowadays considered as a synonym.
Orbea decaisneana subs. hesperidum f. cristata

hort.

: Crested form.
Bibliography: Major references and further lectures:
1) "Cactus World: The Journal of the British Cactus & Succulent Society", Volume 25, pag. 51 British Cactus & Succulent Society, 2007
2) Focke Albers, Ulrich Meve "Illustrated Handbook of Succulent Plants: Asclepiadaceae: Asclepiadaceae" Volume 4 Springer, 2002
3) Peter Hanelt, Institute of Plant Genetics and Crop Plant Research, W. Kilian "Mansfeld's Encyclopedia of Agricultural and Horticultural Crops: (Except Ornamentals)" Springer Science & Business Media, 10/Apr/2001
4) Schmelzer, G.H. & Gurib-Fakim, A. "Medicinal plants 2" PROTA, 2013
5) John Hutchinson, John McEwen Dalziel Crown Agents for the Colonies, "Flora of West Tropical Africa: The British West African Colonies, British Cameroons, the French and Portuguese Colonies South of the Tropic of Cancer to Lake Chad, and Fernando Po" Volume 2, 1931
6) Burkill, H.M. "The useful plants of west tropical Africa" Vol 1, 1985
7) Hermann Jacobsen "Abromeitiella to Euphorbia" Blandford Press, 1960
8) Jean-André Audissou "Moroccan Stapeliads. Asklepios" 94: 18-27, 2005
9) Keith Bensusan "Taxonomy and conservation status of Moroccan stapeliads (Apocynaceae-Asclepiadoideae-Ceropegieae-Stapeliinae)." Bulletin de l'Institut Scientifique, Rabat, section Sciences de la Vie, 31(2): 67-77, Rabat 2009
10) Peter V. Bruyns "Monograph of Orbea and Ballyanthus (Apocynaceae – Asclepiadoideae – Ceropegieae)" In: Systematic Botany Monographs. 63(1):196 2001 , American Society of Plant Taxonomists, Ann Arbor
Stapelia decaisneana
(Orbea decaisneana)
Photo by: Luiza Ferreira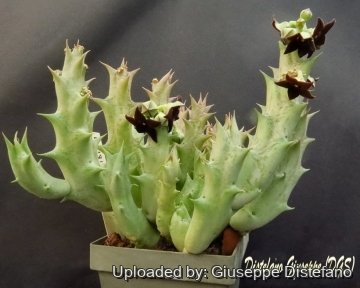 Stapelia decaisneana
(Orbea decaisneana)
Photo by: Giuseppe Distefano
Cultivation and Propagation: Orbea decaisneanaSN|28307]]SN|28307]] is a very unusual xerophytic plant adapted to dry soils and not difficult to growonly bearing in mind that this species benefits from slightly warmer winter than others. It is very suitable for a hanging pot.
Growth rate: It is a somewhat slow growing Stapeliad that will make large clumps given the best conditions. Most plants will offset readily, and clumps can be produced in a few years.
Soils: It likes very porous mineral cactus mix soil, pH 7,5 to 8,5 (mildly alkaline), but can become too elongated if compost is too rich.
Repotting: This plant needs plenty of space for its roots, repotting should be done every other year or when the it has outgrown its pot. Use pot with good drainage.
Watering: It needs regular watering, especially during the hottest summer days; provide also some light watering if the green house temperatures in winter are elevated. Either excessive or very scarce watering can induce rot.
Fertilization: Feed with a high potassium fertilizer in summer.
Frost Tolerance: For safe cultivation winter temperatures must be kept over 10° C, but it can withstand winter night-time temperatures down to about 5°(or less) Celsius for short period. Freezing temperatures are often fatal. In the rest period no high atmospheric humidity!!
Sun Exposure: Best for half-shade but grow well in full sun and full shade too. Tends to bronze in strong light, which encourages flowering, but is likely to suffer from sun scorch or stunted growth if over exposed to direct sunlight during the hottest part of the day in summer.
Diseases: Rot is only a minor problem with Orbea if the plants are watered and "aired" correctly. If they are not, fungicides won't help all that much.
Uses: It is an excellent plant for container growing. Cascading, clustering, great for a hanging display. Stems may possibly become purple and limp in winter, but revitalize in early spring. It always looks good and stays small. It look fine in a cold greenhouse and frame or outdoor in a rockery.
Traditional medicine: In Senegal it enters into a number of medico-magical treatments for mental troubles, epilepsy, and perhaps also for Parkinson's disease. In Senegal the Wolof of Cayor and Cap-Vert apply the latex to a carious tooth to quell toothache. It will remain only of local importance as a medicinal plant as it is very toxic. Stock will not graze it as it is considered toxic to both man and animal. It is sometimes used as criminal poison. In Mali dried powdered stems are thrown in the water as fish poison; it is considered slow-acting.
Traditional uses: Orbea decaisneanaSN|28307]]SN|28307]] has superstitious uses and is cultivated as fetish plant, and is probably planted at mosques, etc., to dispel evil influences.
Maintenance: The plants are relatively short lived, usually starting to die off from the middle outwards. So it is always an advantage to get cuttings from the parent plant to grow on.
Propagation: Seeds and cuttings. Cuttings will root only in hot weather. Cuttings must be kept very dry to root. Seeds germinate readily if they are sown when fresh.