Donate now to support the LLIFLE projects.
Your support is critical to our success.
Accepted Scientific Name: Epithelantha micromeris (Engelm.) F.A.C.Weber in Bois
Dict. Hort. [Bois] 2: 804. 1898 Britton & Rose, Cactaceae, 3: 93, fig. 102. 1922 Bois
Epithelantha micromeris var. rufispina Photo by: Valentino Vallicelli
Apical spines in mature plants take a reddish tinge, especially if wet.
Origin and Habitat: Epithelantha micromeris var. rufispina is found in abundance from Parras de la Fuente to south of Saltillo in the state of Coahuila, Mexico.
Habitat: It grows in the shelter of bushes and grasses and is a bit difficult to spot in its half- hidden location.
Synonyms:
See all synonyms of Epithelantha micromeris
Description: Epithelantha micromeris var. rufispina is a minute globular button cactus, becoming somewhat elongated when old. A dainty plant, and an easy one to handle. The short spines of this little cactus are appressed to its body and so do not puncture your hands.
Stem: Solitary, up to 10 cm tall, but at times has offsets at the base. The appressed apex contains many reddish spines. The stem becomes quite dehydrated during drought, but fills out quickly.
Spines: 30-40 all radials, greyish-white in young specimens, turning to a grey-reddish or brownish tinge in adult plants crown, while the rest of the spines on the body of the plant are greyish.
Flowers: Small cream-pink coloured, emerging from the wool at the apex.
Blooming season Flowers start open from April in succession over a longer time later in summer.
Fruits: Oblong to clavate, red, edible, referred to as "chilitos" or little chili peppers. Their taste is tart, however, and not peppery.
Taxonomy: Dr. Helia Bravo first described this cactus in 1951 as Epithelantha rufispina. Backeberg in 1954 found it to be a variety of Epithelantha micromeris and called it E. micromeris var. rufispina.
Subspecies, varieties, forms and cultivars of plants belonging to the Epithelantha micromeris group
Bibliography: Major references and further lectures
1) Curt Backeberg "Die Cactaceae: Handbuch der Kakteenkunde" Gustav Fischer Verlag, Stuttgart New York 1982–1985
2) Curt Backeberg "Das Kakteenlexikon", 1966
3) Saguaroland Bulletin, Volumi 26-27, page 40, Arizona Cactus and Native Flora Society, 1972
Epithelantha micromeris var. rufispina
Photo by: Carolina González
Epithelantha micromeris var. rufispina
Photo by: Cactus Art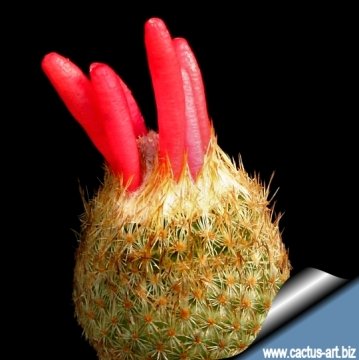 Epithelantha micromeris var. rufispina
Photo by: Cactus Art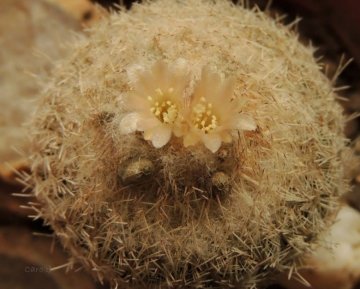 Epithelantha micromeris var. rufispina
Photo by: Carolina González
Cultivation and Propagation: Although regarded as a choice and difficult plant in cultivation it is relatively easy. Needs a soil mix particularly well draining (rot prone). Water sparingly and keep perfectly dry in winter. Hardy to -7°C
Sun Exposure: Light shade to full sun.
Propagation: Seeds, offsets.