Donate now to support the LLIFLE projects.
Your support is critical to our success.
Epithelantha micromeris subs. greggii Photo by: Valentino Vallicelli
SB321 (Collector: Steven Brack) Cuesta la Muralla, Coahuila, Mexico (A form with black tipped spines)
Origin and Habitat: Northern Mexico, especially around Saltillo, Coahuila.
Altitude range: Around: 700-1300 m above sea level.
Habitat and ecology: Epithelantha greggiiSN|6929]]SN|6929]] grows on hills with low slopes,
mountain plateaus, on coarse stone chips and gravels.
Associated species: Echinocactus horizonthaloniusSN|1711]]SN|1711]], Ariocarpus retususSN|2114]]SN|2079]], Ariocarpus fissuratusSN|2079]]SN|2114]] subsp. fissuratus, Coryphantha poselgerianaSN|10055]]SN|10245]], Coryphantha pseudoechinusSN|10048]]SN|10393]], Coryphantha poselgerianaSN|10245]]SN|10245]], Coryphantha delaetianaSN|10393]]SN|10048]], Coryphantha gladiispinaSN|10245]]SN|10055]], Grussonia bradtiana, Escobaria strombiliformis, Escobaria strombiliformis, Lophophora williamsiiSN|1117]]SN|1117]], Thelocactus bicolorSN|3420]]SN|3420]], Echinomastus mariposensisSN|26084]]SN|26084]], Mammillaria lasiacanthaSN|9355]]SN|9075]], Opuntia microdasysSN|15506]]SN|15506]], Neolloydia conoideaSN|10089]]SN|10089]], Mammillaria pottsiiSN|9075]]SN|9355]] etc...
Synonyms:
See all synonyms of Epithelantha micromeris
Common Names include:
ENGLISH:
Button Cactus
SPANISH (Español):
Mulatto (Mexico), Tapone (Mexico)
Description: Epithelantha micromeris subs. greggiiSN|6936]]SN|6928]] is the largest and most common of the Epithelantha micromerisSN|6928]]SN|6936]] subspecies that appears ashy grey and relatively rough, somewhat bristly in general aspect.
Stem: Branching, mostly spheric or obovoidal, often flat-topped with a depressed centre, 5-7,5 cm in diameter; surface completely obscured by spines.
Tubercles: Numerous, not confluent into ribs, hemispheric or short cylindric, very small, ca. 1-2 mm; arranged in tight spirals around the plant.
Areoles: Small at tips of tubercles, 1 mm long, nearly circular, elliptic when distended by flower or fruit, slightly woolly when young, copiously woolly only at sexually mature stem apex; areolar glands absent.
Spines: 20 or more chalky white, ashy grey to reddish brown, 3-5 mm long, spreading and radiating at an early age rather than pectinate and appressed on sides of stems, straight, terete, slender, innocuous. The upper ones much longer.
Roots: Diffuse (usually).
Flower: Inconspicuous, funnel-shaped, diurnal, deeper pink than the type, borne at adaxial margins of spine clusters in the plant top. Only partly opened just distal portion visible, as they barely stick out above the wool obscured by longer spines at stem apex.
Blooming season: Flowers in May-June.
Fruits: Indehiscent, bright red, thin narrowly cylindric, 18 × 2-3(-5) mm, weakly succulent, soon drying and papery, smooth, spineless; pulp absent; floral remnant deciduous. Fruiting summer.
Subspecies, varieties, forms and cultivars of plants belonging to the Epithelantha micromeris group
Bibliography: Major references and further lectures
1) James Cullen, Sabina G. Knees, H. Suzanne Cubey "The European Garden Flora Flowering Plants: A Manual for the Identification of Plants Cultivated in Europe, Both Out-of-Doors and Under Glass" Cambridge University Press, 11/Aug./2011
2) David Hunt, Nigel Taylor "The New Cactus Lexicon" DH Books, 2006
3) Edward F. Anderson "The Cactus Family" Timber Press, 2001
Epithelantha micromeris subs. greggii
Photo by: Valentino Vallicelli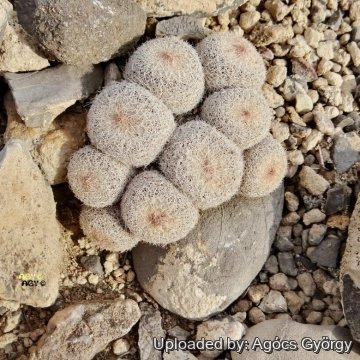 Clustering habit. Mexico.
Photo by: Agócs György
SB1624 Collector: Steven Brack) Locality: Santa Theresa, Coahuila, Mexico
Photo by: Cactus Art
Epithelantha micromeris subs. greggii
Photo by: Valentino Vallicelli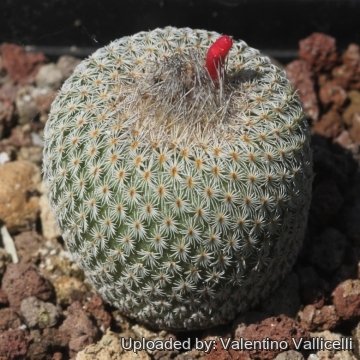 Epithelantha micromeris subs. greggii
Photo by: Valentino Vallicelli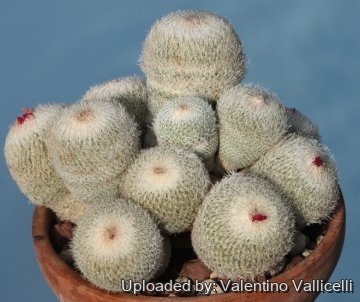 Epithelantha micromeris subs. greggii
Photo by: Valentino Vallicelli
Epithelantha micromeris subs. greggii
Photo by: Cactus Art
Send a photo of this plant.
The gallery now contains thousands of pictures, however it is possible to do even more. We are, of course, seeking photos of species not yet shown in the gallery but not only that, we are also looking for better pictures than those already present.
Read More...
Cultivation and Propagation: Although regarded as a choice and difficult plant, in cultivation it is relatively easy. Sometimes it is grafted to avoid root rot problems. Suited for airy exposures.
Soil: It needs a particularly well-draining soil mix.
Exposure: Light shade to full sun.
Water: Water sparingly as it is susceptible to over-watering. Keep dry in winter.
Frost Tolerance: Depending on the variety, will handle -12° C (Temperature Zone: USDA 8-11). But a plant kept perfectly dry can easily survive at winter night-time temperatures below 0° C.
Pests & diseases: Epithelantha micromeris subs. greggiiSN|6928]]SN|6928]] is prone to rot, therefore, underpot in a smaller container filled with very porous compost.
Propagation: Seeds, offsets or graft. Seeds can be sown in the spring or summer. The seedlings should not be disturbed until they are well rooted, after which they can be planted separately in small pots.