Donate now to support the LLIFLE projects.
Your support is critical to our success.
Since 4 Aug 2013
Accepted Scientific Name: Epithelantha micromeris (Engelm.) F.A.C.Weber in Bois
Dict. Hort. [Bois] 2: 804. 1898 Britton & Rose, Cactaceae, 3: 93, fig. 102. 1922 Bois
Epithelantha micromeris f. cristata Photo by: Valentino Vallicelli
Origin and Habitat: The plants in cultivation are mostly of garden origin (Nursery produced cultivar), but crested specimens are sometime found in its natural habitat in Northern Mexico (northern Chihuahua) and USA (Arizona, New Mexico and Texas)
Synonyms:
See all synonyms of Epithelantha micromeris
Common Names include:
ENGLISH:
Crested Button Cactus, Crested Ping-pong Ball Cactus
Description: This is a miniature cactus that makes a nice and tangled cluster of fine crests. The stem surface is completely obscured by small pectinated ashy-grey to white spines.
Tubercles: Numerous, not confluent into ribs, hemispheric or short cylindric, very small, ca. 1-3 mm; arranged in tight spirals around the plant.
Areoles: Small at tips of tubercles, 1 mm long, nearly circular, elliptic when distended by flower or fruit, slightly woolly when young, copiously woolly only at sexually mature stem apex; areolar glands absent;
Spines: 20-35(-40) white to ashy grey 2-5 mm long, appressed on sides of stems, straight, innocuous, in 1-3 superimposed series except for a longer (4-12 mm) and erect adaxial tuft on the top, on sexually mature stem apex often greyish or purplish white, frequently with brown bases, collectively forming brown spots at the centre of each spine cluster.
Roots: Diffuse (usually) or tap-root (in some populations)
Flower: Funnelform diurnal, borne in the plant top. Only partly opened just distal portion visible, as they barely stick out above the wool obscured by longer spines at stem apex.
Blooming season: Flowering late winter-early spring (Feb-Apr)
Fruits: Bright red, thin narrowly cylindric, mm, weakly succulent, soon drying and papery, smooth, spineless; pulp absent; floral remnant deciduous.
Fruiting season: Late spring-early summer (Apr-Jun).
Subspecies, varieties, forms and cultivars of plants belonging to the Epithelantha micromeris group
Notes: The cause of cresting: The cause of cresting is not fully explained. Biologists disagree as to why some plants grow in this unusual form. Some speculate that it is a genetic mutation. Others say it is the result of a lightning strike or freeze damage. But whatever the stimulus, the growth point of the stem has switched from a geometric point to a line, which folds and undulates as the crest expands. Though these crested cacti are somewhat rare (1 in 50,000 or less), cresting occurs naturally and can be encountered in many other cactus species.
Bibliography: Major references and further lectures
1) Edward Anderson "The Cactus family" Timber Press, Incorporated, 2001
2) James Cullen, Sabina G. Knees, H. Suzanne Cubey "The European Garden Flora Flowering Plants: A Manual for the Identification of Plants Cultivated in Europe, Both Out-of-Doors and Under Glass" Cambridge University Press, 11/Aug/2011
3) David R Hunt; Nigel P Taylor; Graham Charles; International Cactaceae Systematics Group. "The New Cactus Lexicon" dh books, 2006
4) N. L. Britton, J. N. Rose: "The Cactaceae. Descriptions and Illustrations of Plants of the Cactus Family." Volume III, The Carnegie Institution of Washington, Washington 1922
5) A. Michael Powell, James F. Weedin "Cacti of the Trans-Pecos & Adjacent Areas" Texas Tech University Press, 2004
6) Pierre C. Fischer "70 Common Cacti of the Southwest" Western National Parks Association, 1989
7) Brian Loflin, Shirley Loflin "Texas Cacti: A Field Guide" Texas A&M University Press, 26/ott/2009
8) Del Weniger "Cacti of the Southwest: Texas, New Mexico, Oklahoma, Arkansas, and Louisiana" University of Texas Press, 1969
9) Del Weniger "Cacti of Texas and Neighboring States: A Field Guide" University of Texas Press, 1984
10) Leo J. Chance "Cacti and Succulents for Cold Climates: 274 Outstanding Species for Challenging Conditions" Timber Press, 19/giu/2012
11) Jeff Nugent "Permaculture Plants: Agaves and Cacti" permacultureplants, 1999
12) Douglas B. Evans "Cactuses of Big Bend National Park" University of Texas Press, 1998
13) Flora of North America Editorial Committee "Flora of North America: North of Mexico. Magnoliophyta: Caryophyllidae, part 1" Oxford University Press, 1993
14) Carolyn Dodson "A Guide to Plants of the Northern Chihuahuan Desert" UNM Press, 15/feb/2012
15) Edgar Lamb, Brian Michael Lamb "Colourful cacti and other succulents of the deserts" Blandford Press, 1974
16) Corral-Díaz, R., Fitz Maurice, B, Fitz Maurice, W.A., Goettsch, B.K., Heil, K. & Terry, M. 2013. Epithelantha micromeris. In: IUCN 2013. "IUCN Red List of Threatened Species." Version 2013.2. <www.iucnredlist.org>. Downloaded on 19 February 2014.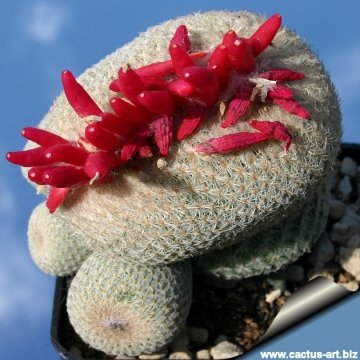 Epithelantha micromeris f. cristata
Photo by: Cactus Art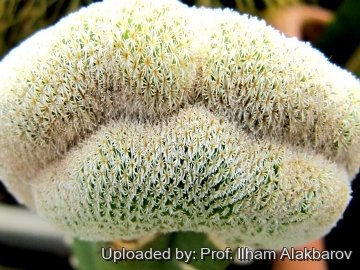 Epithelantha micromeris f. cristata
Photo by: Prof. Ilham Alakbarov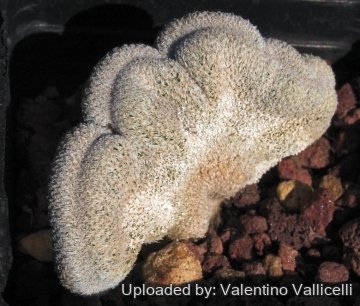 Epithelantha micromeris f. cristata
Photo by: Valentino Vallicelli
Epithelantha micromeris f. cristata
Photo by: Cactus Art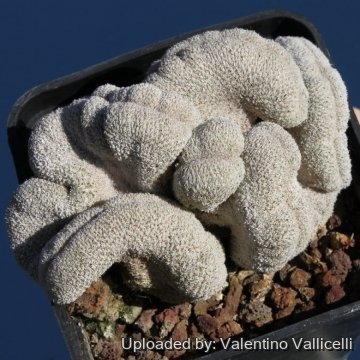 Epithelantha micromeris f. cristata
Photo by: Valentino Vallicelli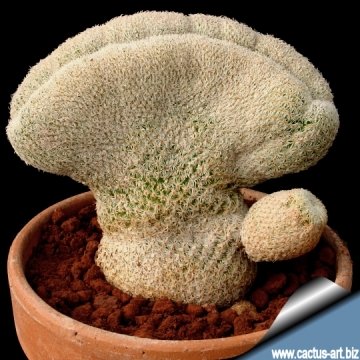 Epithelantha micromeris f. cristata
Photo by: Cactus Art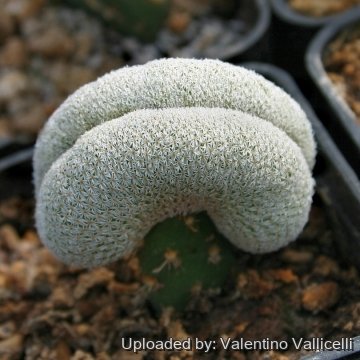 Epithelantha micromeris f. cristata
Photo by: Valentino Vallicelli
Epithelantha micromeris f. cristata
Photo by: Cactus Art
Cultivation and Propagation: Although regarded as a choice and difficult plant, in cultivation it is relatively easy. It needs a particularly well-draining soil mix (rot prone). Water sparingly.
Frost Tolerance: Depending on the clone will handle -12° C (Temperature Zone: USDA 8-11)
Sun Exposure:: Light shade to full sun:
Propagation: Grafting, cuttings, seeds of crested plants give often rise to some crested plants too.