Donate now to support the LLIFLE projects.
Your support is critical to our success.
= Discocactus zehntneri subs. albispinus (Buining & Bredero) P.J.Braun & Esteves
Kakteen Sukk. 46(3): 64 (1995)
Accepted Scientific Name: Discocactus zehntneri Britton & Rose
Cactaceae (Britton & Rose) 3: 218. 1922 [12 Oct 1922] Britton & Rose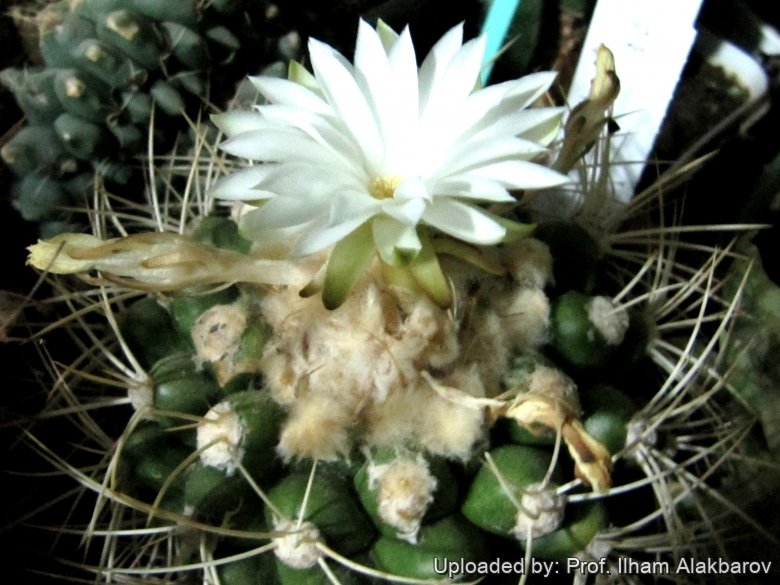 Discocactus zehntneri var. albispinus (Discocactus zehntneri subs. albispinus) Photo by: Prof. Ilham Alakbarov
Origin and Habitat: South-east of Sento Sé in the Serra do San Francisco, Bahia
Altitude: It grows at an altitude of 500 meters.
Habitat: It dwells on flat rocks.
Synonyms:
See all synonyms of Discocactus zehntneri
Description: Discocactus zehntneriSN|12932]]SN|12925]] subs. albispinus, more often known with its old name Discocactus albispinusSN|12925]]SN|12932]], is a very singular cactus with a disk like, flattened to globose body, and one of the most attractive and easy to grow species of Discocactus. It looks very much like standard Discocactus zehntneriSN|12932]]SN|12925]]. They grow in the same area, but Discocactus albispinusSN|12925]]SN|12932]] is larger and has fewers spines than D. zehntneri, moreover the spines are longer, whiter and more recurved, also its shape is more flattend.
Habitat: It is a squat solitary plant that often in culture produces offsets.
Stem: Green to pale green, approx 12 cm in diameter and 7-8 cm tall.
Cephalium: Up to 8 cm tall and -4 cm wide, at the apex of the plant, creamy-white.
Ribs: 12 to 13, somewhat spiraled, forming nipple-like tubercles to 1 cm high.
Areoles: Oval, sunken. Number of areoles per rib is 5 to 6 on plants with cephalium.
Spines: White to creamy-white (or light brown), tending to become grey towards the tips with age, subulate and stronger than in other subspecies.
Radial spines: 9 to 11 interlacing, densely covering the plant, to 3 to 5 cm cm long, slightly recurved backwards and sitting on the plant like spiders.
Central spines: 1 to 2, thicker, 4 to 6 cm long, arising perpendicularly and a little recurved.
Flowers: White, scented, slender, funnel-shaped , 2 to 9 cm long that open at night. The position of the stigma is at the top of the stamens. Each flowering lasts only one night, but that night it produces many flowers.
Fruits: Club-shaped red 2,5 cm long. The plant produces seed-pods twice a year, when it flowers.
Subspecies, varieties, forms and cultivars of plants belonging to the Discocactus zehntneri group
Bibliography: Major references and further lectures
1) Edward Anderson "The Cactus family" Timber Press, Incorporated, 2001
2) James Cullen, Sabina G. Knees, H. Suzanne Cubey "The European Garden Flora Flowering Plants: A Manual for the Identification of Plants Cultivated in Europe, Both Out-of-Doors and Under Glass" Cambridge University Press, 11/Aug/2011
3) David R Hunt; Nigel P Taylor; Graham Charles; International Cactaceae Systematics Group. "The New Cactus Lexicon" dh books, 2006
4) Edgar Lamb, Brian Lamb "The Illustrated Reference on Cacti & Other Succulents" Volume 5 Blandford Press, 1978
5) Discocactus Venlo 1980 blz.52.
6) Cac.& Succ. Journal USA 1974 page 252.
7) Miles Anderson "Cacti and Succulents" Lorenz Books, 1999
Cultivation and Propagation: Discocactus zehntneriSN|12925]]SN|12925]] subs. albispinus is one of the easiest species of the genus to grow, but even so it isn't a plants for beginners, in fact collectors consider the Discocactus to be rarities with requires skilful cultivation. It is rather difficult to grow and frost tender, it can't stand cold, or even fairly cool temperatures and should be kept at above 15° C if grown on its own roots (8°C if grafted). Need full sun or afternoon shade. They are slow growing and very rot prone when kept on their own roots and though they can't endure long stretches of total dryness, too much water will rot them, as their weak root systems tend to be inefficient at sucking up water from wet soil. They generally resent being repotted and can take a long time to establish. When grown to maturity, however, it possess an exotic look shared by no other cacti, and it generally attract a lot of attention.
Propagation: Seed or cuttings. Young seedlings are generally grafted on a low stock to keep the plant in a good shape.