Donate now to support the LLIFLE projects.
Your support is critical to our success.
Echinocactus texensis
Gartenflora xxxvii. (1888) 633, t. 1286 [ et: Allg. Gartenzeitung (Otto & Dietrich) 10: 297. 1842 ]
Family: CACTACEAE
Echinocactus texensis Photo by: Valentino Vallicelli
Origin and Habitat: Echinocactus texensisSN|2231]]SN|2231]] is widespread and common in Texas, southeastern New Mexico, and Oklahoma (USA). It occurs also in northeastern Mexico (Chihuahua, Coahuila, southern Nuevo León, Durango, Tamaulipas and Zacatecas)
Altitude range: 0-1400 metres above sea level.
Habitat: Chihuahuan Desert, in xerophyllous scrub, grasslands, openings in oak woodlands, Tamaulipan thorn scrub, on deep soils, sandy soils of plains and valleys, saline flats, low limestone hills or limy gravel above Permian red dirt.
Ecology: It is a very hardy cactus that grows hidden in the grass. A dense cover of ephemeral herbs or shallow blanket of snow can hide this species completely from view. This species is wide-ranging, abundant, and there are no threats. Echinocactus texensisSN|2231]]SN|2231]] is used as an ornamental, however it is not common in trade.
Synonyms:
See all synonyms of Echinocactus texensis
Common Names include:
ENGLISH:
Horse-crippler (For the heavily spines that lies low to the ground, a hazard to horses), Devil's-head, Candy Cactus (For the edible and tasty red fruit. The plant is used to make a candy), Devil's Pin Cushion, Horse Crippler, Devil's Pincushion
SPANISH (Español):
Manca caballo, Biznaga-tonel Manca Caballo
Description: Echinocactus texensisSN|2231]]SN|2231]], best known in cultivation as Homalocephala texensisSN|2230]]SN|2230]], is a stout barrel cactus, which is solitary when young, very rarely slowly clustering in age.
Stem: Pale grey-green (desert populations) to grass green (eastern populations) with numerous ribs , above-ground portion flat-topped, hemispheric in old age but usually deep-seated, flush with soil surface 30 cm in diameter, 20 cm high.
Spines: Small but strong pale tan, pink, reddish to grey, terete to flattened, annulated, not hiding stem surfaces.
Radial spines: (5-)6-7 per per areole, mostly decurved
Central spine: 1 porrect and straight.
Flowers: 5-6 × 5-6 cm. Flowers range from white thru rose-pink to pale silvery-pink, with red throats in late spring and can appear on plants around 10cm in diameter.
Fruits: Scarlet or crimson, spheric to ovoid, 15-50 × 15-40 mm, fleshy.
Remarks: Desert populations, unlike the eastern plants, have longer central spines that project stiffly outward.
Subspecies, varieties, forms and cultivars of plants belonging to the Echinocactus texensis group
Bibliography: Major references and further lectures
1) Edward F. Anderson "The Cactus Family" Timber Press, 2001
3) James Cullen, Sabina G. Knees, H. Suzanne Cubey "The European Garden Flora Flowering Plants: A Manual for the Identification of Plants Cultivated in Europe, Both Out-of-Doors and Under Glass" Cambridge University Press, 11/ago/2011
4) David Hunt, Nigel Taylor "The New Cactus Lexicon" DH Books, 2006
5) Gómez-Hinostrosa, C., Heil, K., Terry, M. & Corral-Díaz, R. 2013. "Echinocactus texensis." The IUCN Red List of Threatened Species. Version 2014.3. <www.iucnredlist.org>. Downloaded on 13 December 2014.
Echinocactus texensis
Photo by: Valentino Vallicelli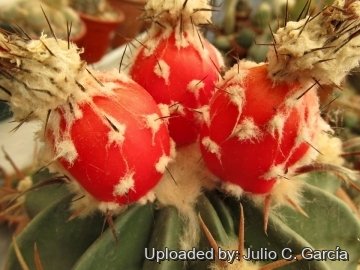 Echinocactus texensis
Photo by: Julio C. García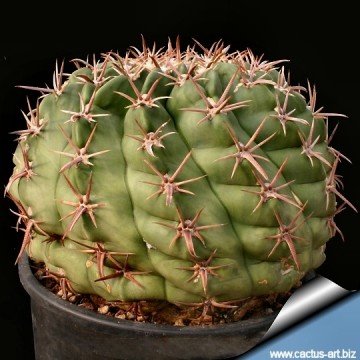 Echinocactus texensis
Photo by: Cactus Art
Echinocactus texensis
Photo by: Valentino Vallicelli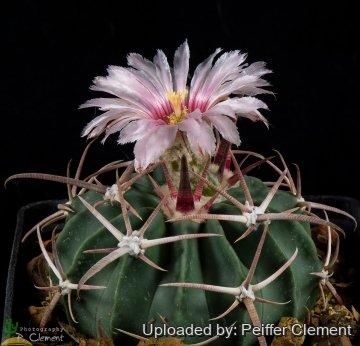 Echinocactus texensis
Photo by: Peiffer Clement
Echinocactus texensis
Photo by: Valentino Vallicelli
Echinocactus texensis
Photo by: Valentino Vallicelli
Echinocactus texensis
Photo by: Julio C. García
Cultivation and Propagation: Echinocactus texensisSN|2231]]SN|2231]] is a summer grower species easy to cultivate, more cold tolerant than most. It flowers easily, but results will depend on a variety of growing conditions.
Growth rate: It is a slow growing and easily flowering species.
Soils: It likes very porous standard cactus mix soil, but can become too elongated if compost is too rich.
Repotting: This variety stores water in the parts of the plant which are above the soil leaving the root system small enough to fit into a proportionally sized flower pot. Use pot with good drainage.
Watering: Water regularly from Spring to Autumn, but do not overwater (Rot prone), keep dry in winter.
Fertilization: Feed with a high potassium fertilizer in summer.
Hardiness: It does well with cool winter time temperatures and will tolerate temperatures down below -18°C or less if the roots are kept dry.
Exposition: It will do its best with lots of sun, it becomes stressed with inadequate light which could result in weak spines, poor health or even death.
Uses: It is an excellent plant for container growing. It always looks good and stays small. It look fine in a cold greenhouse and frame or outdoor in a rockery.
Pests & diseases: It may be attractive to a variety of insects, but plants in good condition should be nearly pest-free, particularly if they are grown in a mineral potting-mix, with good exposure and ventilation. Nonetheless, there are several pests to watch for:
- Red spiders: Red spiders may be effectively rubbed up by watering the infested plants from above.
- Mealy bugs: Mealy bugs occasionally develop aerial into the new growth among the wool with disfiguring results, but the worst types develop underground on the roots and are invisible except by their effects.
- Sciara Flies: Sciara flies are one of the major problems for seedlings. It is a good practice to mulch your seedlings with a layer of grit, which will strongly discourage the flies.
- Scales: Scales are rarely a problem.
- Rot: Rot is only a minor problem with cacti if the plants are watered and "aired" correctly. If they are not, fungicides won't help all that much.
Propagation: From seed, since the plant rarely produces plantlets. Seeds germinate in 7-14 days at 21-27° C in spring, remove gradually the glass cover as soon the plants will be well rooted (ca 1-2 weeks) and keep ventilated, no full sun for young plants!
Your Photos
---
by Valentino Vallicelli
by Valentino Vallicelli
by Cactus Art
by Valentino Vallicelli
by Cactus Art