Donate now to support the LLIFLE projects.
Your support is critical to our success.
Since 4 Aug 2013
sponsored link
Accepted Scientific Name: Echinocactus texensis cv. Anayami Monstr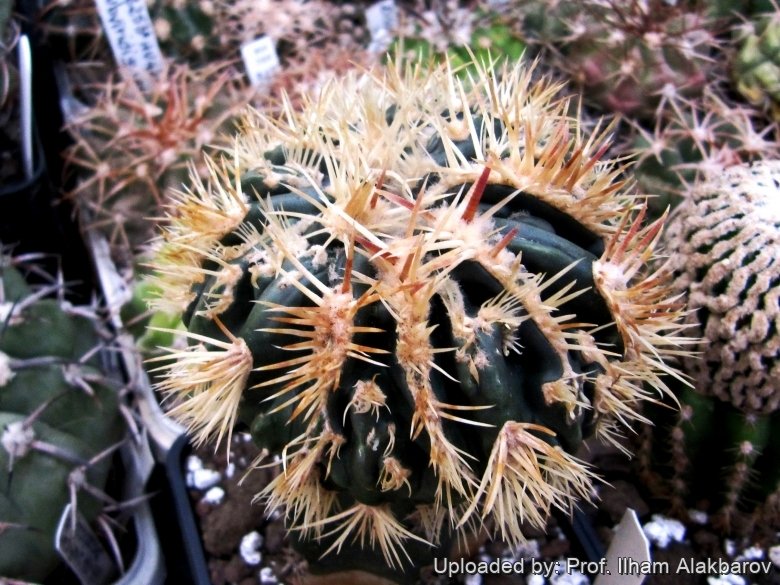 Echinocactus texensis f. montruosa (Echinocactus texensis cv. Anayami Monstr) Photo by: Prof. Ilham Alakbarov
Origin and Habitat: Garden origin (Japan).
Synonyms:
See all synonyms of Echinocactus texensis
Description: Echinocactus texensis cv. Anayami MonstrSN|2231]]SN|29855]] is an odd monstrous plant with narrow felt-like areoles derived from the well known Echinocactus texensisSN|29855]]SN|2231]] (also known as the "Horse-crippler Cactus"). This form is rare and very different and has many irregular, more or less prominent "warts" or small supplemental monstrous ribs between and on the true ribs surface. Both the true ribs and the smaller "warts" on them bears very elongated, felty areoles filled by more or less pectinate spines. With the exception of the long spiny areoles and irregular ribs, all the other characteristics are identical to the standard species, namely size of stem, flowers and fruit. However it is a few chance of flowering but the character of monstrosa is transferred through seeds. By the way "Ayanami" is just Japanese name of texensis, which means twilled waves.
The standard form is very popular and widely grown, while the beautiful monstrous variant is still rare in cactus collection. This plant can also get big making a spectacular specimen.
Subspecies, varieties, forms and cultivars of plants belonging to the Echinocactus texensis group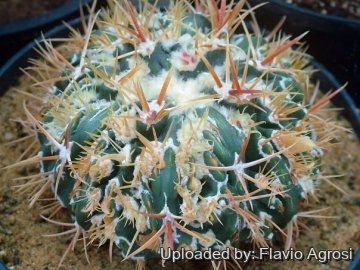 Echinocactus texensis f. montruosa
(Echinocactus texensis cv. Anayami Monstr)
Photo by: Flavio Agrosi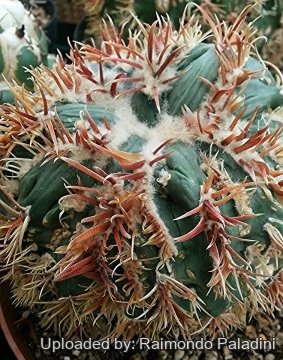 Echinocactus texensis f. montruosa
(Echinocactus texensis cv. Anayami Monstr)
Photo by: Raimondo Paladini
Cultivation and Propagation: Echinocactus texensisSN|2231]]SN|2231]] is a summer grower species easy to cultivate, more cold tolerant than most. It flowers easily, but results will depend on a variety of growing conditions.
Growth rate: It is a slow growing and easily flowering species.
Soils: It likes very porous standard cactus mix soil, but can become too elongated if compost is too rich.
Repotting: This variety stores water in the parts of the plant which are above the soil leaving the root system small enough to fit into a proportionally sized flower pot. Use pot with good drainage.
Watering: Water regularly from Spring to Autumn, but do not overwater (Rot prone), keep dry in winter.
Fertilization: Feed with a high potassium fertilizer in summer.
Hardiness: It does well with cool winter time temperatures and will tolerate temperatures down below -18°C or less if the roots are kept dry.
Exposition: It will do its best with lots of sun, it becomes stressed with inadequate light which could result in weak spines, poor health or even death.
Uses: It is an excellent plant for container growing. It always looks good and stays small. It look fine in a cold greenhouse and frame or outdoor in a rockery.
Pests & diseases: It may be attractive to a variety of insects, but plants in good condition should be nearly pest-free, particularly if they are grown in a mineral potting-mix, with good exposure and ventilation. Nonetheless, there are several pests to watch for:
- Red spiders: Red spiders may be effectively rubbed up by watering the infested plants from above.
- Mealy bugs: Mealy bugs occasionally develop aerial into the new growth among the wool with disfiguring results, but the worst types develop underground on the roots and are invisible except by their effects.
- Sciara Flies: Sciara flies are one of the major problems for seedlings. It is a good practice to mulch your seedlings with a layer of grit, which will strongly discourage the flies.
- Scales: Scales are rarely a problem.
- Rot: Rot is only a minor problem with cacti if the plants are watered and "aired" correctly. If they are not, fungicides won't help all that much.
Propagation: From seed, since the plant rarely produces plantlets. Seeds germinate in 7-14 days at 21-27° C in spring, remove gradually the glass cover as soon the plants will be well rooted (ca 1-2 weeks) and keep ventilated, no full sun for young plants!