Donate now to support the LLIFLE projects.
Your support is critical to our success.
Accepted Scientific Name: Mammillaria carnea Zucc. ex Pfeiff.
Enum. Diagn. Cact. 19 1837 Pfeiff.
Mammillaria villifera var. carnea (Mammillaria carnea) Photo by: Raffa C. Garcia
Origin and Habitat: Mammillaria carnea is widespread in central and southern Mexico (Guerrero, Oaxaca, Puebla).The species is abundant and has high-density populations. Type locality: Ixmiquilpan, Mexico.
Altitude range: 500-2000
Habitat and Ecology: Mammillaria carneaSN|9372]]SN|23756]] grows on both plains and slopes usually in association with nurse plants. It occurs in tropical deciduous forest and xerophyllous scrub, cereus forest, tetechera, cardonal, mezquital, and in the margins of orchards usually interspersed with other succulents comprising: Echinocactus ingensSN|10367]]SN|10372]], Myrtillocactus geometrizansSN|8050]]SN|8050]], Pachycereus weberiSN|7437]]SN|7669]], Neobuxbaumia tetetzoSN|6411]]SN|6411]], Cephalocereus hoppenstedtiiSN|6711]]SN|6711]], Pachycereus hollianusSN|7669]]SN|7437]], Stenocereus dumortieriSN|7951]]SN|7942]], Stenocereus pruinosusSN|7942]]SN|7951]], Escontria chiotillaSN|7764]]SN|7764]], Pilosocereus chrysacanthusSN|6677]]SN|6677]], Ferocactus recurvusSN|21488]]SN|4280]], Ferocactus atrovirens, Ferocactus robustusSN|4280]]SN|21488]], Echinocactus platyacanthusSN|10372]]SN|10367]], Mammillaria schmolliiSN|20654]]SN|9095]], Mammillaria mystaxSN|9095]]SN|20654]], Mammillaria sphacelataSN|23756]]SN|9372]], Mammillaria viperina, Coryphantha pallidaSN|10082]]SN|10262]], Coryphantha calipensisSN|10262]]SN|10082]], Agave macroacanthaSN|519]]SN|516]], Agave marmorataSN|516]]SN|519]], Plumeria rubraSN|19640]]SN|19640]], Ipomoea arborescens, Bursera morelensis, Jatropha urens, Jatropha spathulata, Schomburgkia superbiens, Opuntia pubescens, Opuntia decumbens only to cite a few of the more common. The species is abundant, and although in many parts of its range the plains have been transformed into agricultural land and cattle ranching and some sub-populations are declining. The species is used as an ornamental.
Synonyms:
See all synonyms of Mammillaria carnea
Common Names include:
ENGLISH:
Pin-cushion cactus
RUSSIAN (Русский):
Маммиллярия мясо-красная
SWEDISH (Svenska):
Köttröd vårtkaktus
UKRAINIAN (Українська):
Мамілярія карнеа, Мамілярія м'ясиста
Description: Mammillaria carneaSN|23756]]SN|23756]] is a rather robust cactus species either solitary or clustering with age. The plant typically has 4-sided angular tubercles with yellow, woolly axils and only 4 radial spines. It will reward the skilled growers with ring of fine flesh-pink flowers circling the crown of the stem.
Stem: Spherical, becoming elongated or cylindrical, thick, rounded at the top, bluish green or almost bronze colour, 8 to 9(-20) cm high, (6-)8-12 cm in diameter sprouting from the base when old.
Tubercles: 4-angled, pyramidal, distinctly angled, firm, milky, their axils usually woolly, the upper ones erect, general colour clear green, waxy.
Spines: Mostly 4 (occasionally 5), straight to arching, rigid, reddish or pinkish brown with black tips, the lower one 8-20 mm long, twice as long as the other 3.
Radial spines: Missing or reduced to bristles.
Flowers: Funnelform, pale pink or pale rose, 15-20 mm long, 12-15 mm in diameter borne in the old axils circling the crown of the plant. Outer perianth-segments up to 2 cm long, nearly erect, flesh-colored.
Fruit: Pear-shaped, obtuse, bright red.
Seeds: Brown.
Bibliography: Major references and further lectures
1) Arias, S., Valverde, T., Zavala-Hurtado, A. & Hernández, C. 2013. "Mammillaria carnea." The IUCN Red List of Threatened Species. Version 2014.3. <www.iucnredlist.org>. Downloaded on 31 January 2015.
2) John Pilbeam "Mammillaria The Cactus File Handbook" Cirio Pub. Services, 01/December/1999
3) Edward Anderson "The Cactus family" Timber Press, Incorporated, 2001
4) James Cullen, Sabina G. Knees, H. Suzanne Cubey "The European Garden Flora Flowering Plants: A Manual for the Identification of Plants Cultivated in Europe, Both Out-of-Doors and Under Glass" Cambridge University Press, 11/August /2011
5) David R Hunt; Nigel P Taylor; Graham Charles; International Cactaceae Systematics Group. "The New Cactus Lexicon" dh books, 2006
6) Urs Eggli, Leonard E. Newton "Etymological Dictionary of Succulent Plant Names" Birkhäuser 2004
7) Ulises Guzmán, Salvador Arias, Patricia Dávila "Catálogo de cactáceas mexicanas. Universidad Nacional Autónoma de México" Mexiko-Stadt 2003
8) Alfred Byrd Graf "Exotica, series 4 international: pictorial cyclopedia of exotic plants from tropical and near-tropic regions" Roehrs Co. Publishers, 1983
9) Clive Innes, Charles Glass "Cacti" Portland House, 1991
10) John Borg "Cacti: A Gardener's Handbook for Their Identification and Cultivation" Macmillan and Company, limited, 1937
11) Hunt, D. "A new review of Mammillaria names." British Cactus and Succulent Society. Oxford. 1987.
12) Říha, J. a Šubík, R. "Encyklopedie kaktusů." Brázda. Praha. 1992.
13) Alwin Berger "Kakteen – Anleitung zur Kultur und Kenntnis der wichtigsten eingeführten Arten." Eugen Ulmer, Stuttgart 1929
14) CONABIO. "Catálogo taxonómico de especies de México." 1. In Capital Nat. México. CONABIO, Mexico City. 2009.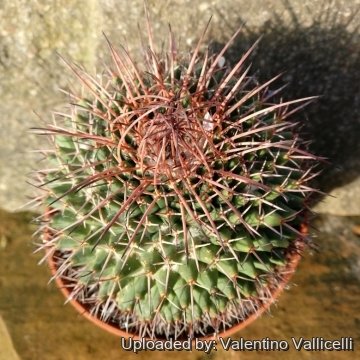 Mammillaria villifera var. carnea
(Mammillaria carnea)
Photo by: Valentino Vallicelli
2 years old seedlings.
(Mammillaria carnea)
Photo by: Carolina González
SB366 South of Tehuacan, Puebla, Mexico.
(Mammillaria carnea)
Photo by: Valentino Vallicelli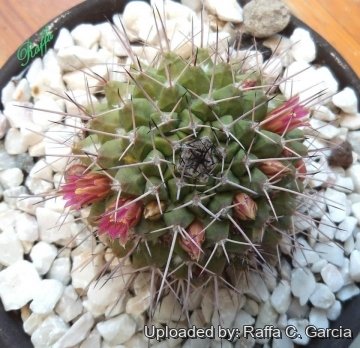 Mammillaria villifera var. carnea
(Mammillaria carnea)
Photo by: Raffa C. Garcia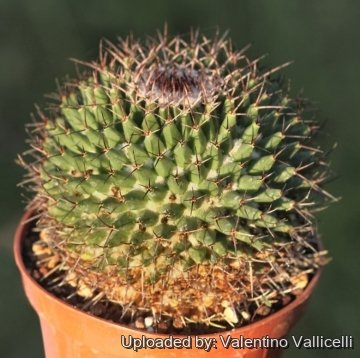 Mammillaria villifera var. carnea
(Mammillaria carnea)
Photo by: Valentino Vallicelli
Send a photo of this plant.
The gallery now contains thousands of pictures, however it is possible to do even more. We are, of course, seeking photos of species not yet shown in the gallery but not only that, we are also looking for better pictures than those already present.
Read More...
Cultivation and Propagation: Mammillaria carneaSN|23756]]SN|23756]] is a great looking cactus that offsets eventually forming wonderful clumps. From seed, it will fill a large pot in just a few years. Offsets are produced at the base, and are distributed somewhat randomly. Since the plant can make wide spreading mounds, shallow pots of large diameter will be required as the plant ages. It is not particularly difficult on own roots. No special cultural requirements.
Soils: It likes very porous standard neutral cactus mix soil.
Repotting: Use pot with good drainage.
Watering: It should be watered generously during the growing season, but do not overwater (Rot prone), keep dry in winter. Water it less than average if in bigger pots, small pots preferred.
Fertilization: Feed with a high potassium fertilizer in summer.
Hardiness: Reputedly sensitive to frost, but less so if kept on the dry side prior to, and during, cold weather. However warmth throughout the year will increase the grower's success (8-12°C during rest season).
Exposition: Outside bright, hot conditions or afternoon shade, inside it needs bright light, and some direct sun. Strong light encourages flowering and heavy wool and spine production.
Uses: It is an excellent plant for container growing. It always looks good and stays small.
Pests & diseases: It may be attractive to a variety of insects, but plants in good condition should be nearly pest-free, particularly if they are grown in a mineral potting-mix, with good exposure and ventilation. Nonetheless, there are several pests to watch for:
- Red spiders: Red spiders may be effectively rubbed up by watering the plants from above.
- Mealy bugs: Mealy bugs occasionally develop aerial into the new growth among the wool with disfiguring results, but the worst types develop underground on the roots and are invisible except by their effects.
- Scales: Scales are rarely a problem.
- Rot: Rot is only a minor problem with cacti if the plants are watered and "aired" correctly. If they are not, fungicides won't help all that much.
Propagation: Division, direct sow after last frost or (often) graft. Seeds germinate in 7-14 days at 21-27° C in spring, remove the glass cover gradually as the plants develops and keep ventilated, no full sun for young plants! To make a cutting twist off a branch and permit it to dry out a couple of weeks, lay it on the soil and insert the stem end partially into the soil. Try to keep the cutting upright so that the roots are able to grow downward.