Donate now to support the LLIFLE projects.
Your support is critical to our success.
Since 4 Aug 2013
sponsored link
Ferocactus hamatacanthus
Cactaceae (Britton & Rose) 3: 144. 1922 [12 Oct 1922]
Family: CACTACEAE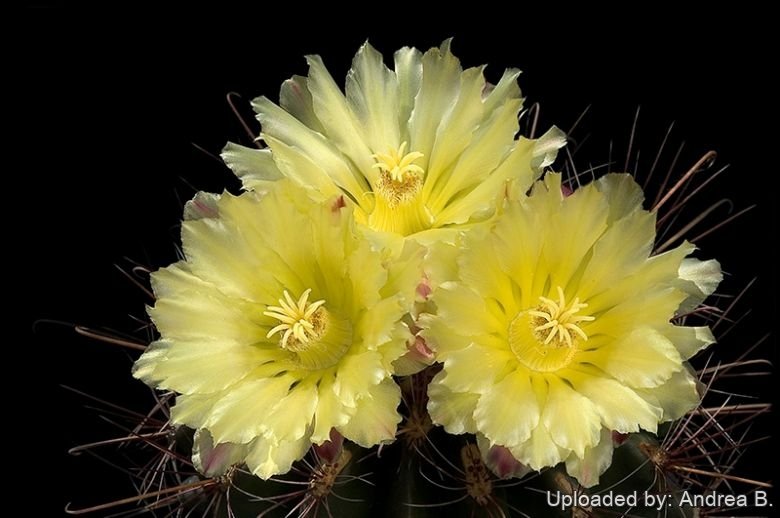 Ferocactus hamatacanthus Photo by: Andrea B.
Origin and Habitat: Southern Texas, New Mexico, and northern Mexico.
Altitude: 700-200 metres above sea level.
Habitat: Plants occur mainly in the Chihuahuan Desert from the lowest desert up to the wooded mountains in the limestone mesas and alluvial valleys, often among shrubs and in crevices of rocks. Often growing along with several species of xerophytes and succulents, comprising: Echinocereus pectinatusSN|7817]]SN|8503]], Echinocereus stramineusSN|8503]]SN|7817]], Epithelantha micromerisSN|6936]]SN|6936]], Echeveria coccineaSN|13290]]SN|13290]], Dasylirion acrotrichumSN|2998]]SN|2998]], Yucca treculeanaSN|29995]], Yucca treculeanaSN|29995]], Larrea tridentata, Parkinsonia aculeata, Escobaria chihuahuensisSN|10117]]SN|10117]], Coryphantha durangensisSN|10064]]SN|10064]], Agave strictaSN|23013]]SN|568]], Agave lechuguillaSN|568]]SN|23013]], Myrtillocactus geometrizansSN|8050]]SN|8050]], Neoloydia conoidea, Echinocactus platyacanthusSN|10367]]SN|10367]], Jatropha spathulata, Opuntia macrocentraSN|19920]]SN|25090]], Opuntia imbricataSN|8157]]SN|8157]], Opuntia engelmanniiSN|25090]]SN|19920]]... and many others.

Synonyms:
See all synonyms of Ferocactus hamatacanthus
Common Names include:
ENGLISH:
Turks Head, Mexican Fruit Cactus, Texas Barrel Cactus, Turks Head Barrel cactus, Turks Head Cactus, Viznaga Barrel Cactus
SPANISH (Español):
Biznaga de Tuna, Viznaga, Biznaga barril costillona
Description: Ferocactus hamatacanthusSN|3403]]SN|3403]] (a.k.a. Turk's head) is a medium sized barrel cactus with spines somewhat variable in number, diameter, and position, depending on origin.
Habit: Solitary, or double or triple branched after injury, occasionally even uninjured plants may form clusters with more than tree heads, particularly plants growing in rock crevices.
Stem: Hemispherical or spherical, becoming oblong or cylindrical, dark green to grey-green, up to 60 cm high (exceptionally near 90 cm high) and 5-30 cm in diameter partially obscured, mostly by interlacing radial spines.
Roots: Diffuse.
Ribs: 10-13, sometimes 17, rounded but not compressed at the crest, ofyten poorly defined, large, 2,5-5 cm high and thick and divided into rounded tubercles with areoles on tops.
Areoles: Large circular to elliptic, 1 to 3 cm apart with felted grooves running inward and upward with white, yellowish or grey wool in younger areoles. Between the flower and the spines in each areole there are some elongated glands, 2 to 4 mm long, these at first are soft, but in age become hard and spine like.
Spines: Somewhat variable in number, diameter, and position, mostly brownish red brownish, reddish or a mixture of red spines and yellowish, especially near the stem apex, sometime indistinctly annulate and often variegated, turning grey as they ages. In some plants, particularly on the upper one-half or one-third of the stems, the collective dominant colour of the spines is red. The areoles of immature plants have fewer and shorter central and radial spines than is typical in adult areoles.
Central spines: 4 to 8, elongated, stiff, terete, round, angled, or somewhat flattened in cross section, usually less than 8 cm long, but sometimes 15 cm long, curved backward to hooked at apex, sometimes twisted.
Radial spines: About 8-14(-20), acicular, terete, somewhat compressed or angled, relatively stout and stiff or somewhat thin and flexible, or even sinuate, 5 to 8 cm long, upper ascending, lower descending, laterals appressed.
Flowers large: Near apical in a ring, funnelform with well-developed floral tubes, (6-)7-8(-10) cm long, 6-8 cm in diameter, glossy, mostly yellow with a pale green throat, in some forms scarlet within. Pericarpel surface with 10-40 small, triangular scales with greenish-yellow, fringed margins. Filaments yellow to orange-yellow, anthers and pollen yellow. Stigma stigma yellow longer than stamens, with 8-14 lobes curved and twisted 4,5-6 mm long. The flowers are scented.
Blooming season: Late summer to autumn, flowers open midday, partially close at night, and reopen again for several days. Plants starts blooming when stems reach 15 cm high or less.
Fruit: Egg shaped, 2 to 5 cm. long, 2,5-3 cm in diameter fleshy, greenish yellow, green to pinkish red, dark brown to drab-colored (not red) usually with a persistent floral remnant, and with 50-40 widely spaced scales on the surface. The fruit of this species is unlike that of most other species of the genus; the skin is thin and the white pulp, is juicy, sweet and edible. Mature fruits sometime splits open by the the rupturing of the fruits near the apex and the extrude the seeds in a liquid, but more the fruits are indehiscent and dries on the plant and do not dehisce via a basal pore. The fruits persist through the summer and autumn and mature in winter.
Seeds: Ovate, about 1-1,5 mm, shiny black, pitted , and with a basal-lateral hilum that is marked by a sharp, narrow hilum-micropylar rim.
Subspecies, varieties, forms and cultivars of plants belonging to the Ferocactus hamatacanthus group
Bibliography: Major references and further lectures
1) Edward Anderson "The Cactus family" Timber Press, Incorporated, 2001
2) James Cullen, Sabina G. Knees, H. Suzanne Cubey "The European Garden Flora Flowering Plants: A Manual for the Identification of Plants Cultivated in Europe, Both Out-of-Doors and Under Glass" Cambridge University Press, 11/Aug/2011
3) David R Hunt; Nigel P Taylor; Graham Charles; International Cactaceae Systematics Group. "The New Cactus Lexicon" dh books, 2006
4) Urs Eggli, Leonard E. Newton: "Etymological Dictionary of Succulent Plant Names" Springer, Berlin/Heidelberg 2010
5) N. L. Britton, J. N. Rose: "The Cactaceae. Descriptions and Illustrations of Plants of the Cactus Family." Volume III, The Carnegie Institution of Washington, Washington 1922
6) Brian Loflin, Shirley Loflin "Texas Cacti: A Field Guide" Texas A&M University Press, 26/Oct/2009
7) Albert Michael Powell, James F. Weedin "Cacti of the Trans-Pecos and Adjacent Areas" Texas Tech University Press, 2004
8) Del Weniger "Cacti of Texas and Neighboring States: A Field Guide" University of Texas Press, 1984
In habitat. Mexico.
Photo by: Agócs György
Send a photo of this plant.
The gallery now contains thousands of pictures, however it is possible to do even more. We are, of course, seeking photos of species not yet shown in the gallery but not only that, we are also looking for better pictures than those already present.
Read More...
Cultivation and Propagation: Ferocactus hamatacanthusSN|3403]]SN|3403]] is a summer grower species not too difficult in a greenhouse, although grows quite slowly.
Soil: Use mineral well permeable substratum with little organic matter (peat, humus), plants may become too elongated if compost is too rich.
Repotting: They need to be repotted frequently, but when they reach 10 cm in diameter grow them slowly, and adopt a new repotting period, using intervals of every 2-3 years. Additionally grow them under drier conditions or with stronger sunlight. Use pot with good drainage.
Fertilization: It grows much faster with a low nitrogen content fertilizer in spring and summer. Potassium helps maintaining the plants compact and healthy.
Watering: Requires careful watering to keep plant compact. Water sparingly from March till October, the thin, fibrous roots suffer if there is humidity, therefore the plant should be watered only when the surrounding terrain is dry. Keep dry as soon as the temperature starts dropping in October and keep it perfectly dry in winter at temperatures from 5 to 15 degrees centigrade.
Frost Tolerance: Hardy to at least -5°C for a short period but cannot tolerate long standing freezing temperature, and for an healthy cultivation ensure a minimum temperature of 5° C. USDA Hardiness Zone 9b and 11. It tends to rot in winter during the resting phase, if kept wet. In the rest period no high atmospheric humidity!!
Heat tolerance: Good heat tolerance, but in warmer climates it should be protected from excessive heat and too much sun sun in summer.
Sun Exposure: Light shade to full sun, its colour tends to richer and darker when grown in light shade.
Uses: It is an excellent plant for container growing. It always looks good and stays relatively small.
Food uses: Buds, called cabuches, of Ferocactus hamatacanthusSN|3403]]SN|3403]] are commercially harvested and canned.
Pests & diseases: It may be attractive to a variety of insects, but plants in good condition should be nearly pest-free, particularly if they are grown in a mineral potting-mix, with good exposure and ventilation. Nonetheless, there are several pests to watch for:
- Red spiders: Red spiders may be effectively rubbed up by watering the infested plants from above.
- Mealy bugs: Mealy bugs occasionally develop aerial into the new growth among the wool with disfiguring results, but the worst types develop underground on the roots and are invisible except by their effects.
- Scales: Scales are rarely a problem.
- Rot: Rot is only a minor problem with cacti if the plants are watered and "aired" correctly. If they are not, fungicides won't help all that much. To prevent rottenness it is also advisable to surround its root neck by very rough sand or grit, this help a fast water drainage.
Propagation: Usually propagated from Seeds. (seldom produces offsets). Sow the seeds in spring in a well-aerated compost at a temperatures of 22-24°C . Stand the pots in water, moisten thoroughly and drain. Scatter and press lightly the seed onto the top of the compost. But do not cover the small seeds with compost. Secure a polythene bag around the pot or cover the container with glass or and place in a warm shaded place. If possible, germinate in a propagator. Some seedlings may appear within a week or 10 days others will take longer. At lower temperatures, germination usually takes considerably longer. Once germination has taken place, remove gradually the glass or plastic and move into a good light but not in direct sun. If the young plants are exposed to too much sun, or the compost dries out, they may stop growing and often turn red; once they stop, it is often difficult to persuade them to start growing again. Never let the pots dry out-but don't saturate them either. A sodden compost is as harmful as a dry one. The seedling growth is rapid.