Donate now to support the LLIFLE projects.
Your support is critical to our success.
Accepted Scientific Name: Mammillaria crinita DC.
Mém. Mus. Hist. Nat. 17: 112. 1828
Mammillaria tezontle Photo by: Valentino Vallicelli
Origin and Habitat: San Luis Potosi, Mexico.
Type locality: North of the city of San Luis Potosi.
Habitat: It was found on volcanic rocks where the population became extinct after destruction of the habitat.
Synonyms:
See all synonyms of Mammillaria crinita
Accepted name in llifle Database:
Mammillaria crinita
DC.
Mém. Mus. Hist. Nat. 17: 112. 1828
Synonymy: 50
Accepted name in llifle Database:
Mammillaria crinita subs. duwei
(Rogoz. & P.J.Braun)
[Basionym: Mammillaria duwei Rogoz. & P.J.Braun 1985]
Synonymy: 10
Accepted name in llifle Database:
Mammillaria crinita subs. leucantha
(Boed.) D.R.Hunt
Mammillaria Postscripts 6: 6 (1997)
Synonymy: 8
Accepted name in llifle Database:
Mammillaria crinita f. nana
(Backeb.)
[Basionym: Mammillaria nana Backeb. 1966 ]
Synonymy: 9
Accepted name in llifle Database:
Mammillaria crinita subs. painteri
(Rose) U.Guzmán
Cactaceae Syst. Init. 16: 18 (11 Oct. 2003) Remarks: first published in U.Guzmán et al., Catálogo Cact. Mex.: 120 (May 2003), without basionym reference
Synonymy: 9
Description: Mammillaria tezontleSN|8841]]SN|8879]] is a minuscule cactus with delicate near harmless feathery spines densely wrapped against the body of the plant. Hunt has been subsumed it into the broader definition of Mammillaria crinitaSN|8879]]SN|8841]], but is nevertheless a distinctive taxon with its rather neat, short, yellow central spination and relatively large flowers.
Habit: Usually solitary barely rising above ground level.
Stems: Flattened- globose, depressed apically, soft, dark green,10 mm high, 15-20 mm in diameterand it has clear sap.
Roots: Thick fibrous.
Axil: With wool and occasionally bristles.
Radial spine: 14 to 20, yellowish white, slightly pubescent, 3-5 mm long spreading and interlacing.
Central spine: 1 to 4, of which one or more hooked, 3-4 mm long, yellowish white, thin, acicular and slightly pubescent.
Flower: Funnel-form, yellowish white often with a darker brownish midrib toward the tips , 10 mm long, 15 mm across. Filaments and anthers pale cream-yellowish, style and stigma lobes greenish.
Blooming season: Flowers readily, and for a long period from spring to the early summer.
Fruit: Green, elongated.
Seed: Blackish brown.
Remarks: The dense covering of spines reduces the interception of solar radiation by the stem surface lowering the risks of overheating the apex during a summer day and of freezing during a winter night.
Subspecies, varieties, forms and cultivars of plants belonging to the Mammillaria crinita complex
Bibliography: Major references and further lectures.
1) Robert T. Craig "The Mammillaria handbook: with descriptions, illustrations, and key to the species of the genus Mammillaria of the Cactaceae" E P Publishing, 1945
2) John Pilbeam "Mammillaria The Cactus File Handbook" Cirio Pub. Services, 01/Dec/1999
3) Edward Anderson "The Cactus family" Timber Press, Incorporated, 2001
4) James Cullen, Sabina G. Knees, H. Suzanne Cubey "The European Garden Flora Flowering Plants: A Manual for the Identification of Plants Cultivated in Europe, Both Out-of-Doors and Under Glass" Cambridge University Press, 11/Aug/2011
5) David R Hunt; Nigel P Taylor; Graham Charles; International Cactaceae Systematics Group. "The New Cactus Lexicon" dh books, 2006
Mammillaria tezontle
Photo by: Carolina González
Mammillaria tezontle
Photo by: Silvio Fantuzzi
Mammillaria tezontle
Photo by: Valentino Vallicelli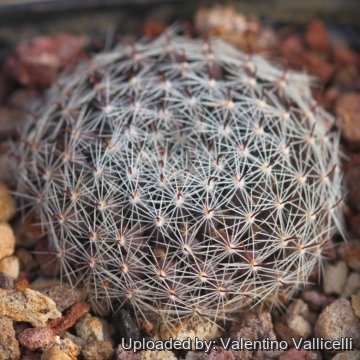 Mammillaria tezontle
Photo by: Valentino Vallicelli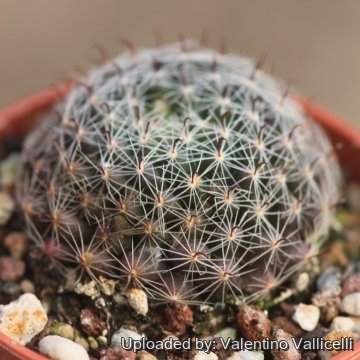 Mammillaria tezontle
Photo by: Valentino Vallicelli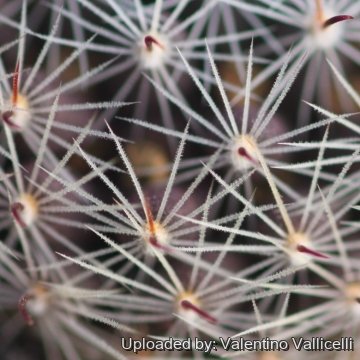 Mammillaria tezontle
Photo by: Valentino Vallicelli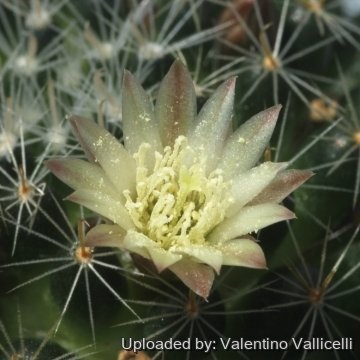 Mammillaria tezontle
Photo by: Valentino Vallicelli
Send a photo of this plant.
The gallery now contains thousands of pictures, however it is possible to do even more. We are, of course, seeking photos of species not yet shown in the gallery but not only that, we are also looking for better pictures than those already present.
Read More...
Cultivation and Propagation: Is one of the dwarf feathery Mammillaria, somewhat difficult to cultivate and like many such species, offers a challenge to the grower. During the summer it is best to keep the plants outside where the temperature can rise to over 30° C with no harm to the plant, recommended for any collection that needs lots of light with ample airflow.
Growth rate: It is a small growing, but easily flowering species.
Soils: Use a an open and free draining mineral compost with little organic matter (peat, humus) that allows therefore roots to breath (as it is rot prone).
Repotting: Repotting every 2-3 years. Use a small pot with good drainage.
Watering: It likes a winter's rest and should be kept almost completely dry during the winter months, If the soil is allowed to be dry for too long root loss could follow but equally the same result would occur if the plants are both wet and cold. From March onwards the plant will begin to grow and watering should be increased gradually until late May when the plant should be in full growth. Water regularly during the summer so long as the plant pot is allowed to drain and not sit in a tray of water. During hot weather you may need to water the plants more frequently so long as the plant is actively growing. From late September watering should be reduced to force the plant to go in to a state of semi dormancy, by October you should be back in to the winter watering regime. Keep dry with ample airflow in winter. In the rest period no high atmospheric humidity!! Care must be taken with watering as they tends to become swollen and untidy in growth habit if given too much water and shade.
Fertilization: Feeding may not be necessary at all if the compost is fresh then, feed in summer only if the plant hasn't been repotted recently. Do not feed the plants from September onwards as this can cause lush growth which can be fatal during the darker cold months. .
Hardiness: Grown specimens resist to -4°C for a short time, but it is best to keep above 5° C to avoid ugly spots on the plant epidermis. Some warmth throughout the year will increase the grower's success.
Exposition: Need full sun avoiding only the harshest summer sun, if kept too dark they may become overly lush and greener and could be prone to rotting due to over watering. Tends to bronze in strong light, which encourages flowering and heavy wool and spine production.
Uses: It is an excellent plant for container growing. It always looks good and stays small. It look fine in a cold greenhouse and frame.
Pests & diseases: It may be attractive to a variety of insects, but plants in good condition should be nearly pest-free, particularly if they are grown in a mineral potting-mix, with good exposure and ventilation. Nonetheless, there are several pests to watch for:
- Red spiders: Sensitive to red spider mite. Overhead watering is helpful in controlling mites.
- Mealy bugs: Occasionally mealy bugs they develop aerial into the new growth among the wool with disfiguring results, but the worst types develop underground on the roots and are invisible except by their effects.
- Scales: Scales are rarely a problem.
- Rot: Rot it is only a minor problem with cacti if the plants are watered and "aired" correctly. If they are not, fungicides won't help all that much.
Propagation: Propagation: Direct sow after last frost. (seldom produces offsets). Seeds germinate in 7-14 days at 21-27° C in spring, remove the glass cover gradually as the plants develops and keep ventilated, no full sun for young plants! The seedlings should not be disturbed until they are well rooted, after which they can be planted separately in small pots.