Donate now to support the LLIFLE projects.
Your support is critical to our success.
Since 4 Aug 2013
sponsored link
Accepted Scientific Name: Mammillaria crinita f. nana (Backeb.)
[Basionym: Mammillaria nana Backeb. 1966 ]
Mammillaria trichacantha Photo by: Valentino Vallicelli
SB21 North of SLP, SLP, Mexico. It is also one of the most prolific bloomers among the Mammillarias.
Origin and Habitat: San Luis Potosi, Guanajuaro, Queretaro, (and Hidalgo?) Mexico. Altitude 1.600 - 2.300 m.
Synonyms:
See all synonyms of Mammillaria crinita
Accepted name in llifle Database:
Mammillaria crinita
DC.
Mém. Mus. Hist. Nat. 17: 112. 1828
Synonymy: 50
Accepted name in llifle Database:
Mammillaria crinita subs. duwei
(Rogoz. & P.J.Braun)
[Basionym: Mammillaria duwei Rogoz. & P.J.Braun 1985]
Synonymy: 10
Accepted name in llifle Database:
Mammillaria crinita subs. leucantha
(Boed.) D.R.Hunt
Mammillaria Postscripts 6: 6 (1997)
Synonymy: 8
Accepted name in llifle Database:
Mammillaria crinita f. nana
(Backeb.)
[Basionym: Mammillaria nana Backeb. 1966 ]
Synonymy: 9
Accepted name in llifle Database:
Mammillaria crinita subs. painteri
(Rose) U.Guzmán
Cactaceae Syst. Init. 16: 18 (11 Oct. 2003) Remarks: first published in U.Guzmán et al., Catálogo Cact. Mex.: 120 (May 2003), without basionym reference
Synonymy: 9
Description: is a solitary or slowly clumping globular cactus that eventually forms tiny mounds.
Stem: 1.5 to 4 cm high, 2.5 to 5 cm wide, soft, globular depressed to shortly cylindrical. The tubercles are small, clavate 4-5 mm high, slightly glaucous, the axil is sparsely woolly, with bristles to 15 mm.
Radial spines: 15 - 18, about 7 mm long, acicular, thin, white, pubescent partially interlacing,.
Central spines: At first none, later developing 1 or 2, tawny brownish (sometime yellow/orangish), pubescent, the lower hooked, 7 - 9 mm long, the upper erect, to 4 mm.
Flowers: Pale cream, pale yellow or white with pinkish brown midstripe, 10 - 20 mm long, 10 - 15 mm in diameter. Inner segments lanceolate, widely spreading, accuminate, stiyle green, stigma lobes white.
Blooming season: Flowers readily, and for a long period during the early summer.
Fruits: Red, elongated.
Seeds: Brownish black.
Subspecies, varieties, forms and cultivars of plants belonging to the Mammillaria crinita complex
Mammillaria trichacantha
Photo by: Cactus Art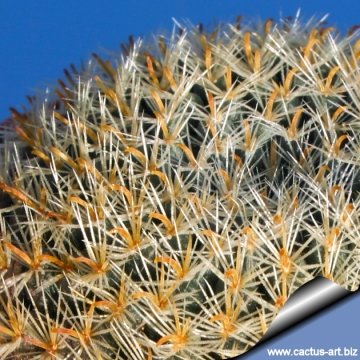 It hairy brown to yellow/orangish spines that finally turn to gray.
Photo by: Cactus Art
Mammillaria trichacantha
Photo by: Cactus Art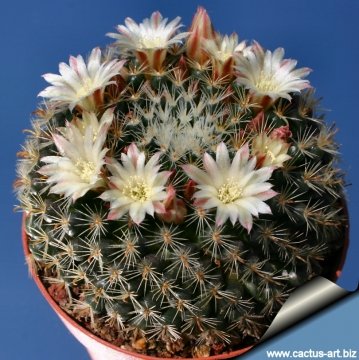 Mammillaria trichacantha
Photo by: Cactus Art
Mammillaria trichacantha
Photo by: Cactus Art
Send a photo of this plant.
The gallery now contains thousands of pictures, however it is possible to do even more. We are, of course, seeking photos of species not yet shown in the gallery but not only that, we are also looking for better pictures than those already present.
Read More...
Cultivation and Propagation: Mammillaria trichacantha is an easy species in cultivation.
Growth rate: It is a small growing, but easily flowering species. It takes several years to offset, but once it starts it can fill a 25 cm pot in just a few years given the best conditions.
Soils: It likes very porous standard cactus mix soil with little organic matter (peat, humus).
Repotting: Repotting every 2-3 years. It will need a pot with sufficient depth to allow the tap root. As it is especially prone to rot under-pot in a smaller container filled with very porous compost. Use pot with good drainage.
Watering: Water regularly in summer, but do not overwater (Rot prone), its roots are easily lost in pots that stay damp for any length of time. Keep dry with ample airflow in winter. In the rest period no high atmospheric humidity!!
Fertilization: During the growing season enrich the soil using a fertilizer rich in potassium and phosphorous, but poor in nitrogen, because this chemical element doesn't help the development of succulent plants, making them too soft and full of water.
Hardiness: Reputedly sensitive to frost , but less so if kept on the dry side prior to, and during, cold weather (hardy to -5° C for short periods, but some reports give it hardy to -12°C). However some warmth throughout the year will increase the grower's success (minimum 5° to 8°C during rest season).
Exposition: Outside bright sun, filtered sunlight or afternoon shade, inside it needs bright light, and some direct sun. Subject to sunburn if exposed to direct sun for too long. Tends to bronze in strong light, which encourages flowering and heavy wool and spine production.
Uses: It is an excellent plant for container growing. It always looks good and stays small. It look fine in a cold greenhouse and frame.
Pests & diseases: It may be attractive to a variety of insects, but plants in good condition should be nearly pest-free, particularly if they are grown in a mineral potting-mix, with good exposure and ventilation. Nonetheless, there are several pests to watch for:
- Red spiders: they may be effectively rubbed up by misting the vulnerable plants every day
- Mealy bugs: Easily they develop aerial into the new growth among the wool with disfiguring results, but the worst types develop underground on the roots and are invisible except by their effects.
- Sciara Flies: they are one of the major problems for seedlings. It is a good practice to mulch your seedlings with a layer of grit, which will strongly discourage the flies.
- Scales: they are rarely a problem.
It is wise to treat your whole collection with a systemic insecticide twice a year in spring and autumn.
- Rot: it is only a minor problem with mammillaria if the plants are watered and "aired" correctly. If they are not, fungicides won't help all that much.
Propagation: Direct sow after last frost or (rarely) cuttings. Seeds germinate in 7-14 days at 21-27° C in spring, remove the glass cover gradually as the plants develops and keep ventilated, no full sun for young plants! The seedlings should not be disturbed until they are well rooted, after which they can be planted separately in small pots. Cuttings will take root in a minimum temperature of 20° C (but better in hot weather). Cuttings of healthy shoots can be taken in the spring and summer. Cut the stem with a sharp, sterile knife, leave the cutting in a warm, dry place for a week or weeks (depending on how thick the cutting is) until a callus forms over the wound. Once the callus forms, the cutting may be inserted in a container filled with firmed cactus potting mix topped with a surface layer of coarse grit. They should be placed in the coarse grit only; this prevents the cut end from becoming too wet and allows the roots to penetrate the rich compost underneath. The cuttings should root in 2 to 6 weeks.