Donate now to support the LLIFLE projects.
Your support is critical to our success.
Since 4 Aug 2013
Accepted Scientific Name: Adenium obesum Roem. & Schult.
Syst. Veg., ed. 15 bis [Roemer & Schultes] 4: 411. 1819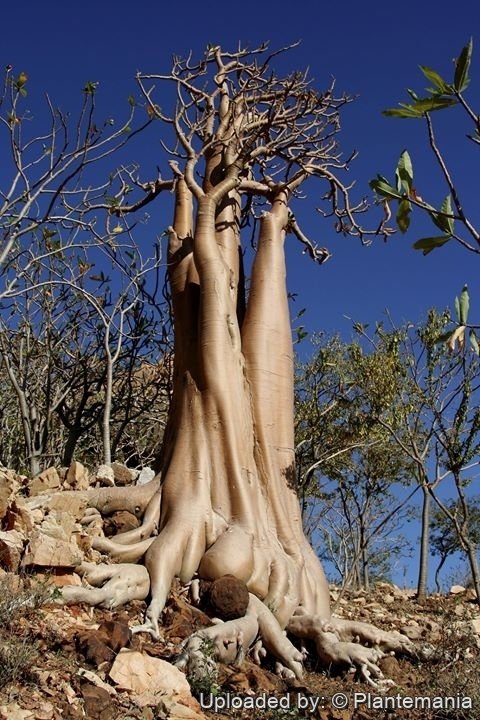 Adenium obesum subs. socotranum Photo by: © Plantemania
By far one of the most rare and desirable of all succulents it forms in age more of a bush than a small tree (like a dwarf baobab). The bizarre succulent stem may achieve a diameter of 2,4 metres. Apparently contradicting its strange appearance, the tree produces a mass of attractive pink flowers in the winter, as a result of which it is also known in the local language as the 'desert rose'.
Origin and Habitat: Adenium obesum ssp. socotranum (Adenium socotranum) is endemic from from the isolated island of Socotra in the Indian Ocean south of the Arabian peninsula and east of the Horn of Africa. For many years Socotra hosted a Soviet naval port and was off limits to most everyone, restricting the availability of plants and seeds. In recent years it is accessible, but the authorities are very protective of the natural resources and it is illegal to collect plant material of any type.
Habitat and ecology: A. socotranum, is the characteristic plant of rocky slopes, forming extensive patches of succulent shrubland in favourable locations. Ot grows among stones in grit or on other well drained soil. It displays several morphological and physiological adaptations to cope with the dry climate and fierce monsoonal winds. A. socotranum has a special cell sap cycling within the caudex which prevents overheating. Plant bodies are globular or columnar, with reduced surface areas that decrease transpiration. Glaucous wax surfaces and micro-anatomical epidermal emergences reflect radiation. The cycles of flowering and growth of A. socotranum are well adapted to the arid climate, in that it blooms after the rainy season in March-April and only when they are well past flowering do the fruits release their air-borne seeds, leaving them to be dispersed by the heavy monsoon storms. Then the dry season begins with (perhaps) a million adenium seedlings waiting for the next rainy season. The most common and regular associate in the Adenium shrub layer is the endemic Jatropha unicostataSN|22492]]SN|22492]]. This shrub is perhaps one of the most common species on Socotra. The close association between the two species is probably due to their apparent preference for, or ability to cope with, coarse rocky substrates. Numerous regeneration niches exist in such substrates, offering the seedlings protection from trampling and affording them some degree of shade. The seeds of both species germinate readily after rainfall. Furthermore both species are highly toxic to domestic livestock and as such are rarely browsed.
Synonyms:
See all synonyms of Adenium obesum
Common Names include:
ENGLISH:
Socotran desert rose, Aden rose of Socotra, sack-of-potatoes tree
Description: Adenium obesumSN|116]]SN|116]] subs. socotranum (Adenium socotranumSN|119]]SN|129]]) of the periwinkle family, Apocinaceae, is the giant of the genus, forming a massive conical trunk/caudex several metres tall and up to 2.4 m in diameter, the whole plant up to 3,5 meter in height. It resembles a miniature baobab with surrealistic forms. Some turn into tall trees while some may grow with their swollen bases more flat on the soil. This species - virtually unknown in cultivation - is frequently indicated to be a winter grower but the few plant observed in European collection are in leaf only during the summer months, leafing out even later than Adenium boehmianumSN|111]]SN|106]].
Stem: Solitary or multiple bottle-shaped trunk/caudex, swollen, vertical, conical more or less distinctly striated (a unique character in the genus) the twiggy branches are few short and thin.
Leaves: About 12 cm long, usually widest near the tip, dark green with a white midrib and light major veins. They are glabrous in dense terminal rosettes.
Flowers: The plants flower in late spring, with blossoms pale to medium pink with pink or yellow throats. Some specimens in the wild have deep pink to nearly red flowers. Flowers are 10-13 cm in diameter. Very rarely seen flowered in collection.
Seeds: Big, about 1.5-2 centimeter.
Remarks: If placed in a large container the differences between species will become more obvious. A. socotranum develop a swollen base while the plant is still quite young more rapidly than it strictly relatives (such as Adenium arabicumSN|106]]SN|111]] and Adenium multiflorumSN|129]]SN|119]]) that branch more freely but stay thinner, while some (Adenium obesumSN|116]]SN|116]] ssp. boehmianum) don't develop much of a caudex at all.
Subspecies, varieties, forms and cultivars of plants belonging to the Adenium obesum group
Notes: Some individual trees seem to suggest the human form — an impression that is reinforced by the frequent small depressions in the smooth bark, which look like navels in a pale unhealthy human skin.
Bibliography: Major references and further lectures
1) Werner Rauh "The Wonderful World of Succulents: Cultivation and Description of Selected Succulent Plants Other Than Cacti" Smithsonian Institution Press, 1984
2) Urs Eggli "Illustrated Handbook of Succulent Plants: Dicotyledons" Springer Science & Business Media, 2002
3) Ahmad Hegazy, Jonathan Lovett-Doust "Plant Ecology in the Middle East" Oxford University Press, 14 Jan 2016
4) Heinrich Walter "Vegetation of the Earth and Ecological Systems of the Geo-biosphere" Springer Science & Business Media, 06 December 2012
5) Gary Brown, Bruno Mies "Vegetation Ecology of Socotra" Springer Science & Business Media, 22 May 2012
6) J. Edward Milner "The Tree Book: The Indispensable Guide to Tree Facts, Crafts and Lore" Collins & Brown, 1992
7) Sue Haffner "Adenium socotranum" retrieved from http://www.fresnocss.com/plantdocs/adeniumsocotranum.pdf on 20 December 2016
8) Jean Robert "Socotra : les "Galapagos" de l'Océan Indien." retrieved from http://www.lightmediation.net/blog/podcast/2007/october/socotra.pdf on 20 December 2016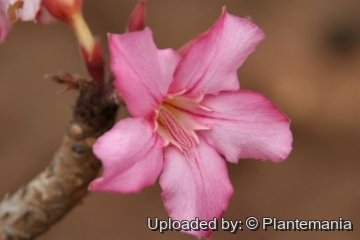 Adenium obesum subs. socotranum
Photo by: © Plantemania
Adenium obesum subs. socotranum
Photo by: © Plantemania
Adenium obesum subs. socotranum
Photo by: © Plantemania
By far one of the most rare and desirable of all succulents it forms in age more of a bush than a small tree (like a dwarf baoba
Photo by: © Plantemania
In habitat on the rock.
Photo by: © Plantemania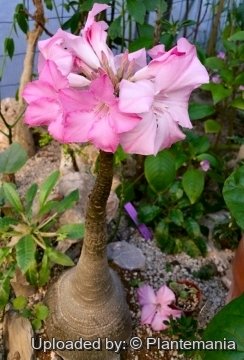 Adenium obesum subs. socotranum
Photo by: © Plantemania
Adenium obesum subs. socotranum
Photo by: © Plantemania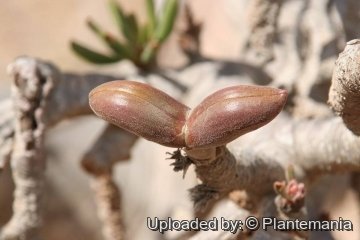 Adenium socotranum seed pod.
Photo by: © Plantemania
Cultivation and Propagation: It is a beautiful container plant, and it seems to like the container as much as being planted in the ground. It will be an indoor bonsai in all but the warmest climates. In habitat the species is characterized by a long dormant period; the plants
don't usually leaf out until mid-summer. October to December is the normal rainy season on Socotra, but plants in cultivation, some watered all year around, show
different growth patterns. It very slow growing and even a young collector will not live long enough to grow a specimen resembling the wild plants.
Light requirements. Needs lots of light and fresh air.
Water requirements. Keep warm and moist at winter, as the winters on Socotra. But reduce water, especially when kept cool. Increase water during growing and blooming periods. The total watering needed is similar to other succulents, and it will lose leaves if overwatered.
Fertilization: Feed monthly during spring and summer with liquid bonsai fertilizer.
Temperature requirements: Keep in a bright location in winter (minimum temperature 12-15° C). However, in the winter, keeping it cool gives the plant a needed rest. In summer, if possible, move outdoors to a sunny or partly shaded location.
Maintenance: It has a large caudex with few short thin branches and do not need a heavy pruning after the plant's rest period as requested by other species. Eventually pruning should be kept to a minimum.
Repotting: Root prune and repot every two years, after the winter rest period, in a mix of 2 parts bonsai soil, 2 parts peat, and one part sand. Can tolerate being pot-bound.
Propagation: It is possible to root cuttings.
Propagation: Usually by seeds. It can also propagated by cutting of branch or stem rooted in a sand-peat mix. (Wait until 2-3 day before you plant. It will reduce rot.)
Your Photos
---

by Cactus Art

by Valentino Vallicelli

by © Plantemania

by Cactus Art
by © Plantemania