Donate now to support the LLIFLE projects.
Your support is critical to our success.
Accepted Scientific Name: Ariocarpus retusus Scheidw.
Bull. Acad. Roy. Sci. Bruxelles 5: 492 (t. 1). 1838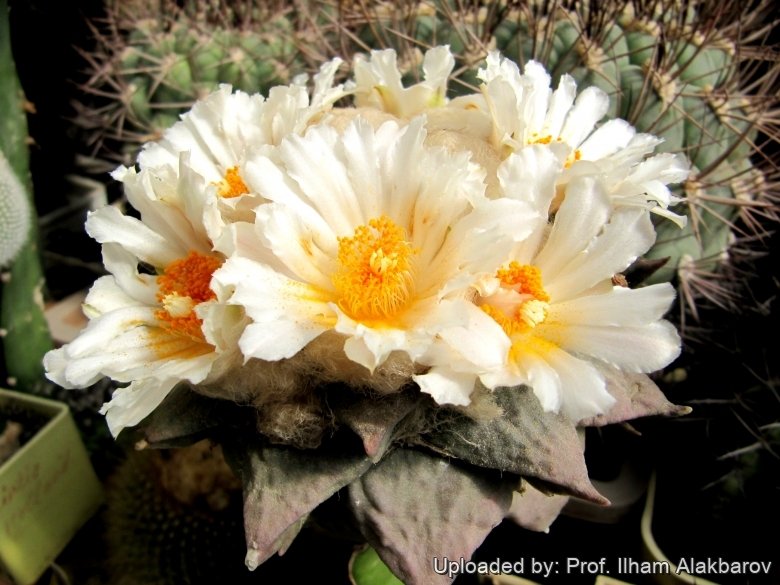 Ariocarpus furfuraceus Photo by: Prof. Ilham Alakbarov
40 years old seedling. The variety "furfuraceus" is distingushable for the dark green-brown-grey equilaterally triangular shaped tubercles with abundant white wool at the apex. The tubercles are also usually more obese, pointed and smooth, with areoles on the tip.
Origin and Habitat: Widely distributed in Coahuila, San Luis Potosi, Tamaulipas , Zacatecas and Nuevo Leon.
Synonyms:
See all synonyms of Ariocarpus retusus
Accepted name in llifle Database:
Ariocarpus retusus
Scheidw.
Bull. Acad. Roy. Sci. Bruxelles 5: 492 (t. 1). 1838
Synonymy: 31
Accepted name in llifle Database:
Ariocarpus retusus subs. trigonus
(F.A.C.Weber) E.F.Anderson & W.A.Fitz Maur.
Haseltonia 5: 18. 1998 [1997 publ. 1998]
Synonymy: 7
Cultivars (11):
Common Names include:
ENGLISH:
Seven Stars, Living Rock
CHINESE (中文):
象牙牡丹
Description: Ariocarpus furfuraceus differs from the standard Ariocarpus retususSN|2081]]SN|2079]] only for its equilaterally triangular tubercles, all the other characteristics clearly show that they are conspecific. Ariocarpus retususSN|2079]]SN|2079]] is quite variable and has received numerous unnecessary names of no botanical value, representing no more than local phenotypes: Ariocarpus furfuraceusSN|2079]]SN|2081]] is one of them.
Habit: Solitary, slow-growing geophyte cactus, with tubercles slightly projecting above ground level. The large tuberous body is below the soil.
Stem: Grey-green, flattened, globose, rounded on top, 3-12 cm high, 10-25cm in diameter.
Tubercles: The distinctive characteristic of Ariocarpus furfuaraceus are the tubercles, which are equilaterally triangular shaped, divergent, convex or nearly flattened adaxially and often with shallow adaxial undulations or wrinkling, not fissured, 1,5-4 cm long, 1-3,5 cm wide, nearly as wide as long.
Areoles: At the tips of the tubercles, rounded, 1-5 mm in diameter.
Flowers: Diurnal, 4-5 cm in diameter, 2-4 2cm long, white to clear pink.
Root: Tap root.
Flowering time: Autumn.
Remarks: All of the Ariocarpus seedlings are spiny and quite different from adult specimens, though the spines are feather-like.
Fruit: White, green, or rarely pinkish, 10-25 mm long, 3-10 mm in diameter.

Subspecies, varieties, forms and cultivars of plants belonging to the Ariocarpus retusus group
Bibliography: Major references and further lectures
1) Edward F. Anderson "The Cactus Family" Timber Press, 2001
2) Curt Backeberg "Cactus Lexicon" Sterling Publishing Company, Incorporated, 1978
3) Hiroshi Hirao "Colour encyclopaedia of cacti" Japan 1979 (Japanese language and script)
4) Willy Cullmann, Erich Götz (Dozent Dr.), Gerhard Gröner "The encyclopedia of cacti" Portland, OR: Timber Press, 1986
5) David Hunt, Nigel Taylor "The New Cactus Lexicon" DH Books, 2006 ISBN 0953813444, 9780953813445
6) James Cullen, Sabina G. Knees, H. Suzanne Cubey "The European Garden Flora Flowering Plants: A Manual for the Identification of Plants Cultivated in Europe, Both Out-of-Doors and Under Glass" Cambridge University Press, 11/Aug./2011
Ariocarpus furfuraceus
Photo by: Valentino Vallicelli
Ariocarpus furfuraceus
Photo by: Valentino Vallicelli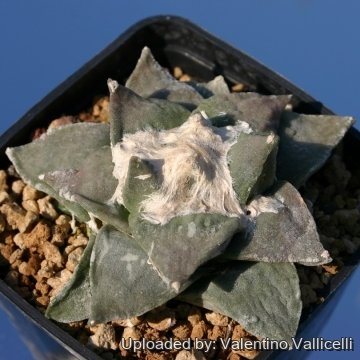 Ariocarpus furfuraceus
Photo by: Valentino Vallicelli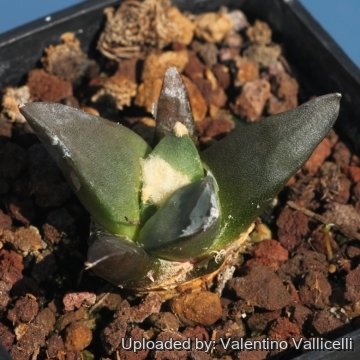 Juvenile specimen (5 years old).
Photo by: Valentino Vallicelli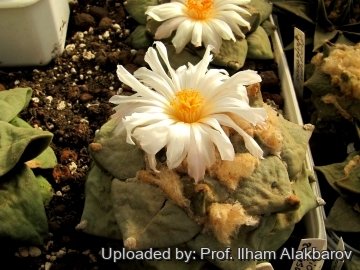 Ariocarpus furfuraceus
Photo by: Prof. Ilham Alakbarov
Send a photo of this plant.
The gallery now contains thousands of pictures, however it is possible to do even more. We are, of course, seeking photos of species not yet shown in the gallery but not only that, we are also looking for better pictures than those already present.
Read More...
Cultivation and Propagation: This species is slow-growing, but certainly not as slow as some other types of cacti. It is of easy cultivation in a well-drained, non-organic, free-draining soil compost, with ample water during the growing season. Use of a weak low-nitrogen fertilizer during the growing season can encourage growth. The main threat to their development is root rot. Ariocarpus should be kept dry whenever there is a threat of cold. The appearance of Ariocarpus can benefit greatly by watering the plants from the bottom. This practice will help to keep the "wool" on the top of the plant from becoming matted or discoloured. It needs light shade to full sun.
Frost Tolerance: Hardy to -10° C
Propagation: It is probably the easiest species of the genus to raise from seed, but will generally take about 6-10 years to reach flowering size, occasionally grafted.