Donate now to support the LLIFLE projects.
Your support is critical to our success.
Since 4 Aug 2013
= Rebutia steinbachii f. cristata hort.

Accepted Scientific Name: Rebutia steinbachii Werderm.
Notizbl. Bot. Gart. Berlin-Dahlem 11: 268. 1931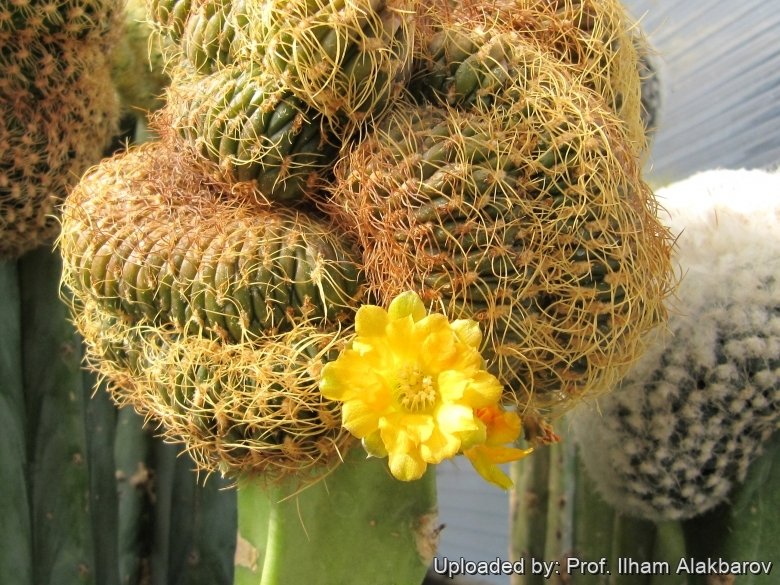 Sulcorebutia steinbachii f. cristata (Rebutia steinbachii f. cristata) Photo by: Prof. Ilham Alakbarov
Origin and Habitat: Garden origin (Nursery produced cultivar)
Synonyms:
See all synonyms of Rebutia steinbachii
Description: Rebutia steinbachiiSN|26215]]SN|5221]] often listed under its old name of SulcoSN'>
5220' alt='5221'>Rebutia steinbachii#SN#5221'>Sulco[[Rebutia steinbachiiSN' style='border:none;'> is a clumping plant (rarely solitary), readily forming, especially in cultivation, clumps of many heads. Plants are often dimorphic: short spined juvenile forms transform at maturity to strongly spined forms. Some of these juvenile forms, however, may persist without transformation to the mature form. However it is very variable due to it's wide area of origin in Bolivia and spines ranges in colour from white, to yellow, red, brown or black. There are several different subspecies and cultivars.
Crested form: The crested form (Rebutia steinbachii f. cristataSN|5221]]SN|26215]]) is very rare and sought after by collectors, for its unique features. It is a small low growing crested cactus that will slowly forms tangled groups up to 30 cm (or more ) in diameter with age. The plant tends to grow seated in substrate, but in cultivation it is almost always seen grafted on columnar cacti. There are several crested clones often very different one to each other.
Stem: Greysh-green to dark green sometime tinged red.
Ribs: Poorly distinguished, forming oblong rhomboidal grooved tubercles.
Areoles: Long narrow depressed with short grey felt (almost naked) 3 – 6 long, 1,5-2 mm large.
Radial spines: 9-12 (or more) about up to 20 mm long, acicular, addpressed against the body, ± pectinate to porrect, white, yellow, brown with darker tips or almost black, ± curved slow to develops, frequently absent on new areoles at plant apex.
Central spines: None or usually 1 to 3, 10-30 mm long, only slightly stouter of the same colour of the radials.
Flowers: Arising from monoflorous areoles, in lower lateral flower zone. Rarely more than 3,5 cm long and 4,5 in diameter, yellow, red, magenta or orange with white inner petals. Floral tube funnel-shaped, with broad naked scales.
Phenology: Blossoming time late spring.
Fruits: Small papery olive green to reddish brown at maturity.
Seeds: Black.
Subspecies, varieties, forms and cultivars of plants belonging to the Rebutia steinbachii group
Bibliography: Major references and further lectures
1) James Cullen, Sabina G. Knees, H. Suzanne Cubey "The European Garden Flora Flowering Plants: A Manual for the Identification of Plants Cultivated in Europe, Both Out-of-Doors and Under Glass" Cambridge University Press, 11/Aug./2011
2) David Hunt, Nigel Taylor "The New Cactus Lexicon" DH Books, 2006
3) Edward F. Anderson "The Cactus Family" Timber Press, 2001
4) John Pilbeam "Sulcorebutia and Weingartia: A Collector's Guide" Timber Press, 1985
5) Cyril Marsden, Herbert Spencer Jackson "Rebutia, Including Aylostera and Sulcorebutia" Macmillan, 1968
Cultivation and Propagation: It loves a very permeable, coarse mineral soil as well as to be strictly kept dry throughout the winter quiescent period since it is very sensitive to any moisture excesses, to prevent rottenness it is also advisable to surround its root neck by very rough sand or grit, this help a fast water drainage and an appropriate air circulation.
Watering Needs: Water moderately in the growing season, keep dry during the winter rest.
Frost Tolerance: Plants are quite frost hardy -5 (-10)° C, but for safe cultivation overwinter in a cool place (at 0/10°C) this is important for the flowers as well as for plants health. Without this cool winter period they normally wont get any buds.
Sun Exposure: Needs a full sun exposure ( light shadow my be useful in the hottest summer days).
Propagation: Cutting, grafting.