Donate now to support the LLIFLE projects.
Your support is critical to our success.
= Sulcorebutia krahnii Rausch
Kakteen Sukk. 21: 104, fig. 1970
Accepted Scientific Name: Rebutia steinbachii Werderm.
Notizbl. Bot. Gart. Berlin-Dahlem 11: 268. 1931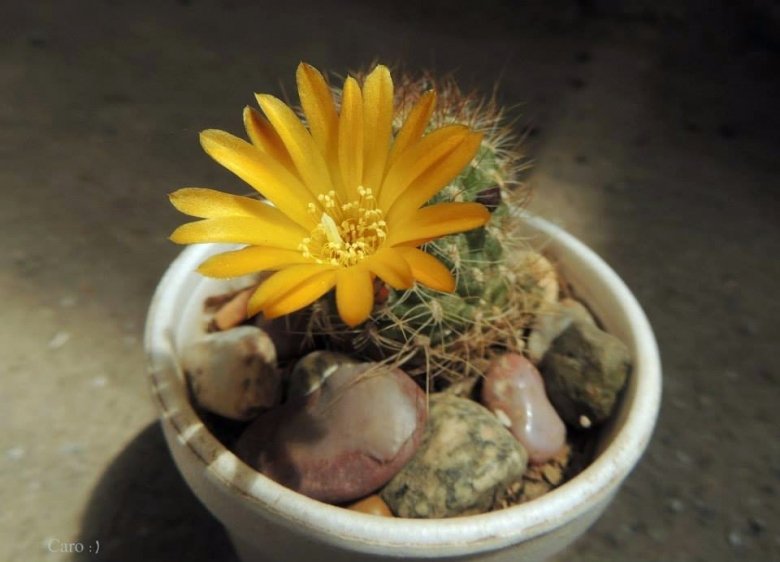 Weingartia krahnii (Sulcorebutia krahnii) Photo by: Carolina González
Origin and Habitat: Cerro Tukiphalla (North-West of Comarapa), province of Caballero, Santa Cruz, Bolivia
Altitude range: 1900-2700 metres above sea level.
Habitat and ecology: This species grows in forest clearings, between herbs and selaginellas, on rocky outcrops and rock fissures with some humus in relatively wet inter-Andean valleys, with almost permanent fog. Therefore this area (even in the dry season), is much green than elsewhere in Sulcorebutias habitats. Some plants (especially low bushes) are very large, up to 150 cm wide. In the yellow-brown sand the yellow-brown spined plants appears almost camouflaged. The same area support endemic succulents and xerophyte plants such as Parodia comarapanaSN|5771]]SN|5771]], Samaipaticereus corroanus and the orchid Epidendrum ibaguense.
Synonyms:
See all synonyms of Rebutia steinbachii
Common Names include:
SPANISH (Español):
Anchapanco
Description: Sulcorebutia krahniiSN|15096]]SN|15096]] is a local or morphological form of the widespread and variable Rebutia steinbachiiSN|5221]]SN|5221]]. It has bright yellow flowers that appear rarely in a closed crown. The colour and the thickness of the spination are variable with yellow and brown as predominant colours and occasionally extremely dark. However the distinguishing characteristics of this taxon, appear to fall within the natural variation of Rebutia steinbachiiSN|5221]]SN|5221]] and the name Sulcorebutia krahniiSN|15096]]SN|15096]] is not accepted by some botanists that treat it as synonym, but it still has a value for a collector because they identify plants with particular characters.
Stem: Solitary, flattened-spherical, with concave apex, dark green to dull olive-green, up to 10 cm tall and 7 cm in diameter.
Ribs: about 32, with conical tubercles in spirals.
Aeoles: Rounded to oval 3 to 4 mm long, 2 to 3mm wide.
Root: Main root thin (up to 7 cm long) highly branched, but in larger plants the main root is barely recognizable.
Spines: Not easily distinguishable as radial and central.
Central spines: 3-7 central spines, up to 12 mm long, brown to brownish black.
Radial spines: about 24 soft, bristle-like, from white to brown and black, up to 10 mm long.
Flowers: Buds brownish, mostly born in the old areoles on the side of the stems, rarely on older areoles near the base of the plant. Flowers yellow with white throat, 2.5 to 3.5 cm across, scentless, sometimes with fruity, mouldy or musty odours, also smelling like lemon balm (Melissa) or jasmine. Outer tepals scaly, yellow with darker brownish red tips, inner tepals yellow with a clear white-yellow base. Carpel and tube with greenish or reddish yellow, apiculate scales. Stamens yellow or yellowish. Pistil white to yellowish with 5-6 papillose, whitish or yellowish stigma-lobes.
Fruit: Olive-green or brownish, up to 5 mm in diameter, with scale scales of the same colour. Lower scales with or without few white hairs.
Seeds: Oblong-globose 1.2 to 1.3 mm long and 1.1 to 1.2 mm wide, dark brown.
Subspecies, varieties, forms and cultivars of plants belonging to the Rebutia steinbachii group
Bibliography: Major references and further lectures
1) Wolfgang Krahn "Sulcorebutia krahnii Rausch" Succulenta Nederland 50 : 1 (1971) (p.2-3)
2) Walter Rausch: "Neue Arten der Gattung Sulcorebutia Backeb. – Sulcorebutia krahnii Rausch spec. nov." – Kakteen und andere Sukkulenten 21 (6): 104, 1970
Cultivation and Propagation: Sulcorebutia krahniiSN|15096]]SN|15096]] loves a permeable, coarse mineral soil as well as to be strictly kept dry throughout the winter quiescent period since it is very sensitive to any moisture excesses, To prevent rottenness it is also advisable to surround its root neck by very rough sand or grit, this help a fast water drainage and an appropriate air circulation. The flowers appear in springtime after a "light" wintering. The spination and the growth are favourably influenced by a cultivation in a flat
container.
Watering Needs: Water moderately in the growing season, keep dry during the winter rest.
Frost Tolerance: Plants are quite frost hardy -5 (-10)° C, but for safe culture overwinter in a cool place (at 0/10°C) this is important for the flowers as well as for plants health. Without this cool winter period they normally wont get any buds.
Sun Exposure: Needs a full sun exposure (light shadow my be useful in the hottest summer days).
Propagation: Seed, cutting, grafting.