Donate now to support the LLIFLE projects.
Your support is critical to our success.
Sulcorebutia steinbachii var. taratensis
Cactus & Co. 8(3): 189. 2004 [Sep 2004] with incorrect basionym page
Family: CACTACEAE
= Rebutia taratensis Cárdenas
Cact. Succ. J. (Los Angeles) 36: 26, figs. 1964
Accepted Scientific Name: Rebutia steinbachii Werderm.
Notizbl. Bot. Gart. Berlin-Dahlem 11: 268. 1931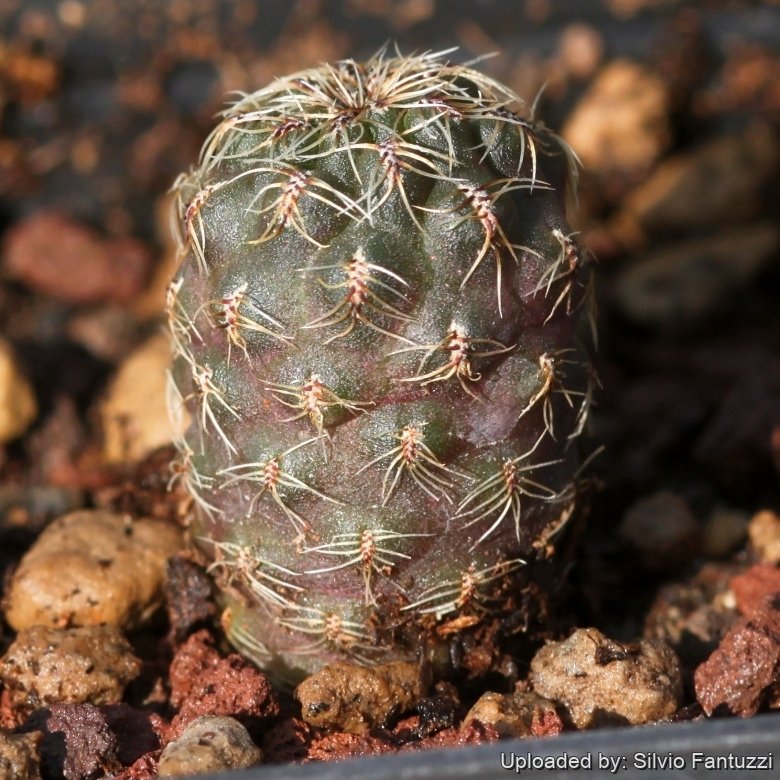 Sulcorebutia steinbachii var. taratensis (Rebutia taratensis) Photo by: Silvio Fantuzzi
KK1264 (Collector: Karel Kníže) a.k.a. Sulcorebutia glomerispina Locality: Tarata, Bolivia. Altitude: 2800m
Origin and Habitat: Cochabamba (Tarata, Arani, Cliza, Sivingani, Mizque, Anzaldo, Sacabamba, Rio Caine and adjacent area) Bolivia.
Type Locality: Anzaldo, Cochabamba, Bolivia.
Altitude: 2000-3500 metres above sea level.
Synonyms:
See all synonyms of Rebutia steinbachii
Description: Rebutia taratensisSN|5226]]SN|5226]] best known as SulcoSN'>
5225' alt='5221'>Rebutia taratensis#SN#5226'>Sulco[[Rebutia taratensisSN' style='border:none;'> is one of the innumerable local form of the very variable Rebutia steinbachiiSN|5221]]SN|5221]] (= SulcoSN'>
5220' alt='5226'>Rebutia steinbachii#SN#5221'>Sulco[[Rebutia steinbachiiSN' style='border:none;'>). It distinguishes for its small, free clustering bodies. The flowers are bright purple and the spination of well-grown specimens is pleasing. It is one of the tiniest Sulcorebutia. The var. minima has minuscule bodies which cluster like a mad, readily forming crowded cushions with hundred of heads.
Note: Rebutia taratensisSN|5226]]SN|5226]] is apparently a neotenic variety of the species in which juvenile spination is retained throughout the life of the plant, while many of the other varieties are dimorphic (short spined juvenile forms transform at maturity to strongly spined forms).
Habit: It is a clumping plant growing readily forming, especially in cultivation, clumps of hundred of heads from the base.
Roots: More or less thickened and carrot-like.
Stem: Single heads 15–30 mm wide, and 25-50 mm tall, globular, to clavate somehow apically depressed, very dark tanned green to dark magenta-green sometime tinged red, not completely hidden under the covering of spines.
Ribs: Few, spiralling, poorly distinguished, forming oblong rhomboid tubercles with well-defined grooves.
Areoles: Narrow 1-3 mm long, 0,5 mm large almost naked, depressed with short grey or brown felt.
Central spines: Absent.
Radial spines: (6-)8-12(-14) about up to 3 mm long, acicular, adpressed against the body, thin, pectinate pointing sidewards and downwards less than 5 mm in length. Creamy-white, with darker brown base. These spines don't obscure the stem but form a nice spiralling pattern.
Flowers: Numerous at the base of the plant, typically dark purple, with a silky sheen. Floral tube funnel-shaped, with broad naked scales
Blooming season: Spring (April - May) and remain open for up to five days.
Fruits: Small papery olive green to reddish brown at maturity.
Seeds: Black.
Subspecies, varieties, forms and cultivars of plants belonging to the Rebutia steinbachii group
Notes: This plant is now considered by most authors a synonym of Sulcorebutia steinbachiiSN|10863]]SN|5220]] but there is some confusion and others says that it is a smallish variant of Sulcorebutia rauschiiSN|5220]]SN|10863]] with uniformly coloured flowers and fewer dark pectinated spines.
Bibliography: Major references and further lectures
1) James Cullen, Sabina G. Knees, H. Suzanne Cubey "The European Garden Flora Flowering Plants: A Manual for the Identification of Plants Cultivated in Europe, Both Out-of-Doors and Under Glass" Cambridge University Press, 11/Aug./2011
2) David Hunt, Nigel Taylor "The New Cactus Lexicon" DH Books, 2006 ISBN 0953813444, 9780953813445
3) Edward F. Anderson "The Cactus Family" Timber Press, 2001
4) John Pilbeam "Sulcorebutia and Weingartia: A Collector's Guide" Timber Press, 1985
5) Cyril Marsden, Herbert Spencer Jackson "Rebutia, Including Aylostera and Sulcorebutia" Macmillan, 1968
Cultivation and Propagation: Very difficult to find high quality plants of this species in cultivation, S. taratensis loves a very permeable, coarse mineral soil as well as to be strictly kept dry throughout the winter quiescent period since it is very sensitive to any moisture excesses, To prevent rottenness it is also advisable to surround its root neck by very rough sand or grit, this help a fast water drainage and an appropriate air circulation.
For its sensitive roots this species is frequently grafted to avoid root problems. Plants are quite frost hardy -5 (-10)° C. Water moderately in the growing season, keep dry during the winter rest. Overwinter in a cool place (at 0/10°C) this is important for the flowers as well as for plants health. Without this cool winter period they normally wont get any buds.
Sun Exposure: Needs a full sun exposure ( light shadow my be useful in the hottest summer days)
Propagation: Seed, cutting, grafting.