Donate now to support the LLIFLE projects.
Your support is critical to our success.
Since 4 Aug 2013
sponsored link
Lithops julii Photo by: Valentino Vallicelli
PV139 2 km North of Keimos, Namibia. (pale milky grey, brown edge - Mesa Garden 1616.97)
Origin and Habitat: Namibia, Vahldoorn; west of Warmbad.
Habitat: It grows among quartz pebbles in desert limestone. Background colours white, grey, pink, red and brown. The plants mimic the small, haphazardly arranged rocks that surround them. They grow sunken in fine gravel and can tolerate extreme hight temperature and only temperature that exceed 60° C are lethal.
Synonyms:
See all synonyms of Lithops julii
Accepted name in llifle Database:
Lithops julii
(Dinter & Schwantes) N.E.Br.
Gard. Chron. 1926, Ser. III. lxxix. 102.
Synonymy: 19
Accepted name in llifle Database:
Lithops julii subs. fulleri
(N.E.Br.) B.Fearn
Natl. Cact. Succ. J. 31 (3) 59 [Set. 1976]
Synonymy: 29
Cultivars (3):
Description: Lithops julii is a very pretty Lithops with characteristic "lip-smears" which is a distinctive feature of this species. The lip-smear occurs occasionally as a narrow edging or lining all along the outer margins. Three main forms have been proposed and were even given varietal status ("pallid", "reticulated" and "fuscous") but wild populations tend to have at least two and many have all three of this forms variously intermingled.
Habit: Lithops julii is a stemless small to medium sized species that grows solitary or forming clumps of 2 or up to 15 or more) bodies.
Body (paired leaves): Cone-shaped, separated by a 5-10 mm deep fissure with (usually) conjunct lobes, usually whitish-grey to dark grey but very variable in colour, some specimens being opaque whitish-grey and almost uniform in colour, others opaque but strongly reticulated with fine impressed brown markings, yet others with largely open obscurely translucent windows. The profile is truncate, the tops are flat to slightly convex. Face slightly reniform.
Flowers: Single, white, daisy-like, emerging from the fissure and as large as the pair of fleshy leaves below.
Blooming season: From mid-summer through fall.
Fruit: Seed capsules-loculed.
Seeds: Yellow-brown to light yellow-brown.
Subspecies, varieties, forms and cultivars of plants belonging to the Lithops julii group
Notes: After flowering in the autumn and extending through winter season the plant doesn't need watering, but they will still be growing, the new bodies will be increasing in size extracting water from the outer succulent leaves, allowing them to shrivel away. In fact the plant in this time extracts water and nutrient stored in the outer succulent leaves, allowing them to dehydrate relocating the water to the rest of the plant and to the new leaves that form during this period until the old leaves are reduced to nothing more than "thin papery shells".
Bibliography: Major refences and further lectures
1) Heidrun E. K. Hartmann "Aizoaceae F – Z" Springer 2002
2) Achim Hecktheuer "Mesembs, mehr als nur Lithops" Books on Demand GmbH Norderstedt. 2008
3) Desmond T. Cole & Naureen A. Cole, Uwe Beyer, Yves Delange "Les Lithops" SUCCULENTES Spécial 2008 AIAPS (now Terra seca). 2008
4) Desmond T. Cole & Naureen A. Cole "LITHOPS Flowering Stones" Cactus & Co. Libri. 2005
5) Yasuhiko Shimada "The Genus Lithops" Dobun Shoin. 2001
6) Rudolf Heine "Lithops - Lebende Steine" Neumann Verlag. 1986
7) Bernd Schlösser "Lithops – Lebende Steine" Praktische Anleitung für die Zimmerkultur. BussinessPoint MEDIA. 2000
8) Steven A. Hammer "Lithops – Treasures of the veld" British Cactus and Succulent Society. 1999
9) Desmond T. Cole "Lithops – Flowering Stones" Acorn Books 1988
10) Rudolf Heine "Lithops – lebende Steine" Neumann Verlag. 1986
11) David L. Sprechman "Lithops" Associated University Presses, Inc. 1970
12) Gert Cornelius Nel "Lithops" Hortors Limited, South Africa 1946
13) Edgar Lamb "The illustrated reference on cacti and other succulents" Blandford Press. 1978
14) Christopher Brickell, Royal Horticultural Society "RHS A-Z Encyclopedia of Garden Plants: K-Z., Volume 2" Kindersley, 2008
15) G. C . Nel "Lithops: Plantae succulantae, rarissimae, in terra obscuratae, e famailia Aizoaceae, ex Africa australi" Hortors Limited, Cape Town, South Africa 1946
16) Heidrun E. K. Hartmann "Illustrated Handbook of Succulent Plants: Aizoaceae F-Z" Springer, 2002
17) Steven A. Hammer "Lithops: Joyaux du veld" Editions Quae, 25/nov/2010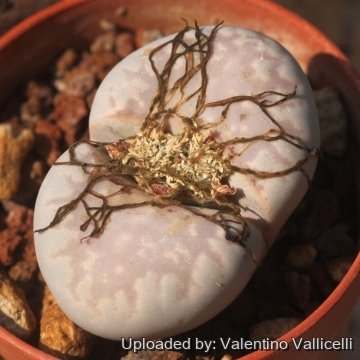 Lithops julii
Photo by: Valentino Vallicelli
PV139 2 km North of Keimos, Namibia. (pale milky grey, brown edge - Mesa Garden 1616.97)
Photo by: Valentino Vallicelli
Cultivation and Propagation: Easy to grow it tolerates a degree more excess water than some particular hydrophobic species, even so it must have a very open mineral, fast draining mix with little compost and a high degree of grit, coarse sand, small lava gravel or pebbles. Give them the maximum amount of light you are able to give them, but care should be taken about exposing them to the full blast of the sun rays in summer. Such tiny plants can easily get scorched or broiled and their appearance spoiled (this may not matter in the wild, where the Lithops have probably shrunk into the ground and becomes covered with sands).
Basic cultivation routine: Stop watering after flowering. Start watering after the old leaves completely dry. (Usually late March or Early April) Water freely during the growing season, soak the compost fully but allow it to dry out between waterings, no water when cold. Some growers fertilize frequently, some hardly ever. Keep them dry during the winter. Nearly all problems occur as a result of overwatering and poor ventilation especially when weather conditions are dull and cool or very humid. If too much water is supplied the plants will grow out of character, bloat, split and rot. Keep them in small pots as solitary clumps or as colonies in large, shallow terracotta seed pans.