Donate now to support the LLIFLE projects.
Your support is critical to our success.
Echinopsis pentlandii
This is a fiercely long spined species (central spines up to 20 cm long ) but quite variable. The flowers are of almost any colour: red, pink, yellow or bicoloured and have a very nice contrasting throat circle.
Origin and Habitat: Native to Northern Bolivia and the Andean plateaus and slopes of Southern Peru.
Altitude: 3500-4200
Habitat: Echinopsis pentlandiiSN|10595]]SN|10595]] is locally common among grasses and large boulders on flats, slopes and ridges, on a wide range of soil types and rocks comprising eroded granite, conglomerate, and sandstone, together with Tephrocactus floccosusSN|4107]]SN|4107]], Lobivia hermanniana, Lobivia omasuyensis.
Synonyms:
See all synonyms of Echinopsis pentlandii
Common Names include:
RUSSIAN (Русский):
Эxинопсис Пентланда
Description: Echinopsis pentlandiiSN|10595]]SN|10595]], better known as Lobivia pentlandiiSN|10598]]SN|10598]], is a common attractive dwarf clumping cactus and particularly is fun as it matures and flowers at an early age. Probably the best known species, it includes many varieties of desirable plants with pretty flowers in almost any colour. This is one of the most variable species in the genus and has lots of unnecessary names, none deserving acceptance as shown by field studies (like many other cacti) and comprises a multitude of different regional or morphological forms as well as various cryptic allied species. But where each form is linked to others by populations of plants with intermediate characteristics. This species is in cultivation with many cultivated and propagated forms. Generations of cactophiles have had this plant as one of their first acquisition and few can have been disappointed by its easy cultivation and free-flowering habit. It is the type species of the genus Lobivia.
Habit: Simple at first it slowly ramifies from the base to form clusters.
Roots: Tap root.
Stem: Low thick flat, ovoid or cylindrical, but usually higher than broad, somewhat umbilicate at apex, bright green, dark green, or somewhat glaucous; size depending on the clone.
Ribs: 12 to 15 (or more) deeply crenate, rather high, broken into long acute, hatchet-shaped, tubercles, separated by acute intervals.
Areoles: Felted about 2 cm apart.
Spines: Variable, stout, all radial or sometime with one central.
Central spines: 0-1, acicular to subulate somewhat recurved 3-9 cm long or less in young specimens; yellowish brown, or brownish. Old plants may produce very long spines (up to 25 cm in some clones)
Radial spines: 5-15, curved backward, acicular, yellowish brown, to 3 cm long.
Flowers: Diurnal, short-funnelform, extremely variable in colour purplish-pink, pale-pink, reddish-brown, orange, red, to yellow, with a usual clearer centre, 4-6 cm long, 5 cm diameter. Tube relatively stout greenish up to 1 cm in diameter. Inner perianth-segments, narrowly obovate, abruptly acute, spreading. Stamens and style much shorter than the inner perianth-segments. Scales on ovary and flower-tube lanceolate with short-hairy in their axils.
Blooming season: Blooms are produced in spring and remain open for about three days.
Fruit: Subglobose, 10 to 12 mm in diameter.
Subspecies, varieties, forms and cultivars of plants belonging to the Echinopsis pentlandii group
Notes: Lobivia (Echinopsis) pentlandii group is a complex that comprises many different varieties, forms and ± similar related species. It was found by Pentland and described in 1844 by W. Hooker as Echinocactus pentlandiiSN|10597]]SN|10597]]. Salm Dyck overcombined it into the genusEchinopsiss. When Britton and Rose 1922 had established the genus Lobivia.Lobivia pentlandii was chosen as type species.
Bibliography: Major references and further lectures
1) N. L. Britton, J. N. Rose "The Cactaceae. Descriptions and Illustrations of Plants of the Cactus Family." Volume 3, The Carnegie Institution of Washington, Washington 1922
2) Edward Anderson "The Cactus family" Timber Press, Incorporated, 2001
3) James Cullen, Sabina G. Knees, H. Suzanne Cubey "The European Garden Flora Flowering Plants: A Manual for the Identification of Plants Cultivated in Europe, Both Out-of-Doors and Under Glass" Cambridge University Press, 11/Aug/2011
4) David R Hunt; Nigel P Taylor; Graham Charles; International Cactaceae Systematics Group. "The New Cactus Lexicon" dh books, 2006
5) E Haustein "Der Kosmos Kakteenfuehrer" Balogh Scientific Books, United States, 01/Dec/1998
6) Willy Cullmann, Erich Götz (Dozent Dr.), Gerhard Gröner "The encyclopedia of cacti" Timber Press, 1987
7) S. H. Scott "The Observer's Book of Cacti and Other Succulents" F. Warne, 1958
8) Clive Innes, Charles Glass "Cacti" Portland House, 01/May/1991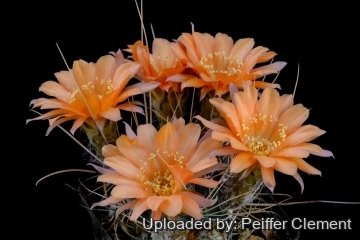 Echinopsis pentlandii
Photo by: Peiffer Clement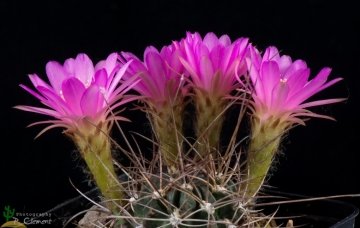 - Lobivia pentlandii JK 481 (Collector: Johan Pot, Kik van Boxtel) Panduro, 3850m.
Photo by: Peiffer Clement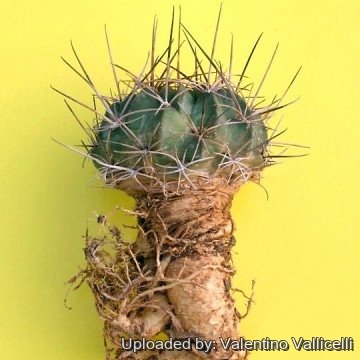 Echinopsis pentlandii ( Root system.)
Photo by: Valentino Vallicelli
Echinopsis pentlandii (The throat circle)
Photo by: Cactus Art
Echinopsis pentlandii
Photo by: Valentino Vallicelli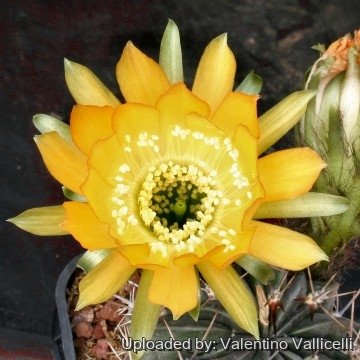 Echinopsis pentlandii
Photo by: Valentino Vallicelli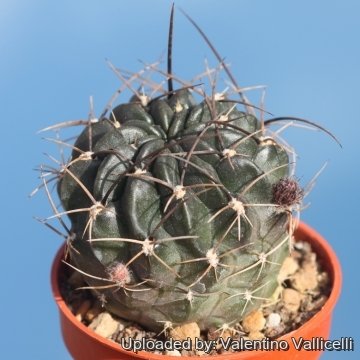 Echinopsis pentlandii
Photo by: Valentino Vallicelli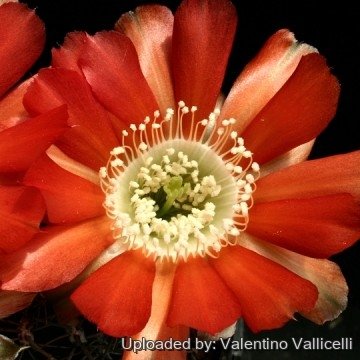 Echinopsis pentlandii
Photo by: Valentino Vallicelli
Cultivation and Propagation: This is a a much decorative frost hardy cactus easily found in cultivation. It is a summer grower species that offers no cultivation difficulties.
Soil: Use a very a particularly draining substratum, as it is very sensitive to rottenness when in presence of humidity and low temperatures and let the soil dry out between waterings, since it's natural habitat is in volcanic soil, it has adapted to more acidic conditions.
Repotting: Repot in the spring, when their roots become cramped. Generally, they should be repotted every other year in order to provide fresh soil. After repotting, do not water for a week or more. Needs a large pot to accommodate a large root system.
Water: In summer, during the vegetative period, it must be regularly watered, but allowing the substratum to completely dry up before irrigating again (but do not overwater ); in winter, it's to be kept dry. Preferable not to water on overcast days, humid days or cold winter days.
Hardiness: It is a quite frost resistant cactus, hardy to -5° C (- 10° C if very dry). However in cultivation it is better not to expose it to temperatures lower than -0° C, even if in an aerated and protected location, in order to avoid the formation of anti-aesthetic spots on the epidermis. In presence of high atmospheric humidity avoid any frost as it is particularly sensitive to root rot.
Exposure: Outside full sun or afternoon shade, inside needs bright light, and some direct sun, but, as a former mountain dweller, does not care for extremely high temperatures in summer.
Use: It is suitable for small "desert" gardens, in association with other xerophytes. Where the open air cultivation is not possible due to the climate, it is to be cultivated in pot in order to shelter it in winter.
Propagation: By seeds and by cuttings, provided left drying up well, in summer.