Donate now to support the LLIFLE projects.
Your support is critical to our success.
Accepted Scientific Name: Eriosyce islayensis (C.F.Först.) Katt.
Eriosyce (Cactac.) gen. revis. & ampl. (Succ. Pl. Res., 1) 117 (1994)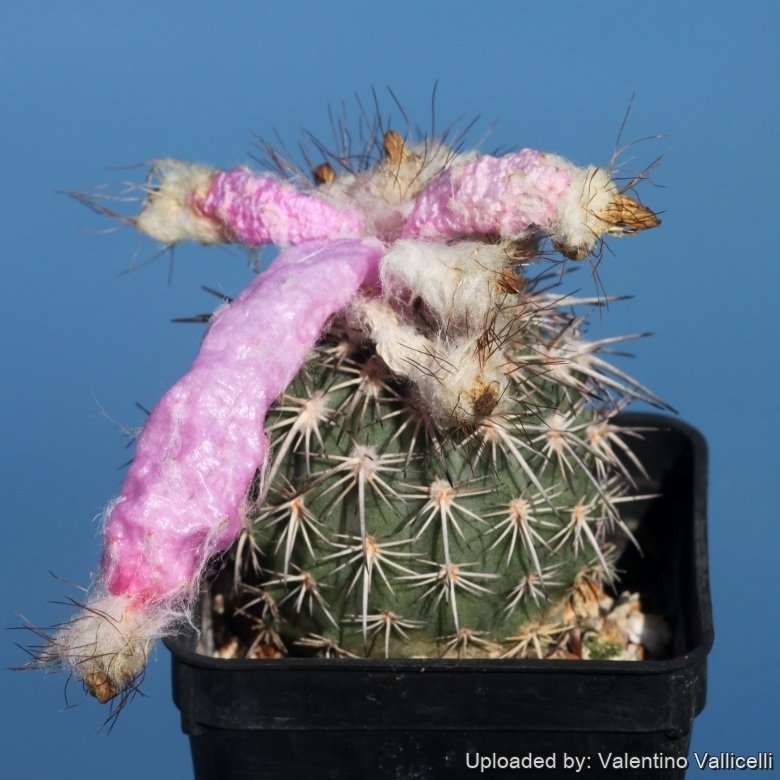 Islaya longicarpa Photo by: Valentino Vallicelli
Origin and Habitat: Eriosyce islayensisSN|1713]]SN|1713]] is endemic to the northern Chile along the coast, to southern Peru (just south of Lima). Islaya longicarpaSN|16607]]SN|16607]] is found along the coast near Atico, Peru.
Altitude: 300 metres above sea level.
Habitat: It grows in very dry desert areas where it almost never rains and where only the occasional sea fog drift inland.


Synonyms:
See all synonyms of Eriosyce islayensis
Accepted name in llifle Database:
Eriosyce islayensis
(C.F.Först.) Katt.
Eriosyce (Cactac.) gen. revis. & ampl. (Succ. Pl. Res., 1) 117 (1994)
Synonymy: 52
Cultivars (1):
Description: Eriosyce islayensisSN|1713]]SN|1713]], formerly known as Islaya islayensisSN|16607]]SN|1716]], is a small globose to cylindrical cactus with very woolly areoles end dark spreading spines, it is indeed very variable and has received many names, but it is clear from fieldworks that the different wild populations constitute a single but multiform species. Islaya longicarpaSN|16607]]SN|16607]] is a nomen nudum (undescribed name) sometimes encountered in European nurseries. The key difference by which Islaya longicarpaSN|16607]]SN|16607]] was separated, namely the presence of very long fruits, seems entirely spurious, and it is generally included within (as a synonym of) Eriosyce islayensisSN|1713]]SN|1713]], suggesting that there is not really a fundamental difference between the two.
Stems: Grey-green, 5 to 40 cm tall (or more long), 5 to 20 cm in diameter.
Ribs: 19 to 25 low and obtuse.
Areoles: Approximate, large, very woolly, with grey-brown felt.
Roots: Fibrous.
Spines: Variable in colour, horn-coloured, brow to shiny black, turning grey as they age.
Central spines: 4 to 7 spreading, thick, 12-16 mm long.
Radial spines: 12 to 22, shorter, radiating, (1-)6-10 mm long.
Flowers: Diurnal, 1,5 - 4 cm long and in diameter, born on younger areoles from a yellowish woolly crown in summer, wide funnelform, yellow, outer perianth segments often reddish, floral tube short with tufts of dense wool and long reddish bristles.
Fruits: Islaya longicarpaSN|1716]]SN|16607]] distinguish for its comparatively very long fruits, up to 10 cm long, club shaped, pinkish, openings at maturity by basal pores. Pericarp initially fleshy but the interior always dry when mature.
Seeds: Broadly oval.
Subspecies, varieties, forms and cultivars of plants belonging to the Eriosyce islayensis group
Notes: Eriosyce islayensisSN|1713]]SN|1713]] has a large area of distribution and is a very variable species. The difference between populations is the frequency of the appearance in which these forms do occur. So it is possible that two individuals of two different populations can look very similar and also, that two plants of the same population can look very different. However when you are looking at the whole population, you can see the difference between one population and another.
Bibliography: Major references and further lectures
1) Fred Kattermann "Eriosyce (Cactaceae): The Genus Revised and Amplified" David Hunt, 1994
2) Edward Anderson "The Cactus family" Timber Press, Incorporated, 2001
3) James Cullen, Sabina G. Knees, H. Suzanne Cubey "The European Garden Flora Flowering Plants: A Manual for the Identification of Plants Cultivated in Europe, Both Out-of-Doors and Under Glass" Cambridge University Press, 11/Aug/2011
4) David R Hunt; Nigel P Taylor; Graham Charles; International Cactaceae Systematics Group. "The New Cactus Lexicon" dh books, 2006
5) Edgar Lamb, Brian Lamb "The Illustrated Reference on Cacti & Other Succulents" Volume 5 Blandford Press, 1978
6) Jan ?íha "Illustrated Encyclopedia of Cacti and Other Succulents" Book Sales, Incorporated, 01/set/1993
7) Curt Backeberg "Die Cactaceae: Handbuch der Kakteenkunde." 2. ed.. Volume 2, Gustav Fischer Verlag, Stuttgart New York 1983
8) Dillon, M.O. "Lomas Formations - Peru" pp. 519-527. In: S. D Davis, V. H. Heywood, O. Herrera-McBryde, J. Villa-Lobos and A. C. Hamilton (eds.), Centres of Plant Diversity, A Guide and Strategy for their Conservation. WWF, Information Press, Oxford, U.K. 1997
9) Walther Haage "Kakteen von A bis Z" 3. ed. Quelle & Meyer Verlag, Heidelberg 1986
10) N. L. Britton, J. N. Rose: "The Cactaceae. Descriptions and Illustrations of Plants of the Cactus Family." Volume III, The Carnegie Institution of Washington, Washington 1922
11) E Haustein "Der Kosmos Kakteenfuehrer (the Kosmos Cactus Guide)" United States, Balogh Scientific Books 01/Dec/1998
12) Dr Michael O. Dillon "Lomas formations, Peru" (Field Museum of Natural History, Center for Evolutionary and Environmental Biology, Department of Botany, Chicago, IL 60605- 2496, U.S.A.). http://botany.si.edu/projects/cpd/sa/sa42.htm
- KK1080 (Collector: Karel Kníže) Atico, Peru. Altitude: 300m
Photo by: Valentino Vallicelli
Islaya longicarpa
Photo by: Valentino Vallicelli
Islaya longicarpa
Photo by: Valentino Vallicelli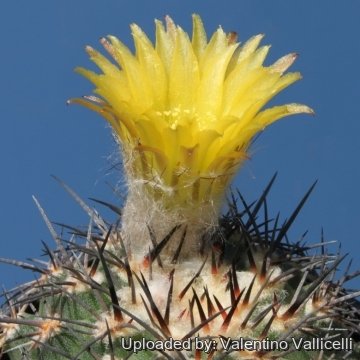 Islaya longicarpa
Photo by: Valentino Vallicelli
Cultivation and Propagation: It is a summer grower species that, like many cacti of the Peruvian deserts, present some problems in cultivation. It is in fact somewhat rot prone if kept in a non ventilated place.
Soil: Require a very fast draining drying soil
Water: Water regularly in summer, but do not overwater.
Exposition: Needs a full sun exposure (or light shade)
Heat tolerance: Good.
Hardyness: Hardy to at least -5°C ( but probably can tolerate - 10° C for brief periods)
Propagation: Usually propagated from Seeds. (seldom produces offsets) or by grafting onto a strong grafting stock like Selenicereus sp. Such grafted seedlings can be been successfully cultivated for years.