Donate now to support the LLIFLE projects.
Your support is critical to our success.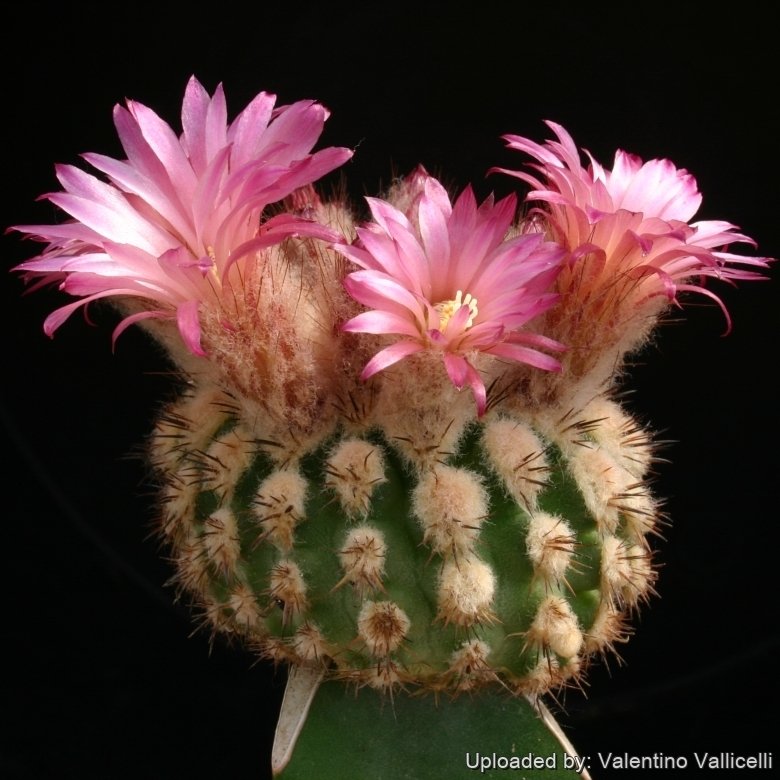 Eriosyce islayensis cv. TAIWAN Photo by: Valentino Vallicelli
Origin and Habitat: Garden origin (hybrid?), Taiwan.
Synonyms:
See all synonyms of Eriosyce islayensis
Accepted name in llifle Database:
Eriosyce islayensis
(C.F.Först.) Katt.
Eriosyce (Cactac.) gen. revis. & ampl. (Succ. Pl. Res., 1) 117 (1994)
Synonymy: 52
Cultivars (1):
Description: Eriosyce islayensisSN|1713]]SN|1713]] "TAIWAN" is a beautiful cultivars with flat proliferating stems. It has very large woolly creamy-white areoles and short, thin spines. The flowers are pink, a very unusual colour for an islaya, this suggest that it may be an hybrid form.
Subspecies, varieties, forms and cultivars of plants belonging to the Eriosyce islayensis group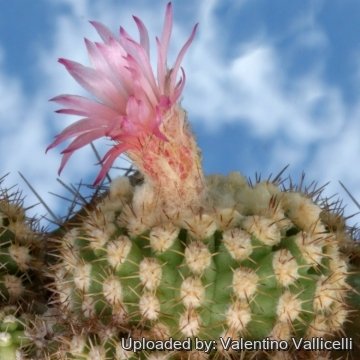 Eriosyce islayensis cv. TAIWAN
Photo by: Valentino Vallicelli
Eriosyce islayensis cv. TAIWAN
Photo by: Valentino Vallicelli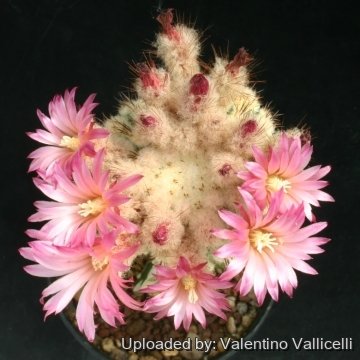 Eriosyce islayensis cv. TAIWAN
Photo by: Valentino Vallicelli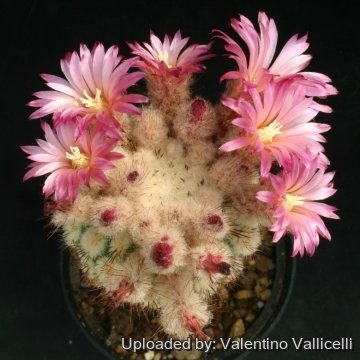 Eriosyce islayensis cv. TAIWAN
Photo by: Valentino Vallicelli
Eriosyce islayensis cv. TAIWAN
Photo by: Valentino Vallicelli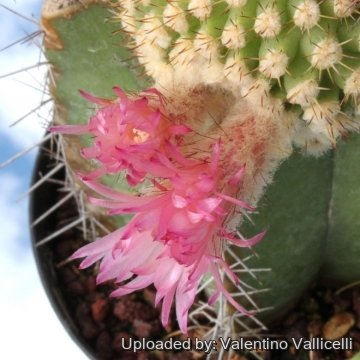 Eriosyce islayensis cv. TAIWAN
Photo by: Valentino Vallicelli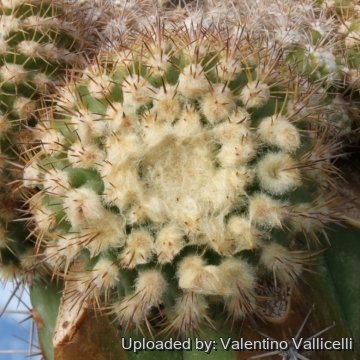 Eriosyce islayensis cv. TAIWAN
Photo by: Valentino Vallicelli
Send a photo of this plant.
The gallery now contains thousands of pictures, however it is possible to do even more. We are, of course, seeking photos of species not yet shown in the gallery but not only that, we are also looking for better pictures than those already present.
Read More...
Cultivation and Propagation: It is an extremely xerophytic, summer-growing, species somewhat rot prone if kept in a non ventilated place.
Growth rate: Slow-growing.
Soil: It requires a very fast draining drying open mineral, sandy-gritty cactus composts. Provide a very good drainage.
Exposure: It is suited for sunny-brightly exposure, but can tolerate light shade. However it will do its best only with lots of sun and become stressed with inadequate light which could result in poor growth and unnatural shape. It has a good heat tolerance.
Watering: Water regularly in summer, but do not over-water and keep it completely dry during winter. Mature individuals easily rot and die especially after transplanting so be extremely cautious with watering. Keep dry in winter or when night temperatures remain below 10° C. Water it less than average if in bigger pots.
Fertilization: Feed them once during the growing season with a fertilizer specifically formulated for cactus and succulents (high potash fertilizer with a dilute low nitrogen), including all micro nutrients and trace elements diluted to ½ the strength recommended on the label. They thrive in poor soils and need a limited supplies of fertilizer to avoid the plants developing excess vegetation, which is easily attacked by fungal diseases.
Special need: It is suited for airy exposures. Provide very good ventilation. Nearly all problems occur as a result of overwatering and poor ventilation, especially when weather conditions are dull and cool or very humid. They must have very dry atmosphere.
Hardiness: It likes warmth (recommended minimum winter temperature 5° C), but hardy to at least -5°C. It has a good heat tolerance.
Pests & diseases: These cacti may be attractive to a variety of insects, but plants in good condition should be nearly pest-free, particularly if they are grown in a mineral potting-mix, with good exposure and ventilation. Nonetheless, there are several pests to watch for.
- Red spiders: Red spiders may be effectively rubbed up by misting the plants from above.
- Mealy bugs: Mealy bugs occasionally develop aerial into the new leaves and flowers with disfiguring results, but the worst types develop underground on the roots and are invisible except by their effects.
- Scales, thrips and aphids: These insects are rarely a problem.
- Rot: Rot is only a minor problem if the plants are watered and "aired" correctly. If they are not, fungicides won't help all that much.
Propagation: Grafting or cuttings. Plants are usually grafted onto column-shaped cacti but proved to be able to produce their own roots if degrafted. Cuttings will take root in a minimum temperature of 20° C (but better in hot weather). Cuttings of healthy shoots can be taken in the spring and summer. Cut the stem with a sharp, sterile knife, leave the cutting in a warm, dry place for a week or weeks (depending on how thick the cutting is) until a callus forms over the wound. Once the callus forms, the cutting may be inserted in a container filled with firmed cactus potting mix topped with a surface layer of coarse grit. They should be placed in the coarse grit only; this prevents the cut end from becoming too wet and allows the roots to penetrate the rich compost underneath. The cuttings should root in 2 to 6 weeks. Large crested piece must be placed on the soil surface without burying the plant base down in the soil.